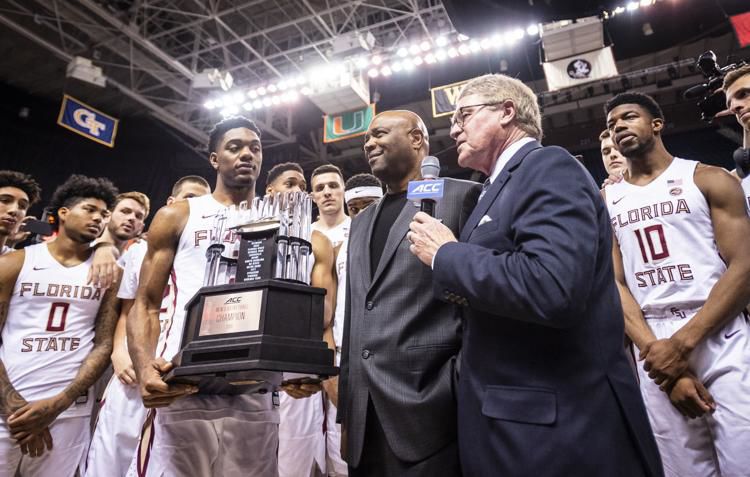 GREENSBORO — John Swofford is retiring this time next year. But the ACC's longest-tenured commissioner isn't going anywhere.
The city has been Swofford's home since 1997 and the ACC's home since the league was founded at Sedgefield Country Club in 1953.
Now the man and the city have come full circle. Empty-nesters John and Nora Swofford are retiring to the golf course where the ACC was born.
"Nora and I love Greensboro," Swofford said this afternoon. "… We're staying. We're downsizing, in a sense, building a one-story retirement home at Sedgefield, about 3½ football fields from the clubhouse where the ACC was founded. That feels sort of right to me. It seems appropriate, somehow."
The ACC announced this morning that Swofford, 71, just the fourth commissioner in the league's history, would retire next June at the end of the 2020-21 school year.
Under Swofford, a North Wilkesboro native who has spent nearly his whole adult life in the league, the ACC maintained its headquarters next door to the Grandover Resort, not far from its Sedgefield roots.
Swofford hopes it stays put after his retirement, but he said it's not his decision.
"I can't answer that," Swofford said. "The next series of leaders in the league would be the ones to answer that. But I would hope so. Greensboro has been a wonderful home to the league from the beginning, for the entire time the ACC has been in existence. And I hope (the headquarters) is here for a long time to come."
Swofford's connection to Greensboro is palpable. Matt Brown, the managing director of the Greensboro Coliseum, has seen that connection with his own eyes.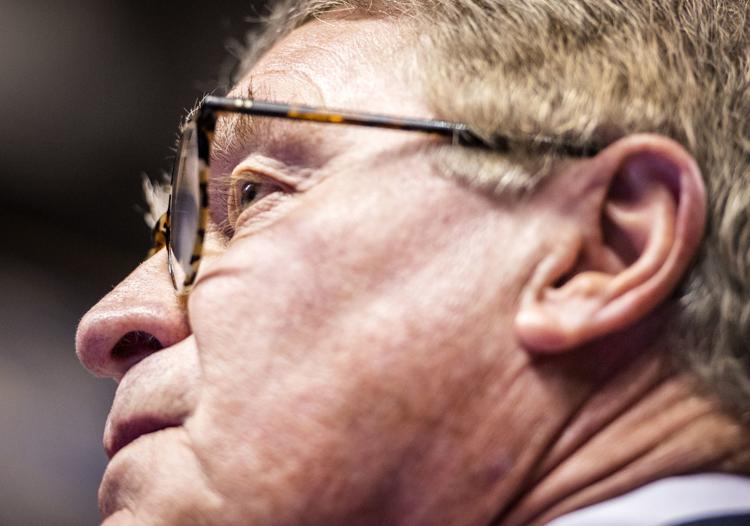 "You look at John and (former commissioner) Gene Corrigan, and they clearly understood the connection between the ACC and its history with the Greensboro community," Brown said. "There's no better evidence of John's support and appreciation of Greensboro than what just happened in March. I saw how emotional he was and how disappointed he felt for Greensboro when this year's ACC Tournament was canceled. It was a remarkable moment, and I saw that emotion in him. He was very much concerned about his city … and the impact it would have on the community.
"That's a pretty good indicator of how much he's come to appreciate life in Greensboro over these past 20-some years. Of course he's made professional connections and relationships with many people here. ... But he's also a resident, and a churchgoer, and a man who shares a lot of friendships with people who live here. His retirement is a loss for us, and we can only hope his successor has the same type of sentiment about putting down roots in Greensboro."
Swofford's roots run deep. And he said he'll remain active in Greensboro after his days at the ACC are over.
"I'm involved with the Wyndham. I'm involved with the North Carolina Sports Hall of Fame. I'm involved in a number of things," Swofford said. "The interesting thing about the commissioner's job — and Gene Corrigan told me this when I took the job, but it didn't register with me until I lived it — is that while our offices are here, on a daily ongoing basis as commissioner you deal with very few people in Greensboro.
"You're gone a lot, traveling here and there. You're dealing with the NCAA in Indianapolis, or your television rights holders in New York or Bristol (Conn.) or Charlotte, or any of your 15 schools up and down the eastern seaboard and into Kentucky and Indiana. No matter where the (headquarters) would be, you'd be pulled away in several different directions from a business standpoint. So I'm looking forward to be more involved with Greensboro than I've been able to be in the commissioner's job."
Swofford's retirement is the end of an era. He led the league through sweeping changes, from nine to 15 schools and its own TV and streaming network.
"I don't know that there would be an ACC (without Swofford's expansion efforts)," retired Wake Forest AD Ron Wellman said. "You look around, and is any conference going to survive with nine schools? … There probably would have been schools from the ACC gobbled up by others. So, who knows? That's just conjecture."
Maybe. But it reinforces an axiom often heard behind the scenes at ACC events held in the city.
"You look at the history of the ACC," said Rob Goodman, executive director of the Greensboro Sports Foundation, "and what's been good for the conference has been good for Greensboro."
Goodman, too, recalled the odd day in March when the ACC Tournament didn't end, but simply stopped in the middle of a global pandemic.
It was a terrible moment for Greensboro, and yet it was handled with grace and aplomb.
"It's hard to put into words what John Swofford has meant to Greensboro in his time here as the ACC commissioner, because it's been so much," Goodman said. "… If you had to look at one thing that encapsulates what John meant to the city, just look at what happened recently when the ACC Tournament was canceled because of COVID-19. John very quickly was able to work with all the universities and get the ACC Tournament back in Greensboro in 2023, which was the next available year. He was very clear it was important to him. And it's obviously important to us."
Contact Jeff Mills at (336) 373-7024, and follow @JeffMillsNR on Twitter.
Be the first to know
Get local news delivered to your inbox!