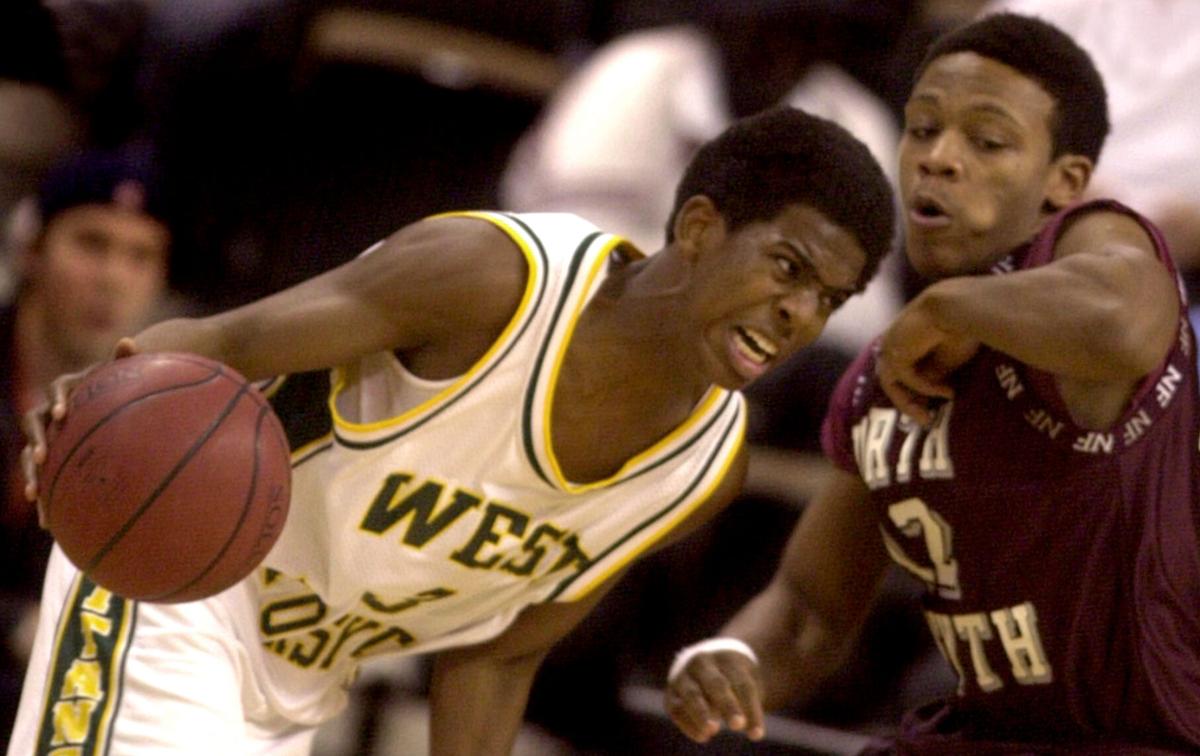 It's easy to appreciate and respect Chris Paul the basketball player. It's even easier to respect and admire Chris Paul the person.
With all his basketball accolades and accomplishments paired with his bountiful philanthropic work in the numerous communities to which he has been attached as a professional – and not forgetting his native Winston-Salem all the while – a groundswell of support has risen for him as he strives to win his first NBA title in his first trip to the Finals in his 16th season. To do so, though, the Phoenix Suns will need to rally to win two straight games against the Milwaukee Bucks, including Game 6 in Wisconsin on Tuesday night.
I've been fortunate enough to have a front-row seat to witness his development as a player and as a person since he was a 7-year-old playing youth basketball at the Central (now William G. White) YMCA in downtown Winston-Salem. Through his AAU teams, his playing days at West Forsyth and then Wake Forest, it has been a pleasure to watch him thrive during each step of his career.
Likely thousands of people around Winston-Salem can share a memorable moment or story about Chris. They don't call him "The Mayor" for nothing.
Chances are he might have sold you doughnuts in the neighborhoods around the YMCA or sold you concessions on a Saturday or Sunday morning in the hallway outside the three gyms at the facility, or even washed your car during an AAU fundraiser. Maybe he handed you a doughnut in the halls of West Forsyth as he campaigned successfully for class president. Maybe he filled your gas tank or washed your windshield at his grandfather's service station. And maybe you saw him play along his path.
Here are some memories that stand out to me. This is the Chris Paul I came to know.
Getting to know you
My first full-time job when I graduated from college was at the Central YMCA as the youth sports director. I was hired in September 1993, in time to organize what was then the largest single-site youth basketball program in the country with more than 1,500 participants.
My first day on the job, and an hour into the day, I took my first phone call. Robin Paul, Chris' mother, wanted to get her two kids, third-grader Chris and fifth-grader C.J., signed up to play. She also wanted to volunteer her husband, Charles, to coach both of their teams. She also told me that Charles would like to help referee games in the younger age groups and that all four of them would help keep score for other games.
The Pauls dedicated the time to not only their children, but to all of those in the program. We became fast friends. I admired their family commitment and willingness to help. I also found out quickly that both kids were exceptional basketball players and exceptional people, much like their parents.
I somehow convinced the family into driving to Hickory, so that C.J. could play AAU basketball for my college roommate, coach of an 11-and-under team. Chris became the ball boy for the team because at that time, 11-and-under was AAU's youngest age group.
We had started an AAU program at the YMCA, the Carolina Hornets, with a 14-and-under team our first year and wanted to add more teams as we grew. We did so with a 12-and-under team the next year that featured C.J. with Charles as the coach. Our plans also included starting an 11-and-under team once Chris came of age. My college roommate and I took the reins of that team.
CP3 and the Carolina Hornets
Yes, Chris picked the No. 3 jersey in his first year playing AAU as a member of the 11-and-under Carolina Hornets. His CP3 moniker isn't because that was always his jersey number. He was the third male member in his family with the initials "CP." Charles is CP1, C.J. is CP2, Chris is CP3 and now, Chris Jr. is CP4.
Chris clearly was one of the better players in the state in his age group. We also saw he was one of the better players in the country at the AAU National Tournament.
But getting to the National Tournament, in Cocoa Beach, Fla., that year, almost didn't happen.
We were playing in the state tournament at Greensboro Day School, and only the top three teams from North Carolina could qualify for the National Tournament, which was the main goal in those days. We had lost earlier in the day in the semifinals and had to play the Charlotte Royals, a team we had beaten a few other times during our season already, with the winner finishing in third place and qualifying for the Nationals. Losing team was done.
We trailed late in the fourth quarter before we made a furious comeback. Down two with about 10 seconds left, Chris drove to the basket and got fouled while attempting a potential game-tying shot. He was one of our best shooters and one of our best free-throw shooters. He stepped to the line and made the first one. The Royals called timeout.
As we were discussing the defensive strategy we would use after Chris made the second free throw – we were confident that would happen – all our players put their hands in the middle of our team circle. We always did a "1, 2, 3 together" or "Hornets" or the like before we would let go of our fists and the players returned to the court. On this occasion, after all the players released their hands, the other four players returned to the court to line up around the lane. Chris held our hands a few seconds longer than everyone else. His eyes were closed. Once he did let go, he stepped to the free-throw line and sank the game-tying free throw. We won the game in overtime and qualified for the Nationals, in which we finished in eighth place of 125 teams.
I asked Chris after the game what exactly he was doing at the moment he kept hold of our hands, and he just said "praying."
Not only was Chris one of the most talented players, but he was also one of the smartest. In a tuneup event for that year's 14-and-under national tournament in Orlando, our team struggled. Playing a team from Raleigh that featured P.J. Tucker, now a starting forward for the Bucks, and Bobby Perry, who would play at Kentucky, we found ourselves facing a 14-point deficit at halftime. We were having a fit against our opponent's 1-3-1 zone defense.
We made our adjustment at halftime and when we called our offense to start the second half, we went to our 2-1-2 set, which featured two players up top, a post player in the lane, and two other players, our best shooters, in the corners. Before we could tell the team we would be going 2-1-2, Chris spoke up and said "shooters in the corners" and flashed that broad smile. He went on to make five 3-pointers in the third quarter from the same spot on the floor, the left corner, including one at the buzzer that gave us our first lead. The intensity on his face and the reactions of his teammates when he came to bench at the end of the third quarter said it all. I'll never forget that look in his eyes and how he held the follow-through on the shot. And yes, we won the game and finished in third place at the AAU nationals that year.
61
I will always contend that watching Chris score 61 points, one for every year of his grandfather's life, the day after his funeral and after his senseless murder, is the most remarkable sports moment I've ever seen.
I had attended the ceremony at West Forsyth when Chris signed his national letter of intent with Wake Forest. It was Chris' grandfather, Nathaniel Jones, who took a Wake Forest hat off his head and put in on Chris' after he signed. "Papa Chilly," as he was known to family and friends, owned a service station near Carver High School. Chris and C.J. would spend plenty of time there helping their grandfather put gas in cars, clean windshields, keep the shop clean. It was fun to see the two of the compete to get to my car first when I would pull up.
Chris called his grandfather his best friend. And one day after the proudest moment in their lives, Mr. Jones was robbed and killed in his driveway. Basketball season at West Forsyth was less than a week away. His high school coach didn't know if Chris would play in the season opener. But Chris went to him the day of the game and told him he wanted to play the whole game. No matter what happened, leave him in. Chris and his Aunt Rhonda had devised a plan.
Chris got off to a quick start and was scoring from everywhere. Late in the fourth quarter and his team holding a comfortable lead, Chris drove to the basket and made a layup while being fouled on the play. He went to the free-throw line and intentionally missed the free throw, which barely grazed the net in the air. Chris walked off the court and collapsed in his father's arms – Charles was an assistant on the team – the emotion of everything he had been through that week finally catching up with him. After the game, I hung around to give him my best, and his mom came up to me holding a photo of her father, and that's when I found out.
"He scored 61 points tonight, one for every year of my dad's life," Robin told me. "He wasn't tired when he missed that free throw. He didn't want to score 62 points. He knew he had his 61."
At every home game at Wake Forest, Chris held his grandfather's obituary in his hands during the national anthem.
'I've had my hometown and my family with me'
Chris was named to the McDonald's All-American team during his senior year at West Forsyth, with the game scheduled for Cleveland.
Robin, who at the time was doing independent contract work with my mom's travel agency, put together an overnight trip to see the game. We chartered two buses and had 110 people – family and friends of Chris from West Forsyth – sign up to go.
Chris played on the same team with LeBron James and dished out 10 assists, many of those to James, as their team won the game.
Chris was recognized with the John Wooden Award before the game for his character on and off the court.
After the game, Chris went back to the hotel at which we were staying to hang out with his family and friends.
He had a plane ticket to fly back to North Carolina the next day, but instead he chose to stay at our hotel and ride back on the bus, eight hours, to be surrounded by the people he loved.
After the Suns advanced to the NBA Finals against the Clippers, Chris said in his post-game press conference:
"I always say all these years, I've had my hometown and my family with me."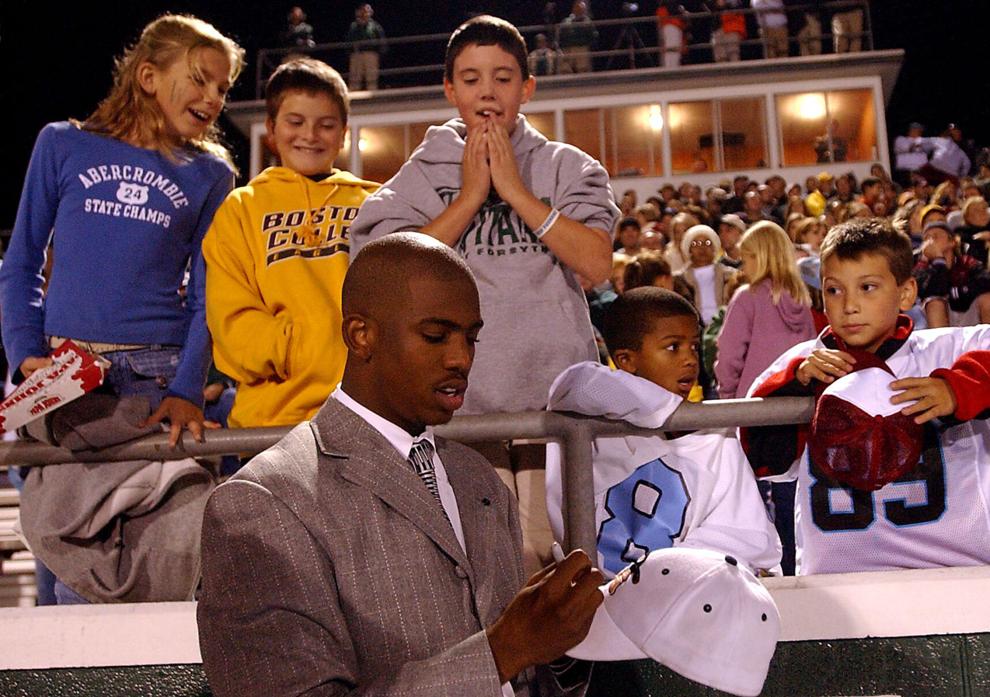 That was evident at every West Forsyth game. Every Wake Forest game.
And there is usually a contingent of faithful family and friends at his NBA games. In Charlotte a few years ago, more than 200 members of his family and/or friends attended the game. Chris made an effort to greet each one personally after the Clippers beat the Hornets.
That's the Chris Paul I got to know.
Marc Pruitt has contributed to the Journal as a freelance reporter.