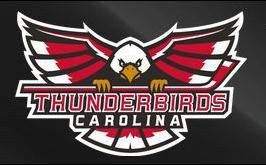 Patrik Polivka's fourth save of the shootout period against Jiri Pestuka secured the Carolina Thunderbirds' 3-2 victory over the Mentor Ice Breakers on Friday night in Winston-Salem. Jan Salak scored the first goal of the shootout and the decisive goal came from Brendan Logan.
The Thunderbirds got on the board first late into the first period courtesy of Daniel Martin. Mentor tied the game at one after a goal from Declan Conway in the second period. Dzmitry Daniliuk tallied in the second period as well to give the visitors a 2-1 lead. Everett Thompson's goal 12 minutes into the second period tied the game again going into the final frame.
Despite 18 shot attempts, the Thunderbirds failed to get on the board in the third period, but held their counterpart scoreless as well. Four minutes into overtime, roughing penalties were assessed to both Mentor's Alexander Morrow and Carolina's Jiri Pargac. Stanislav Vlasov's last second shot attempt for Carolina was blocked.
The Thunderbirds were able to win the shootout behind Polivka's saves and Salak and Logan's goals. Polivka finished with 21 saves on 23 shot attempt (91.3 percent).
Carolina (20-3-0-0) returns to action tonight at 6:05 p.m. where they host the Ice Breakers to conclude the weekend double-header. The Thunderbirds are 3-0 against Mentor this season.