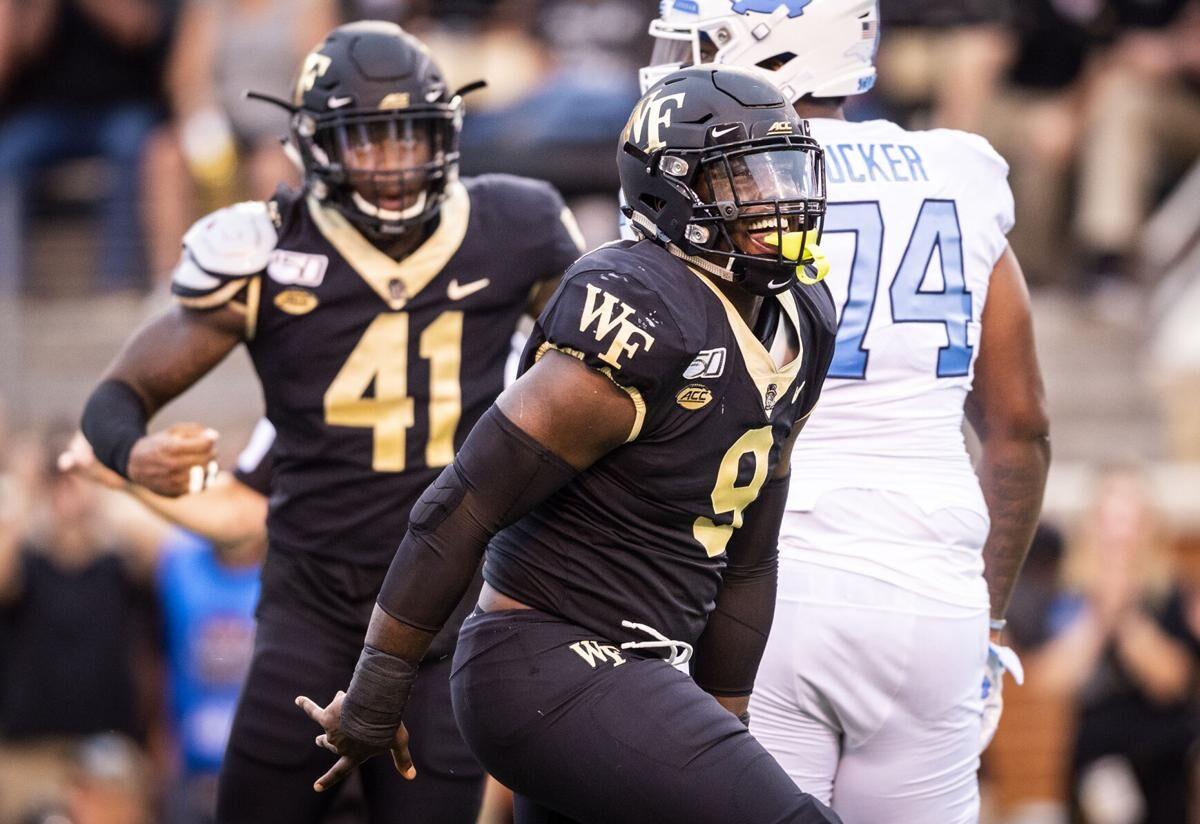 Four former Wake Forest football players will get a chance to impress NFL scouts on Wednesday at a pro day inside the McCreary Field House, the on-campus indoor facility.
The four – Carlos "Boogie" Basham, Jamie Newman, Sage Surratt and Jack Crane – will go through drills with scouts nearby scribbling down every detail.
Basham, a defensive end, and Crane, a graduate transfer who was a kickoff specialist, played in the fall for the Demon Deacons. Surratt, a wide receiver, opted out for the season citing COVID-19 concerns. Newman, who had earned his degree from Wake Forest, transferred to Georgia but ended up opting out and not playing a down for the Bulldogs.
"We are excited to get Boogie and a lot of our former players back here to show off their skills to a bunch of NFL scouts," Coach Dave Clawson said. "It's just exciting that the event continues to grow every year."
Basham, a defensive end with speed who is 6 feet 3 and 281 pounds, could be a low first-round or high second-round pick, according to draft projections.
ACC Network Extra will provide coverage.
Fifty-seven Deacons players since 201 have played in the NFL.
Johnson signs with TitansKevin Johnson, 28, a former Wake cornerback who played for the Browns last season, has signed a one-year deal with the Titans.
Johnson played in 13 games with the Browns and was in on 34 tackles with a forced fumble and a fumble recovery. Johnson was a first-round pick of Houston in the 2015 draft getting selected 16th overall.
Clawson adds three graduate assistants
Clawson's staff endured no major shakeups after the season other than the promotion of Chad Bari to head strength coach after Brandon Hourigan left for Vanderbilt.
Clawson announced the hiring of three graduate assistant coaches – Jordan Reid, Kevin Snyder and Ben Thaw.
"Graduate assistants have the opportunity to bring their past experiences to help influence our staff, learn our culture and work with our student-athletes," Clawson said.
Reid was promoted to graduate assistant after spending the 2020 as an offensive quality control coach. He joined Wake Forest in 2020 after spending one year as an offensive graduate assistant at his alma mater, Ohio University.
Snyder goes to Wake Forest as a graduate assistant after spending a season as a player development assistant at his alma mater, Rutgers.
Thaw was promoted to graduate assistant after spending the fall of 2020 as a recruiting intern for the Deacons. He is a 2020 graduate of Wesleyan University, where he was captain of the football team.
Tom earns scholarship award
Offensive lineman Zach Tom, a redshirt junior, is among four Wake Forest athletes to receive a Weaver-James-Corrigan Postgraduate Scholarship Award from the ACC.
Also among the 52 athletes from the ACC to receiver the $6,000 toward post-graduate studies were Wake Forest's Hanna Petfort (women's soccer), Bar Botzer (men's tennis) and Emilia Migliaccio (women's golf).
The postgraduate scholarships are awarded to selected student-athletes who intend to pursue a graduate degree after completion of their undergraduate requirements.
"Zach is an outstanding player for us and a good leader and he'll be pursuing his MBA, so we're proud of what Zach has done," Clawson said.
Building depth continues in spring practice
Clawson says there are two ways to build depth – more players in the spring and having players well-schooled at multiple positions.
Traveon Redd and Luke Masterson are two of those on defense.
"(Redd) will play rover, he'll play safety and probably could play linebacker," Clawson said. "That's where we really can help our depth when you have guys like Luke Masterson (Safety/linebacker). Part of the way to create depth is having more people but you can also do it with guys who can play multiple positions."
Clawson also said a veteran such as Nasir Greer can play both safety positions as can J.J. Roberts, who is a freshman but is learning multiple positions this spring.
"We are actively trying to cross-train players, especially on defense," Clawson said.