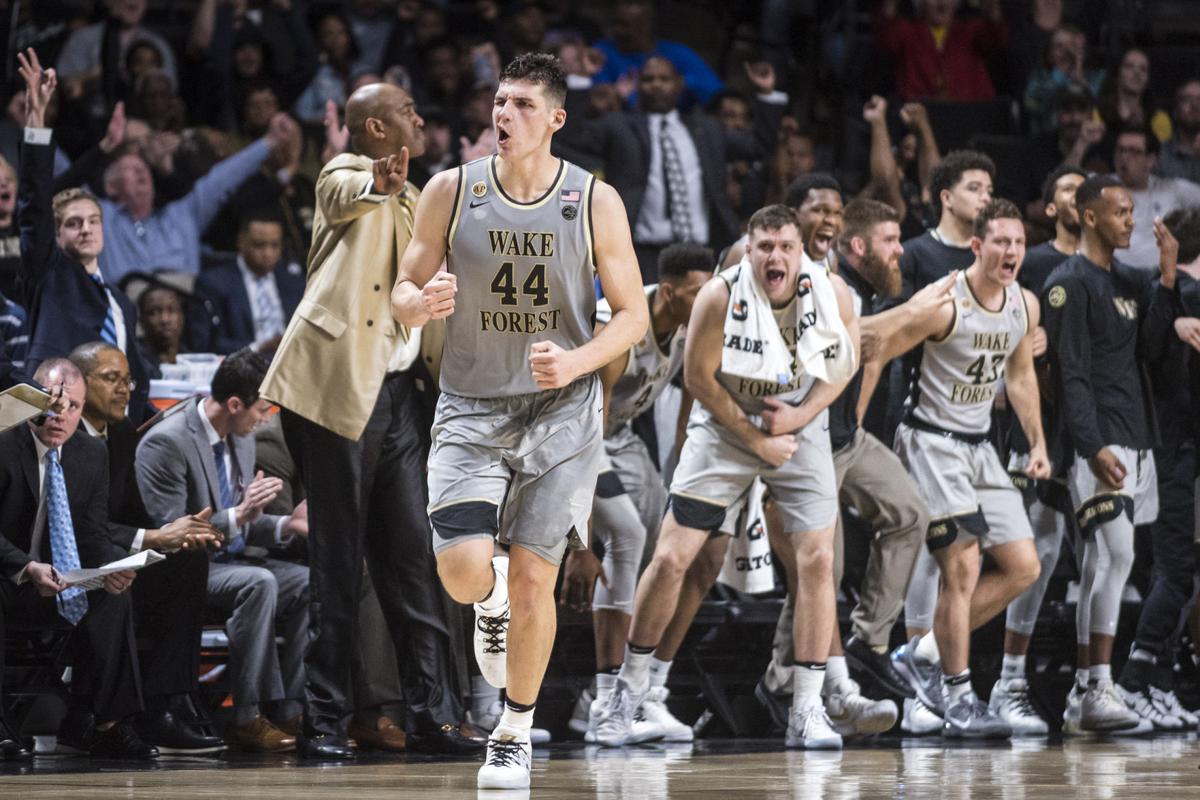 The elation was palpable.
Joel Coliseum's seating bowl spilled its contents onto its court Wednesday night like the clouds that doused the Triad earlier in the evening. The biggest game here in seven years resulted in the biggest win in at least that long. Because at no other time since the 2009-10 season — that being the last time Wake Forest went to the postseason — did the Deacons have so much to gain in one substantial swoop.
An NCAA Tournament appearance remains a possibility, if not a probability, thanks to Wake Forest's 88-81 victory over No. 8 Louisville. Of course, there remains a formidable obstacle in Saturday's regular-season finale at Virginia Tech and then the meatgrinder that is next week's ACC Tournament in Brooklyn, N.Y.
And, as it has so many times in the past, Wake Forest will begin that odyssey via an opening-day game. That's the heavy price that comes with the cachet of playing in the nation's most powerful basketball league when you're still in the midst of renovating a program.
Yet, unlike in tournaments past, Wake Forest doesn't start that dreaded march with its biggest goal being merely to advance to the next day. The inevitable end that comes without an impossible league championship doesn't loom over these Deacons like an executioner with a hitch in his swing.
Wake Forest will play in the postseason for the first time in seven years, and it will likely be in the tournament that really counts.
"They probably put themselves in the NCAA Tournament by beating us, which is great to see," coach Rick Pitino of Louisville (23-7, 11-6 ACC) said.
"(Wake Forest) being 17-12, 8-9 and beating the No. 8 team in the country," he added, "they pretty much got themselves in."
That seems to be the general consensus even if the Deacons' company line sticks to the usual script.
"We've got one more game to play and we'll go from there," coach Danny Manning said. " … When the regular season is over, we'll see where we stand and go from there."
He's right. Wake Forest will be going somewhere, and it won't be into an offseason hibernation.
The Deacons enhanced a ho-hum resume by beating a Louisville team that was third in RPI, one that had some prognosticators, bracketologists or whatever they're called this week saying that the Cardinals might even be a No. 1 seed in the NCAA Tournament. That's not happening now.
Instead, Louisville lost for the first time this season to an unranked team while the Deacons secured their first victory over a ranked ACC opponent during Manning's three seasons as head coach. Wake Forest did it by overcoming a double-digit deficit for the second time in seven days, something it didn't appear capable of accomplishing as recently as January.
And the Deacons have everything that the NCAA Tournament selection committee and, perhaps more importantly, its television partners, desire in a team. It has a coach in Manning with an iconic name; a player in Collins whose legend grows with each 20-plus-point, 10-plus-rebound game; and a brand that still resonates with sentimentalists who long for another member of Tobacco Road to be relevant nationally.
Plus, Wake Forest has a fanbase that's dying to go somewhere, anywhere, just so long as a wintery basketball season kisses up against spring. That much was evident from the primal screams that were released when Mitchell Wilbekin drained a 3-pointer from near Clemmons with 2:10 left to put Wake Forest up 81-72.
There might even be another shindig here if Wake Forest is relegated to the NIT. That's a second-tier postseason tournament, though a postseason tournament, nonetheless.
Wednesday's win was Austin Arians' final game at Joel Coliseum. Likewise for fellow seniors Greg McClinton and Trent VanHorn. And possibly even Collins, the sophomore who as an underrated and undervalued recruit out of Florida is the perfect poster child for the Manning rebuild.
Collins, like the Deacons as a whole, has progressed much swifter than expected.
"It was huge for us," said Collins, who scored 25 points and had 11 rebounds. "It shows progress and that we're moving in the right direction."
They're pointed toward the postseason.
Listen for "The Scott Hamilton Show," weekdays from 3-6 p.m. on 600 WSJS or streaming live on www.WSJS.com
Be the first to know
Get local news delivered to your inbox!