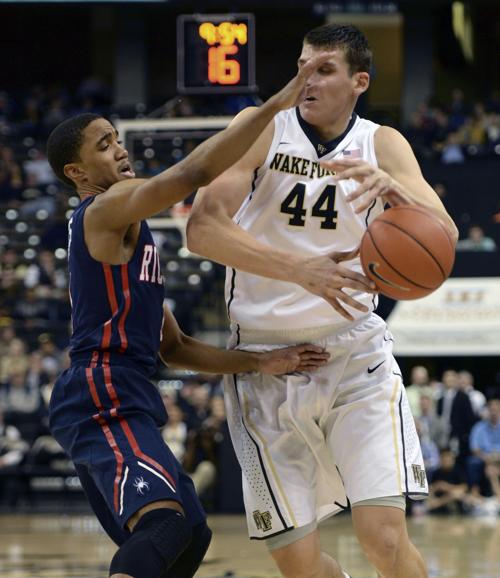 For Wake Forest to somewhat soften the loss of center Devin Thomas to graduation, the body of work from Dinos Mitoglou's third season will have to be evaluated differently from that of his first two.
Fortunately for coach Danny Manning and his program, the 6-foot-10 Mitoglou at long last has the body to expand his game by providing a greater physical presence inside.
"Dinos' body has really changed," coach Danny Manning said recently. "He's about 252, 255 (pounds) right now. He came in at 219.
"On the block, Dinos does have a nice series of moves. We've got to get him down there a little bit more, but he's certainly someone who has to rebound the ball for us as well."
The only point Mitoglou would even mildly dispute is his weight the day he arrived at Wake Forest from his hometown of Thessaloniki, Greece before the 2014-15 season.
"From the time I showed up, I weighed about 217," Mitoglou said.
Otherwise, he agrees with Manning that he needs to play bigger and stronger for the Deacons to rebound from last season's disappointing 11-20 finish.
Known in his first two seasons as a "Stretch Four,'' — a term from basketball jargon for a player tall enough to play power forward with an outside shot deadly enough to pull defenders from the lane and thus stretch the defense — Mitoglou is anxious to prove there is more to his newfound game.
He will need to for the Deacons to make a move up the ACC standings.
Wake Forest lost two four-year starters in Thomas and Codi Miller-McIntyre. Although the latter had some impressive moments during his college career, he will be easier to replace than Thomas.
Miller-McIntyre, at 6-3, 205, played on the perimeter, where the Deacons appear well-stocked in the backcourt with 6-3 transfer Keyshawn Woods and 6-0 freshman Brandon Childress added to a rotation of 6-3 sophomore Bryant Crawford, 6-2 junior Mitchell Wilbekin and 6-3 senior Trent VanHorn.
But the loss of Thomas, who averaged 15.6 points and 10.2 rebounds, left Wake Forest without a big man, other than Mitoglou who has started regularly in college. Manning is excited about the potential of 6-10 sophomore John Collins, 7-1 sophomore Doral Moore and 6-11 freshman Samuel Japhet-Mathias, but each has yet to establish himself as a physical inside presence.
Mitoglou, meanwhile, has spent his two years at Wake Forest lifting weights and getting stronger. He knows what is needed to stand his ground underneath the basket.
"That's the thing," Mitoglou said. "That's the American game, especially in the ACC.
"There's more contact. People have to be more athletic. The rhythm is faster, and you have to be stronger so you can adjust. Everybody has to do it, and you have to be faster and stronger at this level."
Ideally, Mitoglou will mix it up inside this season while still providing an offensive threat from the perimeter. From the time he played for his home country in the 2013 and 2014 Under-18 European Championships, Mitoglou's forte has been his ability to drill his quick-release jumper from the top of the key, the wings or the deep corner.
He did nothing to tarnish that reputation as a freshman, when he shot 39 percent from 3-point range and averaged 9.7 points over 22 minutes a game. Then came last season, when his touch deserted him and his accuracy from 3-point range fell to 32 percent.
Only now is he willing to talk about a shoulder injury that affected his shot. He had the injured right shoulder repaired over the offseason, which is why he didn't play in the Deacons' three games in the Bahamas in August.
Manning said Mitoglou was cleared to play, but there was no need to take any chances.
"I was trying not to think about it, not even once from the first half of the season," Mitoglou said of the injury. "But as long as you're hurt, everything affects you. I was trying not to think about it, but it affected me a lot."
The good news for Wake Forest is Mitoglou has been practicing without limitations this fall and declares himself to be fully healthy for the first time since midway through last season.
"I'm 100 percent healthy right now,'' Mitoglou said. "It makes a difference. I feel so, so much better, so much better.''
(336) 727-7323 @MyTakeOnWakeWSJ
Be the first to know
Get local news delivered to your inbox!