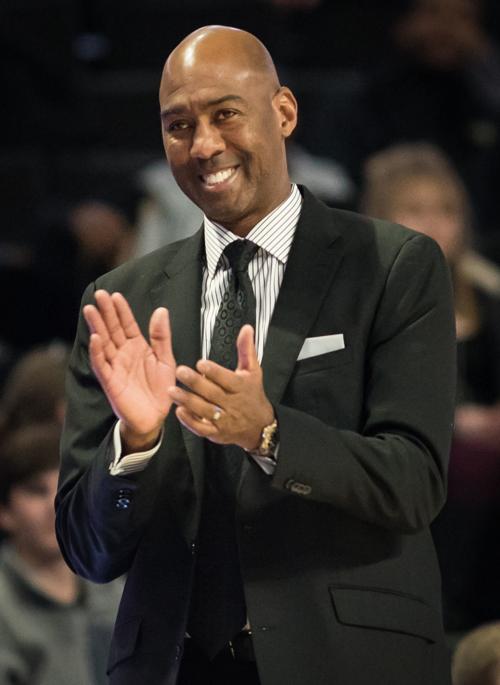 Here come more tests for Wake Forest's still-developing men's basketball team.
After a 10-day break for final exams, the Deacons play a Davidson team Monday night that should rank as the best team Wake Forest has played this season. And the Wildcats won't hold that distinction for a week, with the Deacons' next game coming Saturday at No. 3 Tennessee.
Less than a month before the ACC portion of its schedule, Wake Forest enters a couple of challenging games while trying to improve "across the board," Coach Danny Manning said last week.
Here are five things to watch in Monday night's game against Davidson at Joel Coliseum:
1. Rusty or momentum?
The Deacons have spent the last 10 days completing final exams and practicing, but the last time they were on the court it was a 24-point win over Charlotte that wasn't even that close. Wake Forest got double-digit scoring efforts from five players, outrebounded the 49ers 43-31 and put together only their second game of the season with more assists (11) than turnovers (eight).
Carrying over that momentum could see the Deacons turning a corner as they enter a tough slate of games.
"I mean, you never want to be satisfied, but when you have a good defensive game like that, it's always good, you can always pat yourself on the shoulder," junior point guard Brandon Childress said when asked if the performance against Charlotte was the best defensive game the Deacons have played this year. "Especially going into a team like Davidson, a very disciplined team, we've gotta be disciplined as well."
2. Chaundee Brown's development
Brown, Wake Forest's sophomore guard, has scored in double figures for the past three games. He only had one such stretch across 30 games last season.
Brown has the physical tools, at 6-5, 215 pounds, to be a reliable defender and a force on the offensive end. In this small sample size, it appears Brown could be tapping into his full potential.
3. Kellan Grady's status
The sophomore guard missed Davidson's game against Temple on Saturday, a 77-75 overtime loss, with a knee injury. It was reported to be a day-to-day situation, so whether Grady suits up against the Deacons likely will be determined shortly before tip-off.
Grady is scoring 19.4 points per game, with at least 20 in 6 of the 9 games he's played. Grady has also played 332 of a possible 360 minutes in those games.
4. Defensive communication
One of the keys to Wake Forest's continued search for defensive improvement can be heard — and then perhaps seen.
"It's just a matter of continuing to go out there and communicating to one another defensively and making sure that we're in our right spots and we're helping each other," Manning said. "Not only by being in the right spots, but vocally helping each other out. Because there's a lot more confidence that can be spread defensively if you hear voices."
5. Guarding the
3-point line
Wake Forest held Charlotte to a 3-for-18 clip on 3-pointers, a season-best in 3s made and in percentage allowed (16.7 percent). Davidson is heavily reliable on 3-pointers, with 47.6 percent of its shots coming from behind the arc.
"All of them can shoot, so you've gotta be able to fly around and run shooters and just get to them," Childress said. "We play teams like that all year and once we get to the ACC, every team is going to be like that."