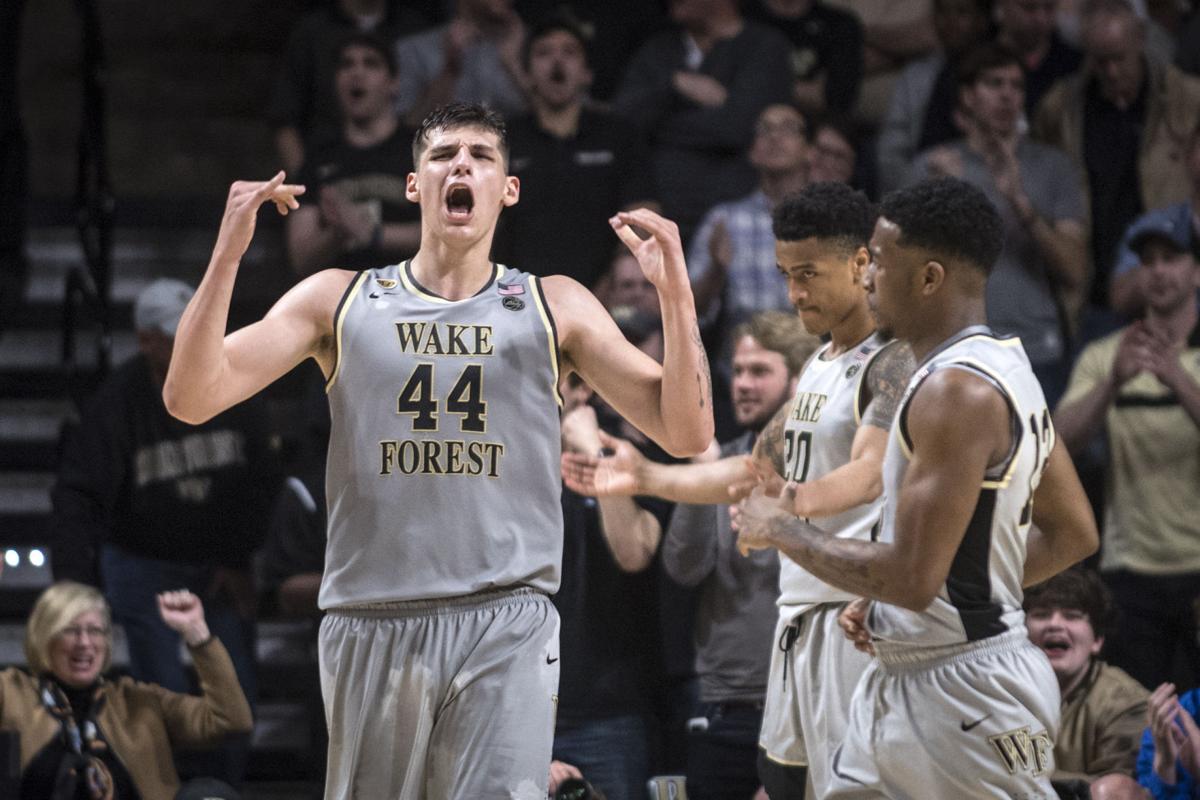 In the summer of 2014, Dinos Mitoglou showed up unexpectedly from Greece to play basketball at Wake Forest.
Three summers later, Mitoglou is leaving unexpectedly to play basketball in Greece.
Coach Danny Manning of the Deacons confirmed Saturday afternoon that Mitoglou will sign a four-year contract with Panathinaikos, one of the premier clubs in European basketball. He will be paid more than $2 million.
"We'll miss him, Manning said by phone. "We hate it for us, but we're glad for him.''
Mitoglou, a 6-10, 255-pound power forward, averaged 8.9 points and 6.1 rebounds as a junior in 2016-17, shooting 42 percent from the floor and 33 percent from 3-point range. He played in all 33 game, starting 32.
For his career, Mitoglou averaged 9.3 points and 5.4 rebounds while shooting 43 percent from the floor and 35 percent from 3-point range. A member of Manning's first recruiting class, he played in 96 games, starting 75.
His departure, following the decision of sophomore forward John Collins to make himself available for the NBA draft, left Wake Forest depleted of experience in the post. Collins signed with the Atlanta Hawks after being the 19th pick in the June draft.
"We'll find a way,'' Manning said.
The leading candidates to start at power forward and center are Doral Moore, Samuel Japhet-Mathias and Olivier Sarr.
Moore, a 7-1, 265-pound center from Locust Grove, Ga., played 8.4 minutes a game last season as a sophomore, averaging 2.6 points and 2.2 rebounds a game. Japhet-Mathias, a 6-11, 280-pound center from London, played four minutes a game, averaging 0.7 points and 0.9 rebounds.
Sarr, a 6-11, 210 pound forward from Toulouse, France, signed with Wake Forest in April.
The Deacons may also get contributions from Sunday Okeke, a 6-8, 230-pound walk-on from Greens Farm Academy in Connecticut. Okeke is a native of Lagos, Nigeria.
Panathinaikos is a power in Greek basketball, having won a record 35 Greek Championships and six EuroLeague titles. The list of players who have played for Panathinaikos includes Dominique Wilkins, Byron Scott, Antonio Davis and Dino Radja, all of whom have played in the NBA.