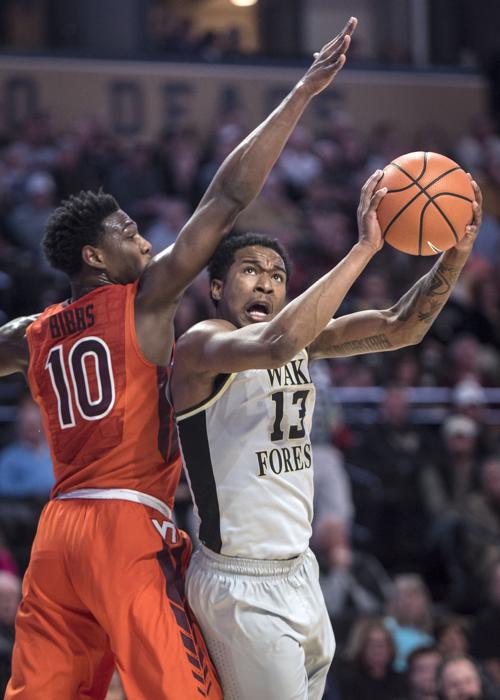 Every game is a must-win scenario for Wake Forest, according to junior point guard Bryant Crawford and Coach Danny Manning. That's the case for a team that's 8-9 and has lost four of its first five ACC games.
"Every game right now is a must-win for us to achieve the goal that we have set for ourselves," Crawford said.
The next task at hand is a trip to Raleigh for Thursday night's game at North Carolina State. It's a team Wake Forest swept last season, winning by 30 in Winston-Salem and putting a nail in the coffin of Mark Gottfried's tenure with the Wolfpack.
Now it's Coach Kevin Keatts at the helm for N.C. State. And while the Wolfpack isn't the best defensive team in the ACC, it's certainly improved during the first 10 months Keatts has been in Raleigh.
"Keatts' teams have usually come out as very aggressive. They can throw a lot of different looks at you in the full court," Manning said. "They're very active, create a lot of deflections. One, we have to handle their pressure. We have to be near outlets when they double someone. Our guys have to make themselves available and then we have to attack pressure."
Crawford was along the same lines as Manning as to the key to scoring against N.C. State.
"They force turnovers, throw a few different defensive sets at us, or at their opponents, and that's just something that we have to handle their pressure and sticking to our game plan and executing our plays," Crawford said.
On the other end of the court for the Deacons, they'll be pressured to combat a similar challenge that was presented Saturday at Duke.
But instead of the two-headed frontcourt of Marvin Bagley III and Wendell Carter Jr., the Deacons will try to limit the effectiveness of N.C. State senior forwards Abdul-Malik Abu and Lennard Freeman and sophomore center Omer Yurtseven.
"They've got three bigs, in my opinion, with great athleticism. They bring physicality to the game and they're very active, and they present some problems in that aspect," Manning said. "So, interior-wise, we're going to have to make sure that we contest shots and do a good job of boxing out."
Be the first to know
Get local news delivered to your inbox!