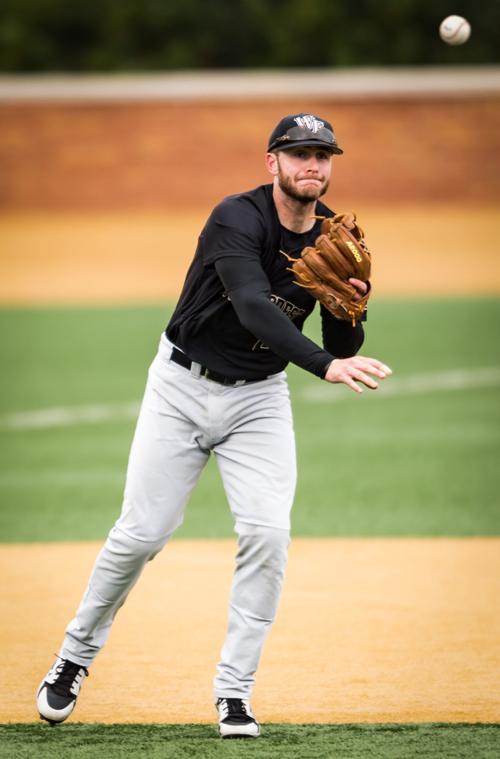 In reflecting on Tuesday night's comeback win at UNC Greensboro, Coach Tom Walter of Wake Forest pointed out that "you're not always going to play from in front."
His point was the Deacons needed a game like the one that had just unfolded, in which his team trailed 9-1 after five innings and rallied to a victory with 10 runs across the next six, winning 11-9 in the 11th. Of Wake Forest's 17 wins entering that game, it came from behind only in three — twice overcoming one-run deficits and then overtaking Davidson after trailing by three.
Indeed, the Deacons needed a game like that, and hadn't had one this year. It was a churned-out, slow-burning win that saw the volume emanating from the dugout elevate with each run.
It's also what the Deacons are trying to do for their season, perhaps with Tuesday's win providing the spark.
"We needed it very badly, it's big momentum — it's a four-game win streak, looking to keep it going, obviously," said freshman outfielder Chris Lanzilli, who had the game-winning double.
Wake Forest welcomes another ranked opponent to David F. Couch Ballpark this weekend in the form of No. 15 Clemson. The Deacons have faced three other ranked teams in weekend series at home, and took two of three games from Florida State, Louisville and Duke.
With 12 ACC games and six nonconference games remaining, and then the ACC Tournament, the Deacons need to put themselves at or above .500 in overall record — currently 18-20 — to make the NCAA Tournament.
"We believe our conference record will be good enough at the end of the day to get in the tournament, but we've got to be over .500 to get in," Walter said.
Some of the work to be done in that regard is relegated to the remaining nonconference games on the Deacons' horizon. And in between those, ACC series against Clemson, at Georgia Tech, at North Carolina State and against Virginia will also help Wake Forest push toward a third straight NCAA Tournament berth.