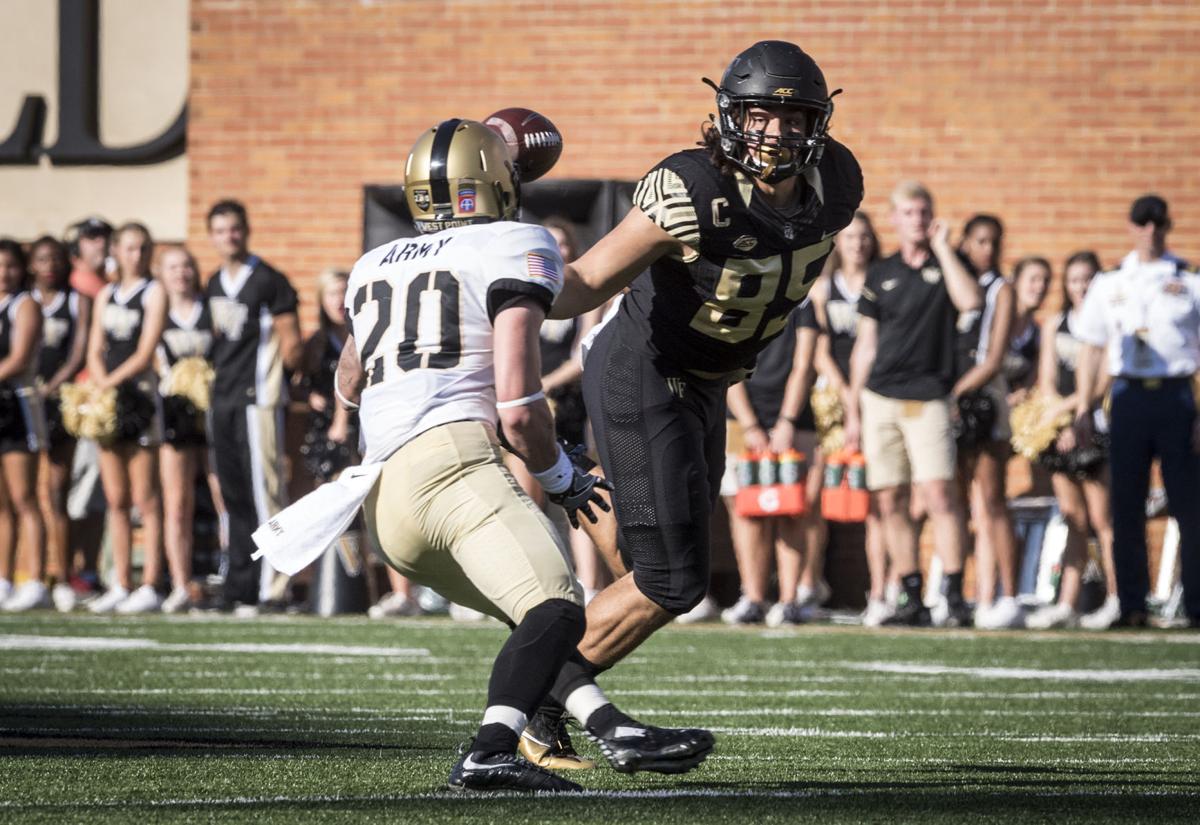 The scaffolding for Wake Forest's rebuilding efforts was still showing Saturday, exposing just how much work coach Dave Clawson and his staff have left to do.
Army, which had lost nine straight games to the Deacons, rattled the underpinning of what Clawson has spent two-plus seasons erecting by taking complete charge in the fourth quarter of a 21-13 victory at BB&T Field. In doing so, the Black Knights upstaged Wake Forest on what could — and some would argue, should — have been its day of days.
The Deacons, after winning five of its first seven, stood one game shy of bowl eligibility. The biggest crowd of the season (27,948) showed up on a glorious homecoming afternoon to revel in all the improvements the program has made.
And as if the team needed more incentive, it was provided by the reunion of the 2006 ACC champions that shocked college football just 10 seasons ago.
What could have been instead disintegrated into the grim reality that nothing ever comes easy for the Deacons. It never has, and never will.
The lesson is one Clawson has learned all too well over his 32 games as Wake Forest's head coach.
"I think everybody wants to talk about 'Geez, you've turned the program, you've turned the corner,'' Clawson said. "You never turn it. It's never turned. You've never arrived.
"It's a week-in, week-out execution battle. And again, we didn't get it done this week.''
Clawson couldn't mask his disappointment from watching the Black Knights stove in the Wake Forest defense with fourth-quarter touchdown drives covering 88 and 60 yards. Nor did he even try.
"We couldn't get off blocks,'' Clawson said. "They blocked us and they pushed us.
"You can tell by my tone how disappointed I am.''
It was disconcerting for Clawson to see his team wear down as the game wore on, but, as he acknowledged in the post-game news conference, it wasn't totally surprising. He didn't like the way the Deacons practiced coming off their week off, and he told the team after a totally uninspired session on Wednesday.
He was able to get his team ready for surprise victories at Duke and Indiana, as well as a home thumping of Syracuse. But he admittedly failed to prepare the Deacons for what they ended up facing in the second half against Army.
The Black Knights rolled to 17 first downs after halftime, while outgaining Wake Forest. 247 yards to 143.
"To have two weeks to get ready for a team and to play as poorly as we did, I'm really disappointed in myself. I didn't have our team more ready to go,'' Clawson said. "When you have two weeks to get a team ready, you have to play better than that. We didn't execute on so many levels.
"It's a tough pill to swallow, but credit to Army and their coaching staff and their players.''
Plenty of time remains for Wake Forest to have the kind of season only the most optimistic of faithful envisioned back in August. The Deacons have four games left, three of them at home against Virginia (next week), Clemson (Nov. 19) and Boston College (Nov. 26).
With one more win, they would be bowl eligible for the first time since 2011. With two more wins, they would clinch their first winning season since 2008.
But to finish off the season in style, Wake Forest will have to generate the kind of offensive firepower that has, for the most part, been missing ever since Clawson became head coach. Army's aggressive defense challenged the Deacons to beat it with the deep pass and, like Tulane in the season opener, like N.C. State on Oct. 1 and like Florida State on Oct. 15, was able to ground quarterback John Wolford and the Wake Forest passing game.
"They were pressing us,'' Clawson said. "When you get defended like that and they're pressing you, you've got to run by them.
"At a certain point you've got to make those plays. We're throwing the ball up there, and the quarterback has to keep it in bounds and give our guys a chance to make plays on one-on-one coverage. The bottom line is we're not making them.''
Clawson knows he needs a spark, and he knows a healthy Kendall Hinton could likely provide it.
But after warming up Saturday and testing his sprained knee, Hinton sat for the fifth straight game.
"Not even close,'' Clawson said when asked about Hinton's physical condition.
"We had him out in pregame more so to get him another practice and get him going, and just see how he felt. But no, he's not cleared to play yet."
"We'd love to get him back. That would help us a great deal. He makes a lot of plays and he gives us explosive plays, but he's not cleared yet, so we've just got to keep pushing forward.''