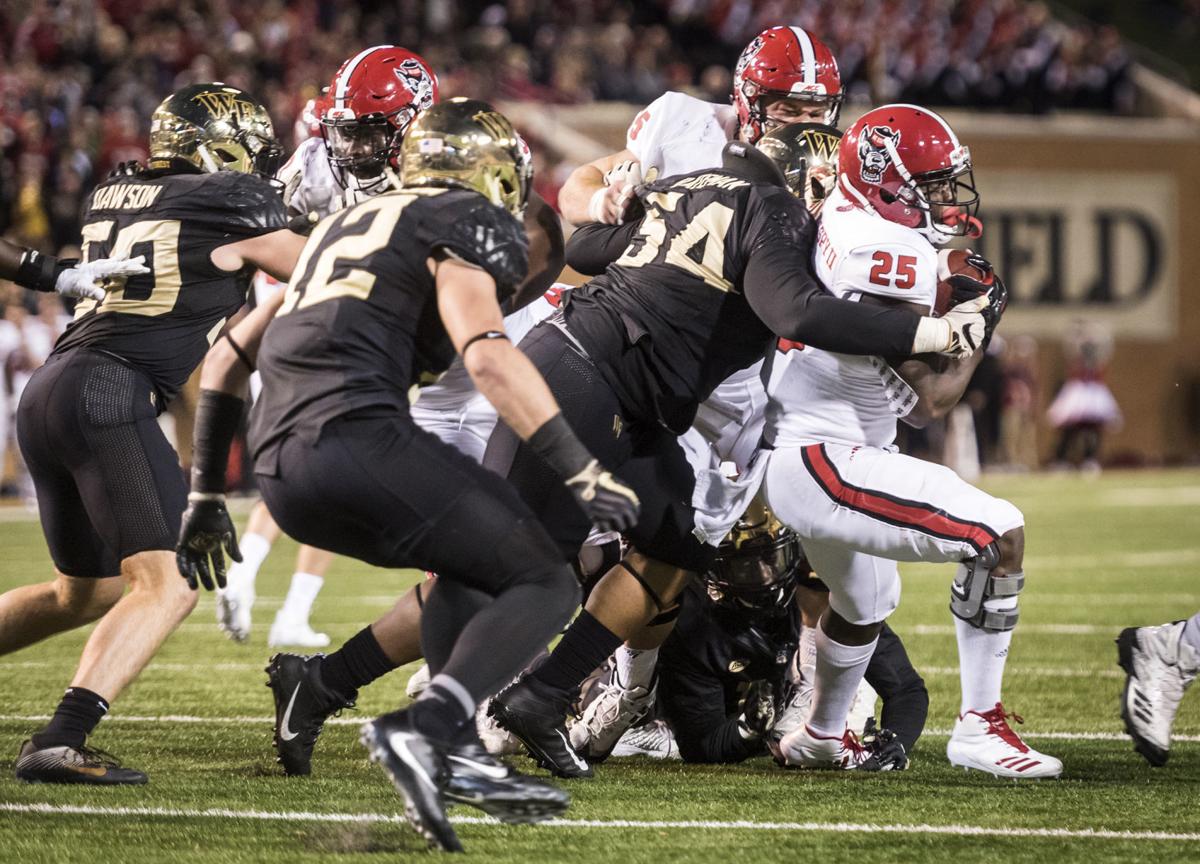 Elontae Bateman's football career came to an end in August. Bateman, a redshirt junior defensive tackle for Wake Forest, suffered his fourth concussion during fall camp and was medically disqualified from taking the field again.
His impact on the Deacons has continued beyond that, though.
"I'm placing my value wherever I could place it," Bateman said. "Just being up with my teammates, and also helping the coaches with anything they need, even in recruiting or coaching with the drills. Anything, talking to a player, whatever I could do to place my value."
Bateman spent a lot of nights praying, wondering what was next in his life, he said, in the immediate aftermath of the end of his career. A lot of those times, he said it was as simple as this: "Asking why?"
Those nights became easier to take with a continued involvement with the Deacons. Bateman has been at every practice, helping Dave Cohen, the assistant coach for defense who oversees the defensive line.
More importantly, Cohen said, has been the continued example Bateman has provided for the Deacons' younger players.
"He's been a mentor for the younger players, and he's been an assistant coach for us," Cohen said. "It all stems from the respect that his teammates and ex-teammates have for him. They respect him as a player, they respect him as a man, they respect his work ethic and character.
"Really, he's the type of guy that you want to be the face of your program."
Bateman has been on the sideline for every home game and has also been making trips, as he's part of the crew that makes defensive signals.
Staying around the team, around fellow defensive tackles Zeek Rodney and Willie Yarbary, has helped ease Bateman's transition into a non-playing role with the team.
"Zeek is one of my best friends, Willie is one of my best friends. I talk to those guys almost every day," Bateman said. "We were like a three-way rotation anyway, so I hate that I couldn't put in my value at the time. But seeing them guys ball out and doing what they're supposed to do, I enjoyed it a lot."
Bateman started three games last season and played in every game, racking up 22 tackles, 4½ for losses and a sack. He admitted that during every practice, he's watched teammates go through drills and thought of how he'd be able to contribute, if he was able to play.
"It's been a very easy transition, because a lot of times people can't mentor their peers. But in his situation, they have so much respect for him, he can," Cohen said of Bateman. "He's a mentally tough kid. As a player he was physically and mentally tough.
"I'm not surprised how quickly he bounced back and how well he handled it. He was disappointed, and within six, seven, eight days he was on the field helping the younger guys out."
Bateman is on schedule to graduate in the spring with a degree in communications. He was a double major with economics, but that became a minor, he said. His plan for after he graduates is to spend a few years in sales, develop relationships and build a network, and then try to establish a business in financial planning.
"I want to be an entrepreneur in the future. I don't know in what yet, I just know that's the end goal," Bateman said.
Next, though, Bateman will be at Birmingham Bowl next weekend to help the Deacons against his hometown team. Bateman is from Memphis, and said if Wake Forest hadn't offered him, he would have played for his hometown Tigers.
It's been a dream of his to play against Memphis since he arrived at Wake Forest, and while he won't be able to take the field, that doesn't diminish his excitement for the game.
"I was just talking (Wednesday) night, I was like, 'If I could suit up just for this Memphis game, I would risk it all,' " Bateman said with a laugh.