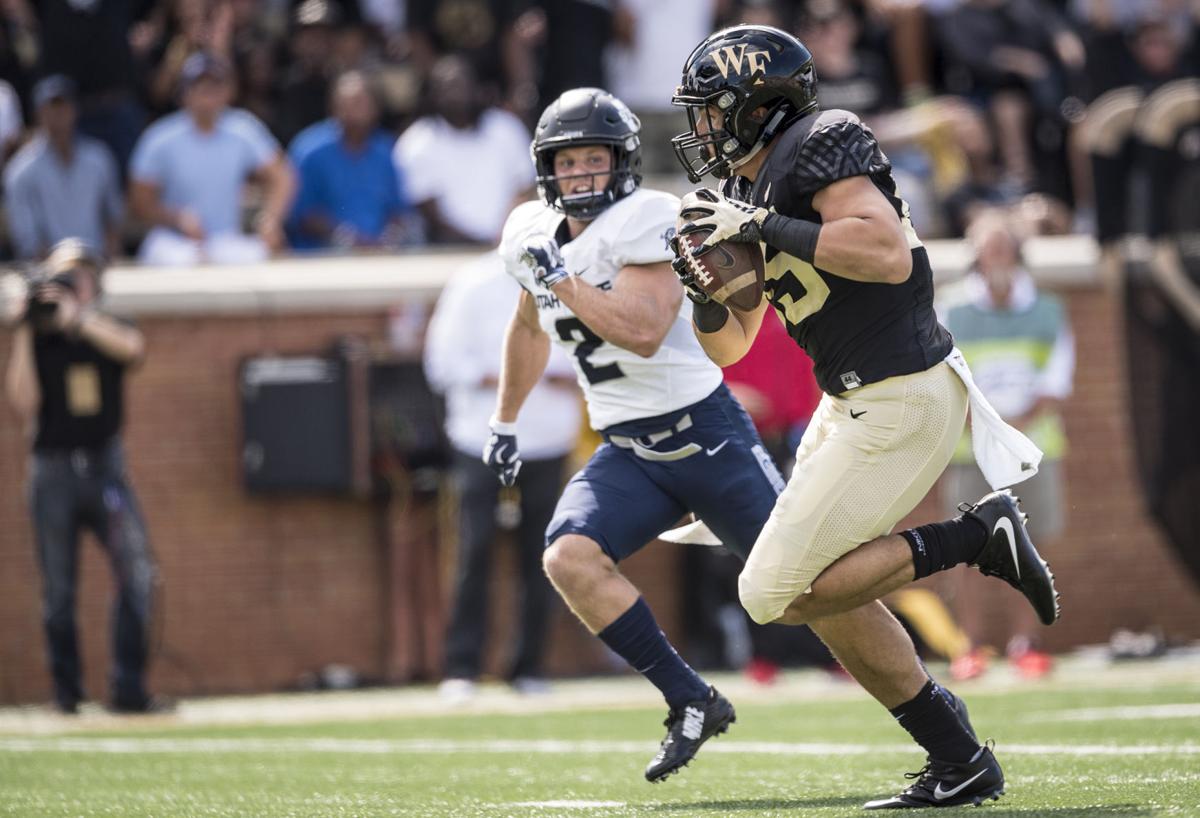 Three strong offensive performances to begin the season and the praise that comes with it isn't going to change tight end Cam Serigne's trust in Wake Forest's offense.
"We're definitely making strides. For us, I think it's focusing on the details of the game," Serigne said Tuesday. "For years we heard how bad we were. That's not going to change what we think now because people are telling us we're good now, you know what I mean?"
Indeed, the Deacons have duplicated last year's 3-0 start and will try to reach 4-0 again with this week's revitalization of the rivalry with Appalachian State. The competition level, at least on the surface, is the same — an Atlantic Coast Conference game, a non-conference matchup with another Football Bowl Subdivision team and a game against an FCS program.
One of the glaring differences, though, is the Deacons' 131 points through three games. That ties a program record for the first three games, having hit that mark in 2010 and 1941. It's almost twice as much as last year's total of 69.
But the offense so far isn't getting caught up in any hype. It's a unit relishing hard work across the past three-and-a-half years.
"We've never let it affect us before, so now that it's positive, don't let it affect you now, keep on going, keep on working," said Serigne, whose three touchdowns this season are as many as he had in 12 games last season. "Move that ring up the ladder. That's what we've been working on and it's finally starting to show, the tangible, here we are, here are the results."
Senior quarterback John Wolford felt like this was possible last season, but it never came to fruition consistently. At least, not at this level of efficiency.
Starting with fall camp, Wolford has seen the potential for the Deacons to put together those explosive plays.
"Going into last year, I thought we were going to be really good on offense, and there's times we just faltered. We weren't hitting big plays, we'd turn the ball over, stuff like that," Wolford said. "If you just look back on camp, the consistency that we played with is just very encouraging."
At the same time, Wolford cautions that three explosive games doesn't mean the Deacons' offense has arrived as a premier unit.
"The thing about it, it's Week 3. At any point we can plateau or get worse," Wolford said. "So it's how do you get better each week? We as captains, we talk about how we can get better each week. If we want to be a really good team, a really good offense, that's how you do it. Each week you get better."
Being better statistically than last week is a tall task, given the Deacons racked up the fifth-most offensive yards in school history against Utah State. It started from the first play, though, and early success can be essential.
In such a lopsided game as last week's 36-point victory over Utah State, it's difficult to submit that one play in the first two minutes was the difference in the game. And Greg Dortch's 43-yard touchdown catch from Wolford on Wake Forest's first snap was only the start for the Deacons.
The psychological aspect of that sequence — a play before, Cameron Glenn's 44-yard interception return for a touchdown was called back — was something still in the mind of coach Dave Clawson on Tuesday.
"We have the pick-six that gets called back because of a penalty, and I think a year ago there's a pretty good chance we'd be lamenting the fact that we had a chance to jump out to a seven-nothing lead and end up punting the ball back or end up taking a field goal," Clawson said.
That's just not the case anymore with this offense that's focused still on improving.