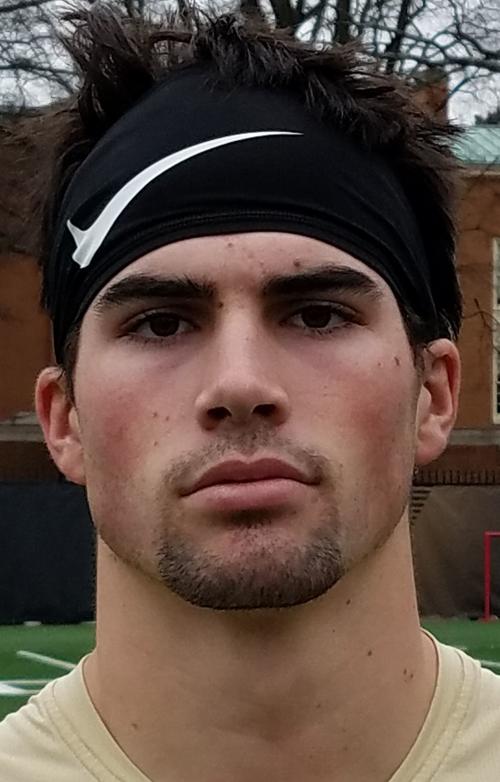 Seven members of Wake Forest's 2018 football recruiting class arrived in Winston-Salem early.
The freshmen joined the program in January and have been working out since.
That many mid-year enrollees is a large number for any program, and it's the most ever for Wake Forest.
With so many new faces around spring practice, it seemed like as good a time as any to get to know them.
The Journal sports staff came up with 10 questions to ask each freshman in the hopes of showing their personalities. The new players did not disappoint.
Here's the third of a seven-part Q-and-A series.
This installment features quarterback Sam Hartman.
Measurements: 6-foot-1, 185 pounds
High school and hometown: Oceanside Collegiate Academy | Mount Pleasant, S.C. (Hartman transferred there for his senior season after starring for Davidson Day)
Q: If and when you score your first touchdown, how are you celebrating?
Answer: Hand it to the ref. Probably point up to the sky, I think that'd be it.
Q: Who's your roommate and what's a funny story or trait you can give us about him?
Answer: My roommate is Blake Whiteheart (early enrollee tight end from Mount Tabor High School). And he snores incredibly loud. It's tough, we're working over it. I already have ear plugs, Melatonin, all of that.
Q: Who's a veteran on the team you've hit it off with and you're learning from?
Answer: I think from my position definitely Kendall has been really big and helping me grow, like, we're always together. We do extra work. He helps me a lot. I think Kendall would be the biggest in my position that helps me along. I think Cade (Carney) is another guy, outside of football, because we went to the same high school (Davidson Day) for a little bit and played together. Pretty much everybody, that's the cool thing, on the team is really kind of been there and helped me along the way.
Q: Who hosted you, and what did you do on your visit?
Answer: Dom (Maggio), and actually we went to a formal, a sorority formal, and the other night we kind of hung out with football guys.
Q: Album or artist that you've listened to the most in the past year?
Answer: I'd say Eric Church.
Q: What's the most important thing you want to prove about yourself in college?
Answer: Hard-working. I just want to prove I'm hard-working, like when they say my name, 'Oh, he's a hard worker.'
Q: What was your best high school game and why?
Answer: Sophomore year, Davidson Day, state championship, playing against Charlotte Latin, beating them. That was fun.
Q: What's your favorite movie and why?
Answer: Ooh, that's a tough one. I'd say just because I just saw it, it's Goodfellas. It's a good movie, a classic.
Q: Did you just see it for the first time?
Answer: No, it was on Netflix, it's a great movie. … It got on Netflix, I was like, 'Oh, yes.'
Q: Who's a player you model your game after or that you respect?
Answer: John Wolford. Why not John? That's who I watch his film, so I'd say John. Especially this system.
Follow-up: Have you gotten to spend time with him while you've been here?
Answer: Yeah, we've had a couple of competitions out here. He beat me every time. But I love John, he's a great guy and a hard worker, that's the legacy he left and kind of who I'm trying to follow.
Q: What's your go-to hometown meal?
Answer: Ooh, see, I've kinda got two places, I've got Charleston — I'll give you both. Charleston would be Home Team, it's a barbeque place down there right on the beach, great place. And then North Carolina, I'll probably go Tenders. It's a PDQ. It's got Oreo milkshakes and some tenders and fries — that hits the spot.