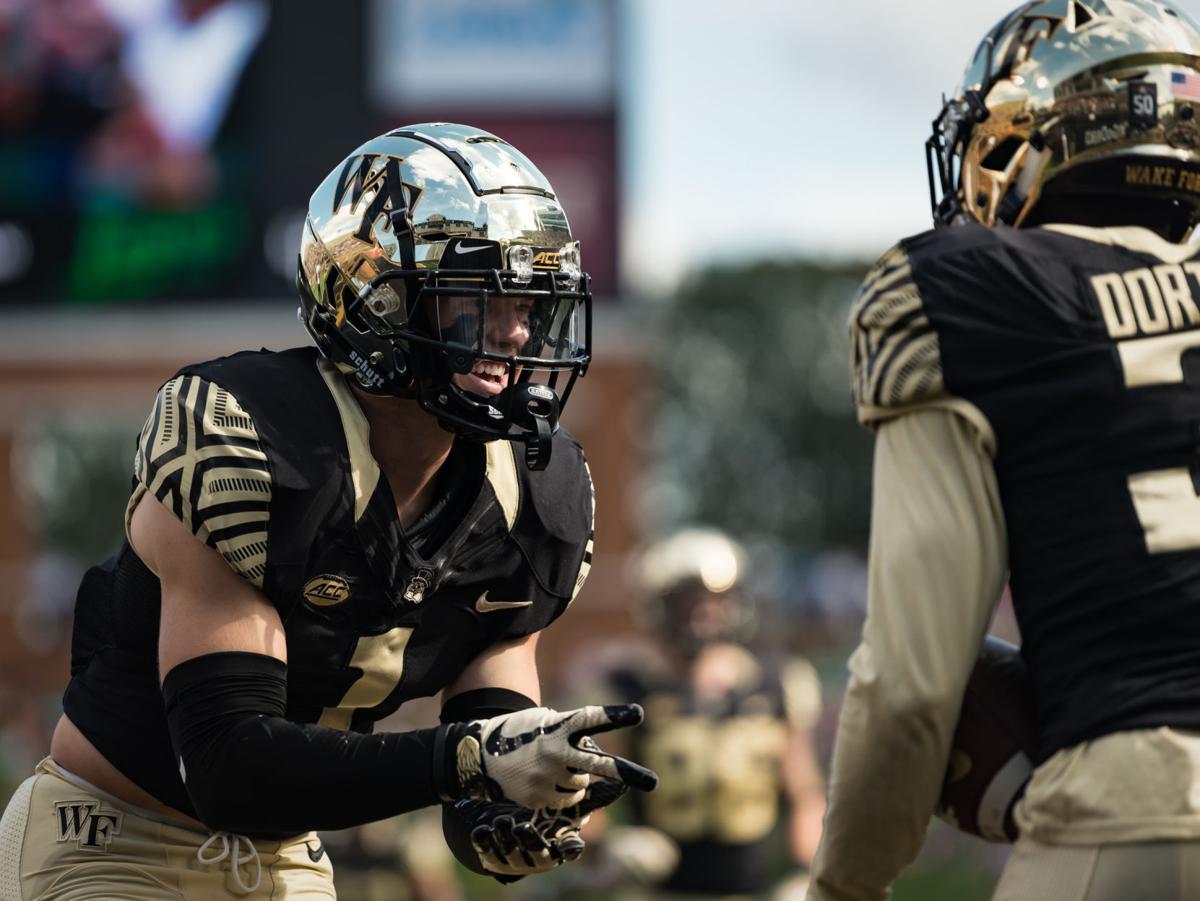 It obviously gets harder from here for Wake Forest's football team. Clemson might be losing ground in the Associated Press Top 25 poll and might be on its third-string quarterback, but the Tigers are still bringing a top-five team into BB&T Field.
And Clemson will face a Wake Forest team that now knows it's at least capable of lining up in the correct spots. That's something the Deacons had to show — more themselves than anybody — they could do.
Here are my observations throughout the game:
• I can't decide if I like the gold helmets more than matte black.
• Rice brought a safety blitz on the first play and Sam Hartman should've been sacked, really, but made something out of nothing with a 5-yard flip to Greg Dortch.
• Jack Freudenthal with a nice catch on third-and-2, and his bigger catch is later in the game.
• No replay of the third-and-3 that ended the first possession. I thought Dortch was open behind coverage, he said after the game that he wasn't. I trust him.
• Demetrius Kemp made two really good plays on Rice's first two plays of the game. That's a really good sign, since he didn't start last week and with injuries to linebackers, he needs to be a good, fifth-year senior.
• Boogie Basham and Cameron Glenn didn't lose contain on third-down stop.
• On the 54-yard touchdown to Dortch, great route, great throw, great catch. Everything clicked on that one. And then I think Alex Bachman beat Dortch in a rock-paper-scissors game (scissors cuts paper).
• Ha. Nice job by Evan Lepler, the play-by-play voice for the game, to drop in there that Sam Hartman hasn't been permitted to talk to the media so far. Also, a note: We were told after the game that we'll be able to talk to Hartman after Saturday's game against Clemson (which has been the plan since after the season opener at Tulane).
• Linebacker DJ Taylor with a huge hit in a hole on second down of Rice's second possession. Stat sheet only has him with four tackles, but it felt like he had a more-active performance than that.
• That third-down play, woof. The right tackle looks at Willie Yarbary and decides to, um, not block him.
• Dave Cohen was on the sideline, Lyle Hemphill was in the coaching box upstairs. That's the way it's probably going to be for the rest of the season. Those are the co-defensive coordinators, though their titles won't change to reflect it.
• Cade Carney has become a more patient runner since last season. He can't jump-cut like Matt Colburn II, but he's added that Colburn element to his repertoire.
• Mercy, Carney flat out ran over a dude on his 1-yard touchdown run. I mean, George Nyakwol met him in the hole and Carney just bulldozes over him.
• Rice's second play of their third possession, a really late pre-snap check from linebackers to defensive line. Quick-reverse to Austin Walter, who's the all-purpose-yard monster for the Owls, but it was defended well, Luke Masterson and Chuck Wade Jr. right there to make the tackle for 5-yard gain.
• 31-yard pass to Dortch on the first play negated because Phil Haynes was too far downfield. Not his fault, because Hartman held the ball too long on the RPO.
• Coverage was good against Dortch on third-and-3 catch for five yards, just a better throw and catch.
• Takeo Spikes, color analyst, says that Wake Forest "likes to spread the ball around, keep some consistency." Well, that's the idea. It wasn't really executed against Rice — Dortch had 11 catches, Freudenthal had two, Sage Surratt one and Brandon Chapman had one with the first-team offense. And it'll need to be executed for most, if not all, of the remaining games.
• Dortch's second touchdown, Hartman made a fantastic play — avoided a blitzer, scrambled and still threw bullet to hit Dortch in stride. Also: Rock-paper-scissors looked like a tie, both went with paper.
• The referee told Dortch something after the celebration — I'd love to know what was said. It didn't look like he did anything to warrant a warning for a penalty, but not sure if rock-paper-scissors with your teammate is a red flag to officials.
• Jaeger Bull is one of the best tight end names I've ever heard.
• Again: DJ Taylor is an instinctual player. He's now the early answer to the question of which player does the simplification of the defense benefit most.
• At the risk of repeating this every time I write one of these: Essang Bassey is playing really good football. He's a good one-on-one cover corner and he's a great open-field tackler.
• The fourth-and-1 play was obviously the right decision to go for it. But only because Hartman made a great read to give it to Carney — Rice had a safety circle into the backfield while the handoff was happening, and Hartman made the correct read (quickly, too).
• Rice's first possession of the second quarter, Ja'Cquez Williams is in at mike linebacker.
• Tyriq Hardimon taking snaps as the nickel. Think that means the staff wants him comfortable enough to be playable, instead of having to rely on Bassey, Amari Henderson and Ja'Sir Taylor as the only three cornerbacks.
• Christian Beal-Smith gets in the game with the first team offense and immediately rips off a 19-yard run. That's one of the most-encouraging things about this game.
• Clawson said he was impressed with the way Hartman went through progressions on the 38-yard touchdown to Dortch. So am I.
• I didn't get to see rock-paper-scissors this time. Probably the most disappointing thing about the whole game.
• Zeek Rodney penetration, and then the forced fumble. Which brings us to a repeated point: When fresh, Rodney is one of the best defensive tackles in the ACC. He's playing great. He's just unable to do it when he's on the field for 90 or so percent of the defensive snaps.
• Didn't realize it was DJ Taylor's birthday until Lepler just said it. Wish I had known, would have told him happy birthday after the game when he was interviewed.
• Second half starts, and this is clearly just a struggling Rice team. Bounce pass, high flare into the flats for the last two plays of their opening possession.
• First run of Rice's second second-half possession, the 47-yard run by Austin Walter, was a gaping hole. Which is a shock to see, because it's the first one of the game.
• And then on second play, we go to Spikes: "Wake came on a blitz, but they were late." That seems to happen way too often, still.
• The shovel pass for a touchdown was just the perfect play call.
• Great screen pass to Dortch, great blocking downfield for 25 yards. And then the pass to Freudenthal for 42 yards, Hartman got drilled immediately after he released. He really did a great job of not breaking contain in this game, compared to the last two.
• And there's the fourth touchdown to Dortch. Just a simple move to get inside on a slant.
• Chuck Wade Jr. on the pick-six. Pretty much a look-what-I-found on a weird pass, just right in Wade's lap.
• Beal-Smith with a touchdown-saving tackle on a kick return. That was the long second kick return, both of them caught on the run by the returner.
• DJ Taylor missed tackle on the 38-yard touchdown run. And then nobody else wanted to even try to make the tackle.
• Zach Tom and Je'Vionte' Nash entered on the offensive line with Kendall Hinton at quarterback.
• Jaquarii Roberson's first career catch on a 2-yard screen. He's going to be good, he's got fantastic size for a slot receiver (6-foot-1, 180 pounds).
• On the fourth-and-1 turnover, I couldn't tell if Hinton lost it on the handoff or Beal-Smith should've taken the ball and didn't. One of them is at fault there, though.
• Third-and-4, way too easy 14-yard carry for Austin Walter.
• Excellent defense on the fade by Bassey on third down. And then on fourth down on the other side — a little bit of a push-off, but still had a chance to make a play.
• Beal-Smith wants to break things to the outside, and he's a really dangerous open-field runner.
• Not that bad of a throw on Hinton's interception, just a better play by the defensive backs. Steven Claude had a chance to make a play.
• Manny Walker got into the game and made some decent plays in run support.
• Good news for Ron Foster, the audio operator who was hurt at the end of the first half, was doing OK after going to the hospital.
• The last nine minutes of the game were predominately backups and it didn't seem like either offense really wanted to be on the field anymore.
• Somebody gave Lepler bad information, he's talking about the last time Wake Forest had two defensive touchdowns was a 2007 game, but it was 2008.