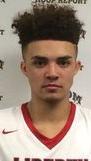 Wake Forest's freshman class for its men's basketball program got a late addition Wednesday.
Michael Wynn announced his commitment to Wake Forest on Twitter, saying in part: "I am 100% COMMITTED to Coach (Danny) Manning and Wake Forest University."
Wynn, who's 6-foot-6, 200 pounds, is a three-star forward, according to 247sports. He played this past season at Liberty Heights Athletic Institute, a post-grad school in Charlotte. Before that, Wynn played at Christian Brothers Academy and is originally from Albany, N.Y.
In the spring, Wynn was committed to East Carolina. He also had offers from Wichita State, South Florida and Massachusetts.
This rhymes with what Manning told the Journal in late May, that the Deacons were still actively recruiting.
"We're still recruiting, we're still reaching out. Just with the amount of transfers that are out there and kids that have changed their minds on their initial decisions, so you know, we're still plugging away, no different than anybody else," Manning said.
Since then, his program has added Charlotte transfer Andrien White — who has to sit out this season — and Wynn.
Wake Forest still has one more available scholarship for next season, if the staff decides to use it.
Wynn joins a class that is already on campus, and it's comprised of 6-8 forwards Jaylen Hoard and Isaiah Mucius and guards Jamie Lewis and Sharone Wright Jr. Wynn is ranked as the No. 416 player nationally and 25th in North Carolina for the Class of 2018, according to 247sports.