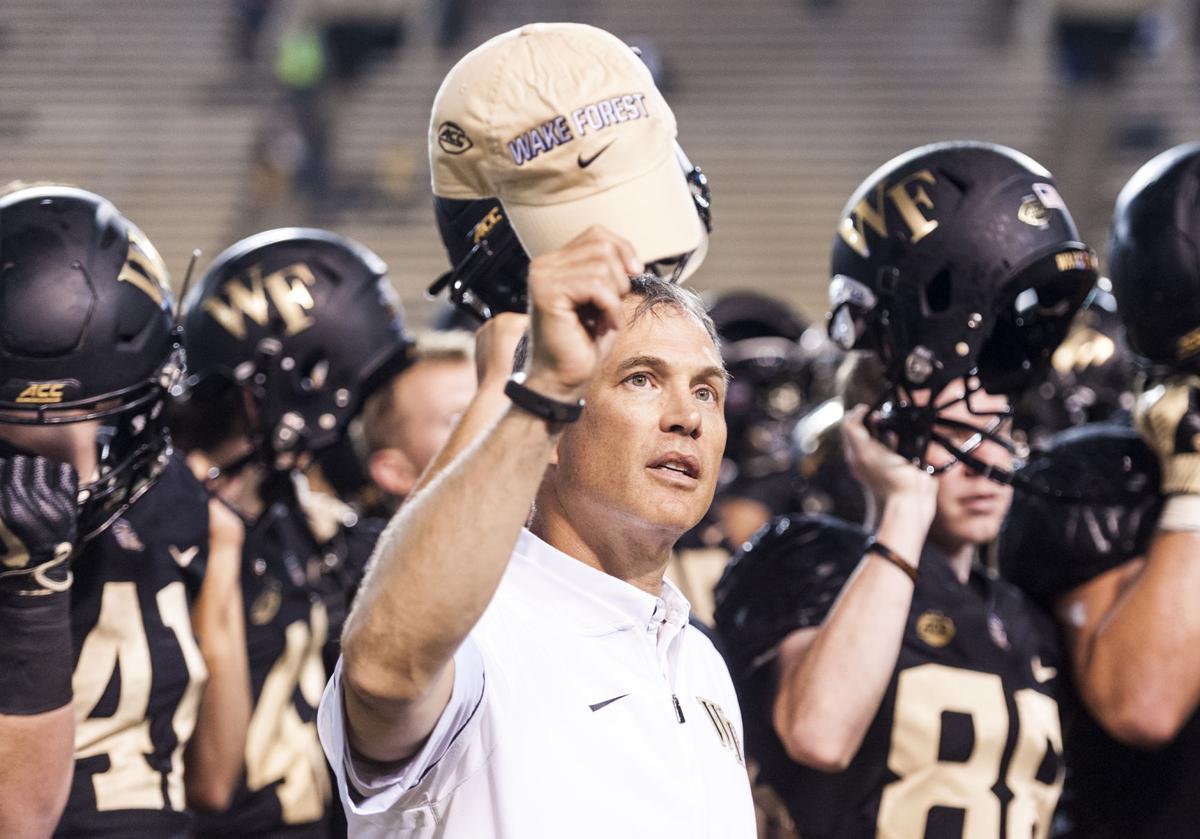 Wake Forest's football program sent out 21 National Letters of Intent and got all of them back Wednesday before noon.
It was a day with little drama for Coach Dave Clawson, which was a good thing for the Deacons.
"It's a drama-free day. We sent out 21 letters and we got 21 letters back with signatures," Clawson said. "We're excited, we're fired up, and there's a big part of us that's also relieved. We really, in terms of how we handled early-signing day, we handled this as national-signing day."
This was the first time football players have been able to sign before the first Wednesday of February. Wake Forest locked up 21 players — a class ranked 55th nationally and 11th in the Atlantic Coast Conference according to 247sports — and might be done with its crop of incoming freshmen.
"We may add one more, two more, three more, maybe no more in February. We're going to see what happens the next few weeks," Clawson said. "We may have a few open, and if that's the case we may sign a few more people in February. I don't know how many players will still be out there. We treated this as if it was national-signing day."
It's a class light on the drama and also balanced — there are 10 offensive players, 10 defensive players and kicker Nick Sciba, who's ranked the fifth-best kicker in the country out of Clover, S.C. There are four offensive linemen; Mike Edwards of Hope Mills, DeVonte Gordon of Washington, Orlando Heggs of Jacksonville and Michael Jurgens of Damascus, Md.
Quarterback Sam Hartman was the class' first commit, from the summer between his sophomore and junior years. That was when he was at Davidson Day, before he transferred along with Coach Chad Grier to Oceanside Collegiate (S.C.). A couple of other offensive players are in-state players, including running back Courtney McKinney of East Montgomery and tight end Blake Whiteheart of Mount Tabor.
"This is two years in a row now between Christian Beal (of East Forsyth) and Blake Whiteheart that we've gotten really good players from Winston-Salem," Clawson said. "I think it's great to do that because I think it helps build our program and hope it helps sell season tickets as the people in the neighborhood want to see him play."
The other three offensive players are receivers Isaiah Isaac (Buford, Ga.), Anthony Manning (Orlando) and Atorian Perry (Lake Worth, Fla.). Isaac and Manning are listed at 5-foot-10 and will be slot receivers in the mold of current Deacons Tabari Hines and Greg Dortch, while Perry is 6-5 and drew a Scotty Washington comparison from Clawson.
The position distribution on defense was heavy on the line and in the secondary, with four of each signed.
The defensive linemen are Dion Bergan (Kissimmee, Fla.), Rondell Bothroyd (Mansfield, Conn.), Kelijiha Brown (Saluda, S.C.) and Royce Francis (Acworth, Ga.). The Deacons signed two linebackers, Ryan Smenda of Orange Park, Fla., and JaCorey Johns of Cartersville, Ga., though Clawson described Johns as a hybrid who could also play defensive end.
In the secondary, Wake Forest brings in Ken Dicks III of Suwanee, Ga., Nasir Greer of Stockbridge, Ga., Zion Keith of Florence, S.C., and Peyton Woulard of Suwanee, Ga. Dicks and Woulard were at rival schools.
Each of the incoming defensive backs is either 6-foot or 6-1, something Clawson explained was a priority when identifying recruits.
"I think what you're seeing is we're trying to recruit a little bigger corners," Clawson said. "This league is getting very big at receiver, and we just felt we had to get a few more corners that could match up."