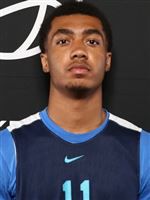 On the eve of its exhibition game, Wake Forest's men's basketball program picked up a verbal commitment from Jamie Lewis of Atlanta as the fourth player for its 2018 class.
Lewis was on campus for an official visit when he committed, according to scout.com's Evan Daniels. Lewis is a 6-foot-3, 185-pound point guard who also had offers from North Carolina State, Virginia, Georgia Tech, Baylor and Florida, among others.
Lewis joins Jaylen Hoard, Isaiah Mucius and Sharone Wright Jr. in the Deacons' class of incoming players for next season. Hoard and Mucius are 6-8 forwards, while Wright is listed as a 6-5 point guard.
That quartet ranks eighth in the country according to 247sports.com's rankings — though eight of the top 12 prospects have not committed.