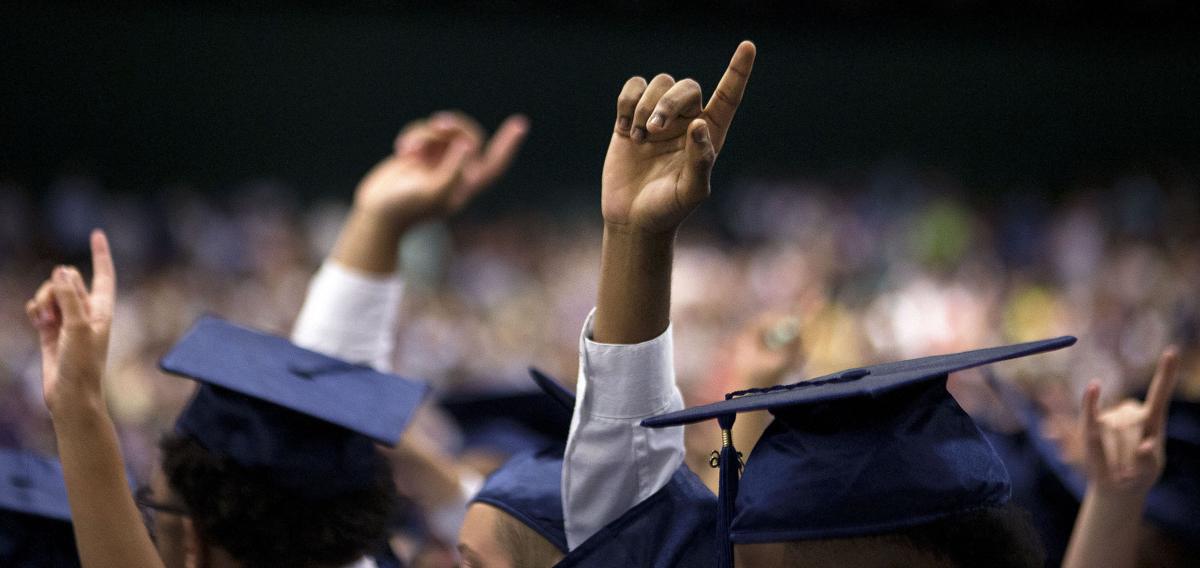 During my tenure on the higher ed beat, I've written two stories that have gotten way more clicks than most: this one about the Guilford College Bryan Series appearance of astronomer Neil deGrasse Tyson, which got front-paged at Reddit; and this one about the College Foundation of North Carolina's annual free college application week, because most of y'all apparently like free stuff and wanted to tell your friends all about it.
I can't expect Reddit to regularly up-vote my Bryan Series coverage. But I can let you know each year about College Application Week. It's happening right now.
There are a couple of changes this year:
• Free application week runs for two weeks this year instead of one. Students can apply to participating N.C. colleges for free through Oct. 30. That will save you $50 to $85 per application, so it's a pretty good deal. 
• Four additional N.C. schools are waiving their application fees. Elon, Queens, UNC-Asheville and Western Carolina are the new additions to the list of 42 no-fee-for-two-weeks schools, which is here. Remember that it's always free to apply to the state's community colleges. Also remember that some four-year colleges (like Guilford College and Greensboro College) don't charge an application fee.
• Because most everything is virtual these days thanks to COVID-19, CFNC is holding live online events on some college application basics. There are virtual events Friday and next week that cover the application process, and there are two sessions next week that go over financial aid. Click here and here for schedules. If you missed the earlier sessions on the FAFSA (the key to unlocking financial aid) and the Residency Determination System (which tells students whether they qualify for in-state tuition), CFNC has posted videos on its NC Countdown to College site.
Here are two more things prospective college students should keep in mind.
First: The UNC System schools aren't requiring students to submit SAT and ACT scores in 2021 because of the pandemic. A lot of other universities inside and outside North Carolina have similar one-year (or longer) test-score-submission waivers because schools were concerned that the pandemic would make it hard for students to sit for college exams. It looks like those fears were well-founded: More than half the students nationally who signed up for the SAT on Sept. 26 couldn't take it, and more than 40 percent of students were shut out of the SAT subject tests scheduled for the following Saturday.
Second: The UNC System is trying out new minimum admissions standards for all state universities for the next three years. Students must either have a high school GPA of 2.5 or meet minimum test scores (19 on the ACT or 1,010 on the SAT) but not both. (It used to be both; the GPA standard was the same, but the minimum test scores were a little lower.) Note that clearing this new bar doesn't guarantee admission, especially at the harder-to-get-into schools like UNC-Chapel Hill or N.C. State, but it does mean that more applications will at least get a look. Here's more background on the rationale behind the change, which came about in part because the UNC System found that students with decent high school grades but not-so-hot test scores actually do OK in college.
The college application process seems straightforward to someone like me who has gone through it twice (first as a student and more recently a parent) and thinks about it quite a bit because I write about higher education for a living. But if you're new to it, it can be confusing and daunting, which is why NC Countdown to College tries to make it a little less so each year.
Good luck to everyone who's applying to college this year. 
Staff writer John Newsom covers higher education for the News & Record of Greensboro and the Winston-Salem Journal.
Have something to say about this blog post? Email him at john.newsom@greensboro.com. You can also follow him on Twitter at @JohnNewsomNR.
Support his coverage of higher education. Click here and here to learn about digital subscriptions the News & Record and the Journal.