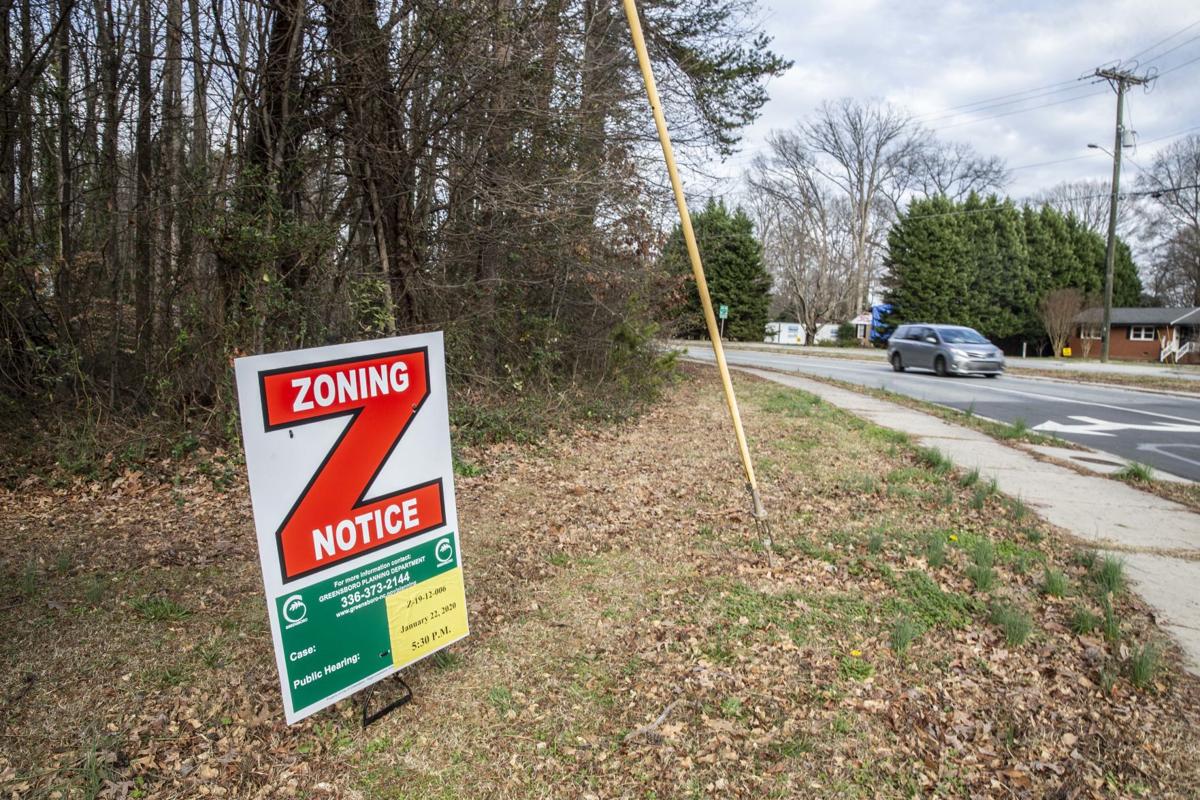 GREENSBORO — The Zoning Commission voted unanimously Wednesday to deny rezoning for a controversial property at the busy intersection of Lawndale Avenue and Lake Jeanette Road — a parcel residents have dubbed "The Devil's Triangle" because of its shape.
Kotis Properties has asked to rezone the land from residential to light commercial use, which hasn't sat well with nearby homeowners. They believe that if the 2.3 acres were allowed to be commercially developed, it would spur more growth into surrounding neighborhoods.
It's yet another instance of a city neighborhood fighting a commercial developer to protect their suburban way of life.
That played out Wednesday evening. More than 20 people opposed to the plan attended the Zoning Commission's meeting at the Melvin Municipal Office Building.
Aaron Terranova, president of the Lawndale-Lake Jeanette Neigborhood Association, told the commission that residents met with representatives of Kotis Properties. Afterwards, they weren't happy that developers could not say exactly what they want to build on the land.
Currently the property is heavily wooded with one house barely visible through the overgrowth. An affiliate of Kotis Properties owns one of the lots and would have to buy the remaining three before developing the land.
Still, there is the issue of what kind of development it would be.
"They don't know what's going to be there," Terranova said. "That is a huge issue for us."
Attorney Marsh Prause, who represented Kotis Properties, told the commission that the company wants to build a "walkable" neighborhood development.
"This property," he said, "has been passed over for residential development."
Terranova argued that residents have all the commercial services they need within a two-mile radius of the property. That includes The Fresh Market, a specialty grocery store, in a nearby shopping center that borders Lawndale Avenue.
The company said in its rezoning request that the pressure for commercial growth is already strong in the area. Specifically, a new interchange for the Interstate 840 loop to the north is enough to make the 2.3-acre property a reasonable commercial district.
Only six of the commission's nine members attended the meeting, but all voted against the proposal.
Commissioner Hugh Holston said that after looking at the area, he could come to no other conclusion than the property should remain residential.
Vernal G. Alford III, another commissioner, agreed.
"When I first drove up to this property, I said, 'Wow, I can't imagine anything else being there because it's surrounded by residential.'"
After the vote, Prause said that Kotis Properties is likely to appeal the decision to the City Council, which would hear the case during its Feb. 18 meeting.
Contact Richard M. Barron
at 336-373-7371 and follow
@BarronBizNR on Twitter.