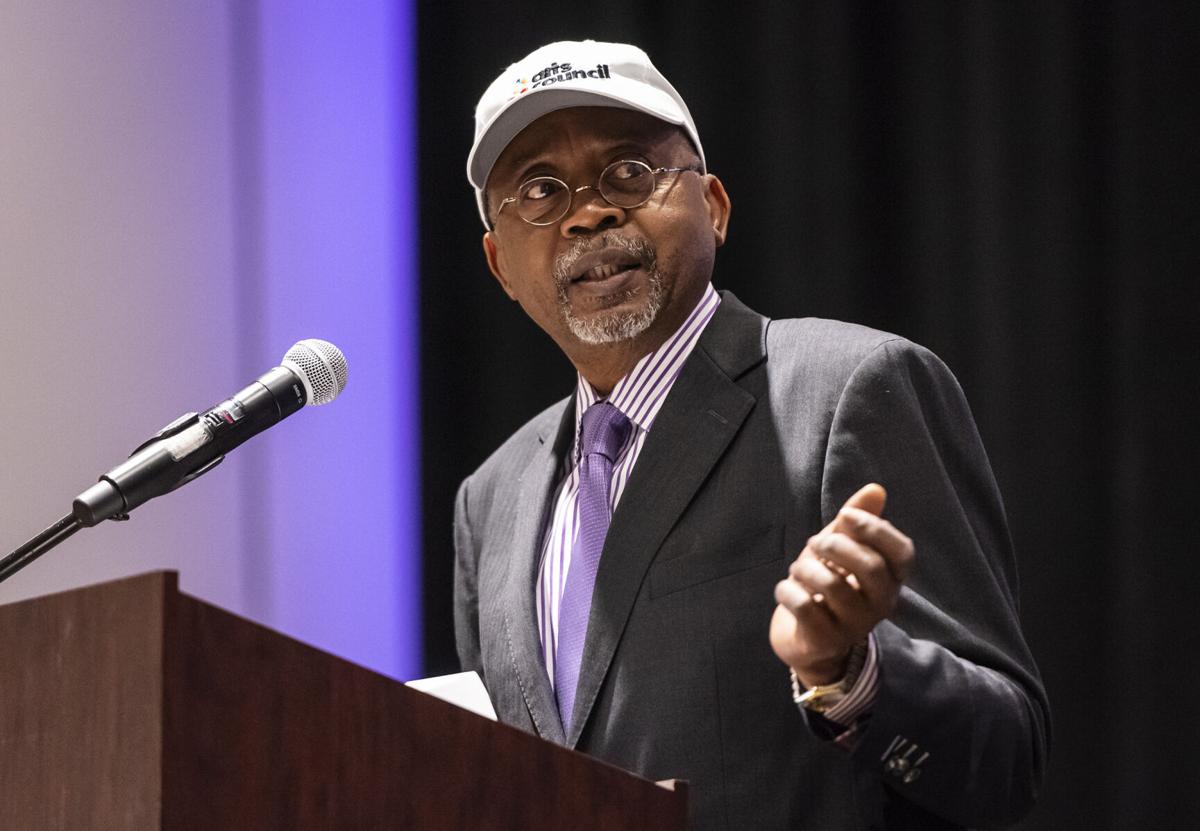 Randy Eaddy had just retired from a long career in corporate law and was headed for Columbia, South Carolina, when he was hired to be the president and chief executive of the Arts Council of Winston-Salem and Forsyth County.
He committed to two years, and now those two years are up, but because of the novel coronavirus pandemic, Eaddy has agreed to stay on to the end of the year.
Eaddy succeeded Jim Sparrow, who had held the position for five years before leaving to become executive director of the Fort Wayne Ballet in Indiana.
In January, Melinda McConnell, a member of the arts council's board of trustees, tapped Rick Moss, another board member, to lead the search for Eaddy's successor, according to Carroll Leggett, the arts council's public relations consultant.
Moss, who was chairman of the arts council's board when Eaddy was hired, described him as "someone who knows the arts council well, who knows the needs of the Winston-Salem and the Forsyth County community, and has the ability to keep the organization moving forward seamlessly."
The search committee began its search last week, posting to job boards that reach arts administrators nationwide.
When he was hired Aug. 1, 2018, Eaddy was back on the board, after having been off for a few years. He took the leadership position during a busy time for the arts council. They were coming to the end of their annual fund drive and beginning extensive renovations on their building on Spruce Street.
"My most significant accomplishment as president probably was reshaping and guiding the completion of the transforming renovation of the Milton Rhodes Center, on schedule and in time for the 2019 edition of the National Black Theatre Festival," he said.
That was a $3 million reorganization of lobby and gallery space into a welcome center, gift shop and more open gallery space; renovation of the Mountcastle Forum, conversion of the Reynolds Place meeting room into a large theater space and the addition of another smaller theater.
In one of Eaddy's first public statements, he said that he wanted the arts to touch every corner of the community.
"I believe the 'touching every corner' mantra will live on, and that it has served to help guide the board and the overall organization to see the arts council's focus and role as being more inclusive, literally," he said. He is the council's first African-American chief executive.
"I led us to focus formally on our commitment to diversity, equity and inclusion. Previously, while we believed in it, we hadn't even adopted an official statement. I wrote our statement, and the exposition of it, both of which will serve the organization well."
Eaddy received his undergraduate degree from Furman University and then attended Harvard Law School, where he was editor of the Harvard Law Review.
"When I took this job, I knew how to do lots of stuff, from my years as corporate lawyer, managing complex deals, etc.," he said. "But, I also knew that leading the arts council was a horse of a different color.
"I will be eternally grateful to several people here who stepped up magnanimously to support a neophyte arts administrator trying to lead this storied organization. But for their support, I probably would have packed it in after the first two months on the job.
"I literally haven't played a round of golf in over two years," he said. "And, while I have begun 30 books since I took this position, I have only finished five of them."
(336) 727-7298
@LynnFelder
Be the first to know
Get local news delivered to your inbox!