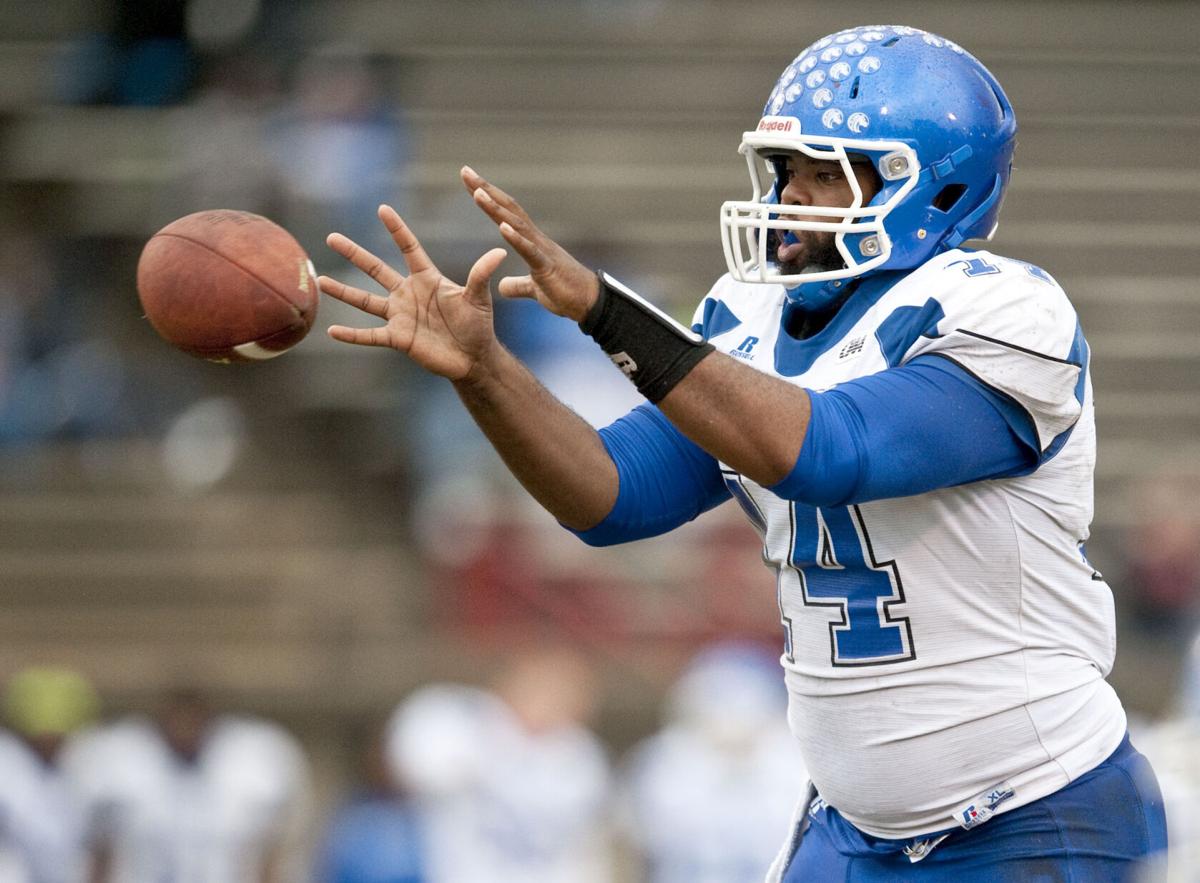 After several months with a head coaching vacancy, Parkland has a new face guiding its football program. 
Athletics Director Linwood Jerald confirmed Thursday afternoon that Derek Bryant, a former Fayetteville State quarterback who most recently spent a lone season as the coach at Graham in 2019, has been hired to lead the Mustangs. Bryant replaces Laymarr Marshall, who after a year with Parkland, said in June he was stepping down for personal seasons. Jerald said Bryant was officially hired by Winston-Salem/Forsyth County Schools on Tuesday. 
Bryant is a former standout at Carrboro who passed for more than 2,600 yards his senior season, then played at Fayetteville State from 2012 to 2015. Bryant said Jerald and Parkland's recent success attracted him to the job. He said his coaching mentors, among them Lee County athletics director Reggie Peace and Broncos Hall of Famer Larry McDonald Sr., had high praise for Jerald.
"When you look at their success athletically, not only in the wins department but also putting kids into school, it was definitely a place the piqued my interest," said Bryant, whose new program recently announced the hiring of nine assistants — including Chris Hubert, Bryant's offensive coordinator and former Broncos teammate. 
Bryant, who got his first head coaching job at Graham in April 2019, arrives at Parkland after spending four years as an assistant at Carrboro followed by a stint at Lee County, where he was co-defensive coordinator.
When Marshall resigned, Jerald said he didn't want to name an interim coach because of the tight window before WS/FCS lifted its dead period on limited workouts — at the time, July 6 — for fall sports amid the coronavirus pandemic. The district, after postponements because of rising COVID-19 numbers across the state, eventually started a Phase One reopening for conditioning on Aug. 3. 
Jerald said Bryant was offered the position in June. But Parkland wanted to tie the job to a teaching role, which it didn't have at the time. Jerald said limited workouts were led by Lamont Scales, the Mustangs' defensive coordinator. 
"These kids need to see their leader through the course of the day," Jerald said. "They need to go to them if they need something. And he needs to be able to see them. 
"It was very important to us, as a staff, to hire somebody that was going to be in the building." 
Bryant, who is now a teaching assistant, said Marshall, who remains an Exceptional Children's teacher at Parkland, helped him get in contact with players and navigate the district's guidelines for limited workouts. 
"I'm excited to be able to finally announce myself and the rest of the staff to our kids so that they now have a face," Bryant said. "Here in the near future, we are going to have a team meeting on Zoom, so they understand that we're going to play football and that Parkland should continue in the direction that Coach Marshall had things going."