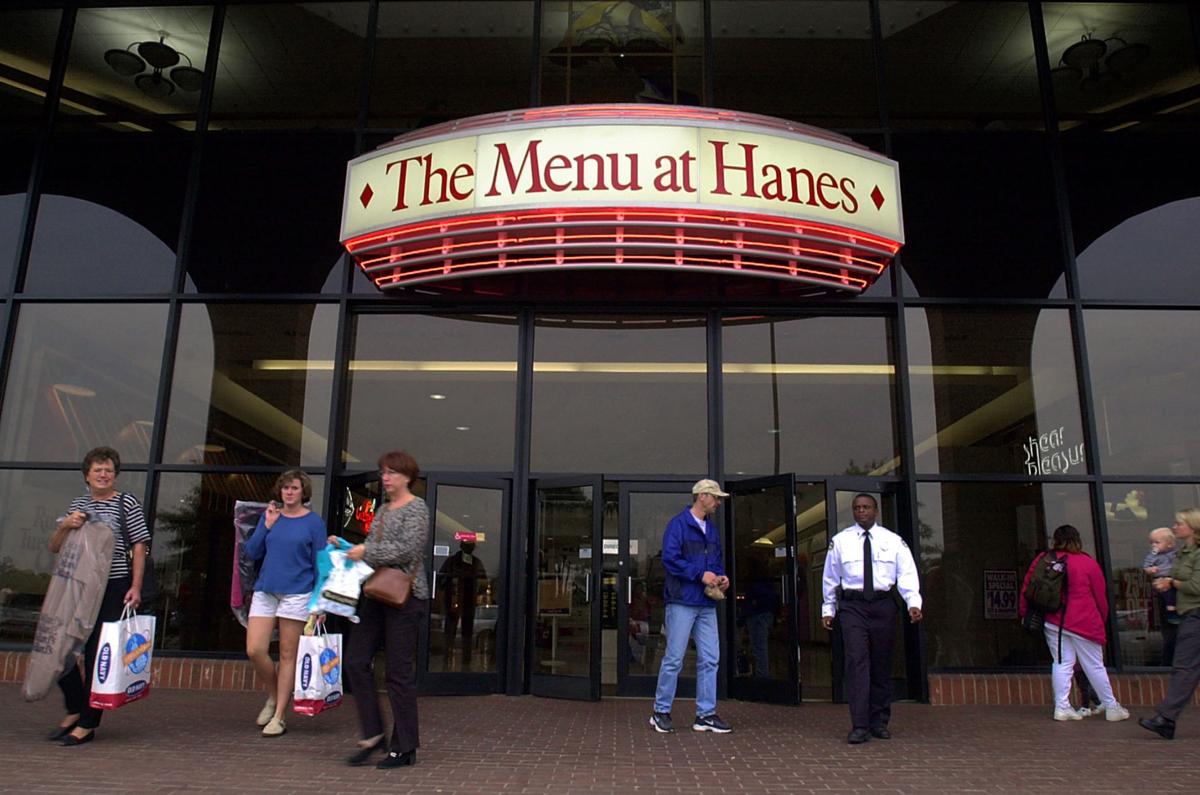 Even with the holiday season upon us, I'm still hearing a lot about "the death of retail." You know, the doom-and-gloom scenario that seems to be just around the corner, ushered in by the age of online shopping.
It's not that simple, of course. While many stores see sales flagging, others are figuring out ways to survive.
But here's the other thing: retail turnover is nothing new. And evidence of that is right up the street.
Hanes Mall opened in 1975 with great fanfare and a slew of new stores, many of which I'd never heard of. I can remember meeting my buddy Norris at his home in West Highlands neighborhood and getting on the train tracks at Northwest Boulevard to make the long walk there, in the days before either of us could drive.
(Adolescents walking to places is also somewhat of a lost art, but that's for a later post.)
What a scene it was at the mall. It was much more intimate than it is now, being about half the size it is now following a major expansion in 1990.
There were statues that dangled like twisted metal pine cones above fountains filled with coins tossed in by dreamers like me. The lights, the stores, the people, all of it seemed so full of promise.
About 10 years ago, while hanging out in the clip files of the Journal's old library, I found a story about the mall on the eve of its opening, complete with a list of all the new stores.
I remembered many of them, and I was struck even then by how many were already gone. Camelot Music, Walden Books, Pet-Go-Round, all now shuttered. Aladdin's Castle lasted into the 20th Century, a long run considering the rise of home- and computer-based video games.
The anchor stores remain, though there's been some turnover there too. But as far as retail, there's almost nothing of the original mall left, with a few exceptions.
And much of it left long before we ever hooked our home computers to the Internet.
Change is just the nature of retail. Popular taste will always be fickle. I hope the mall survives to have another five decades. And if it does, you can count on it looking nothing like it does today.
Here's a list of the stores that were preparing for opening day in August 1975, according to a Journal report. Remember, all of this was just in the area now referred to as the "North Mall." The "South Mall," which is on the other side of J.C. Penney and includes the food court, opened in 1990:
Sears, Belk and J.C. Penney were the main anchor stores.
Andrews Music sold musical instruments, sheet music, records and more.
Baker Shoes, a national chain that had over 500 stores at the time.
Brooks Fashion Stores, a junior specialty store.
Cahill & Swain, a locally owned fashion store for men and boys.
Camelot Music records, tapes and music books.
Cards 'N Such — two stores featuring cards, stationery, calendars, and more.
Chess King, a national clothing chain for young men.
Fines Men's Shop of Norfolk, Va., a fashion store for men.
Foxmoor Casuals of Brockton, Mass., sportswear and casual wear women and juniors.
G'Anzie specialty clothes for women.
Hickory Farms of Ohio specialty food store.
Hofheimer's Shoes.
Jeans West denim clothing and accessories.
Joli, a boutique for young adults.
Kinney Shoe Corp.
K&K Toys, Inc.
Merle Norman Cosmetics.
Osterman Jewelers.
Pearson Music Company, musical equipment.
Radio Shack, nationwide electronics and hi-fi retailer.
Read's Uniform Center.
Rosaline's of High Point, specialty store for women, misses and juniors.
Spencer Gifts
Norman Stockton Inc., Winston-Salem-based fine clothing store.
Stuart's, fashion apparel for young women.
Susie Casuals, women's clothing.
Thalhimers department store.
Thom McAn, national family shoe store chain.
Tiffany's Bakeries.
Tinder Box pipe and tobacco store.
Tobias, founded by WInston-Salem residents who opened their first store in High Point in 1931.
Walden Books of Stanford, Conn.
Weisfield's Inc., a jewelry store.
Youth Center, a WInston-Salem-based store that sold clothing, furniture, and so on for children and infants.
Aladdin's Castle arcade.
Bailey, Banks and Biddle jewelry.
Bathtique International.
Bell's Linen Closet sold home furnishings and monogrammed items.
Bresler's ice cream parlor.
Butler's Shoes.
Carousel Snack Bar.
Colony Corner, a specialty shop for young women.
County Seat featured Levi's.
Mr. Dunderbak specialty food store.
B. Dalton Bookseller.
Endicott Johnson Shoes.
Zondervan Family Bookstores.
Florsheim Shoes.
Galeski Optical Co.
General Nutrition Center health and diet goods.
Hahn Shoes.
Hanover Shoes Inc.
Joseph R. Harris Co. women's specialty store.
Just Pants sold jeans and more for men and women.
The Limited womens fashions.
Carolina Keyboards sold Lowery brand organs.
Mother-to-Be maternity store.
Orange Julius.
Ormand Shops Inc. junior sportswear.
Pet-Go-Round pet store.
The Ranch leisurewear for men and women.
Record Bar records and tapes.
Rings 'n Things contemporary jewelry.
Shoney's restaurant.
Things Remembered personalized gifts.
Wachovia Bank.
World Bazaar import retailer.
Zale's Jewelry.
Morrison's Cafeteria.