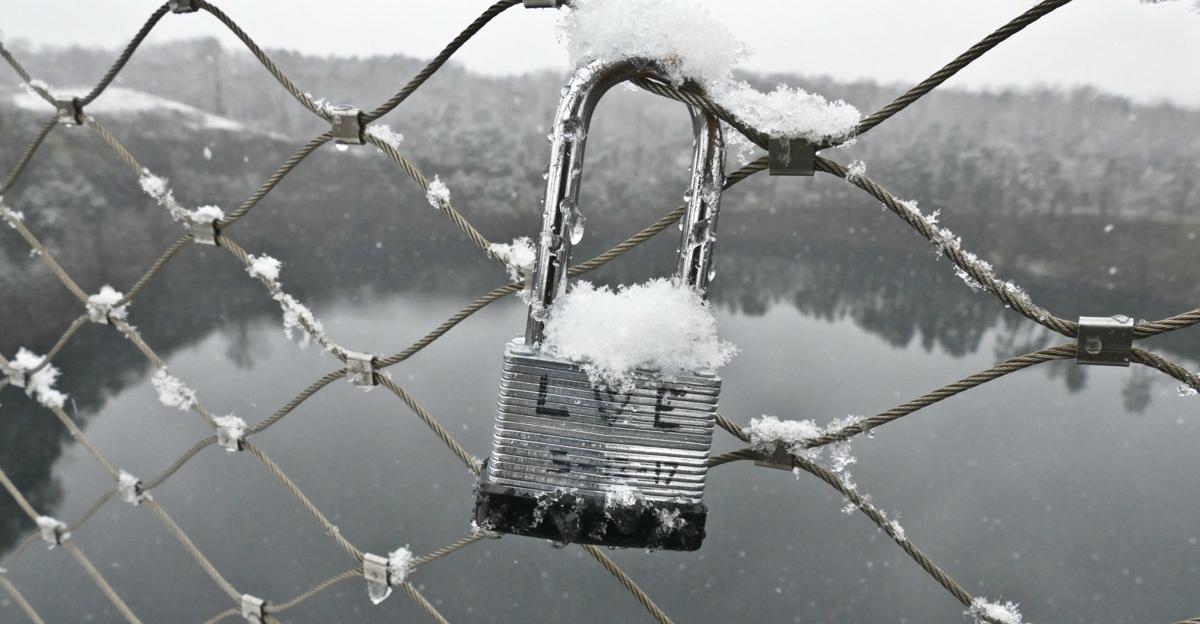 Quarry Park is one of the city's newest gems, an open-space oasis on the Southeast side offering a crystal view of the downtown skyline and a marooned body of water perched in the middle that we may ponder its depths.
The key feature is, of course, the park's stunning overlook pier, which reaches up from the walkway and provides those unique visuals. Stand at its end with a breeze touching your face, and pretty quickly the romance of the scene takes over.
And that's where the problem comes in.
More and more, amourous visitors are taking to the pier and leaving something behind other than memories.
They're locks. Specifically, heavy metal padlocks.
The trend is not new. A young adult novel that was made into a movie inspired the "love locks" in Europe just over 10 years ago. It got so bad that in Paris an estimated 700,000 locks — many containing sentimental messages — had to be removed from the Pont des Arts bridge lest it collapse into the Seine River. CNN reported that, by that time, the total weight of those locks was roughly equivalent to 20 elephants.
Right now, the locks at Quarry Park wouldn't be equivalent to the weight of 20 snot otters. But still, it's a problem, says William Royston, director of the city's parks and recreation leisure team.
The overlook's railing is lined with a custom wire mesh. It wasn't designed to hold anything like a heavy lock, and so there are already places where it has frayed, Royster says.
"It causes damage to the railing that protects people when they're on the overlook," he says.
Which means they have to go, rendering the symbolism of love's permanence kind of temporary. They're only there as long as it takes a city crew with bolt cutters to sever the shackles.
"We keep taking them down," Royster says. "We could come back later and there'd be 10 more."
That doesn't mean the local lock tradition has to die. In fact, there's already a place in the city where such demonstrations of commitment are welcome.
Years ago The AFAS Group installed a metal lattice-work arched entryway to the Arts District at Sixth and Cherry streets. The metalwork is much stronger than what's at Quarry Park, and the shiny columns are festooned with heavy locks the structure seems made for. Lots of couples have embraced it.
So, yeah, visit Quarry Park with your loved one, enjoy the romance and scenery.
Then y'all come downtown, take a selfie at another stunning visual place, ARTivity On The Green park on Liberty Street, maybe visit a gallery or one our downtown craft breweries.