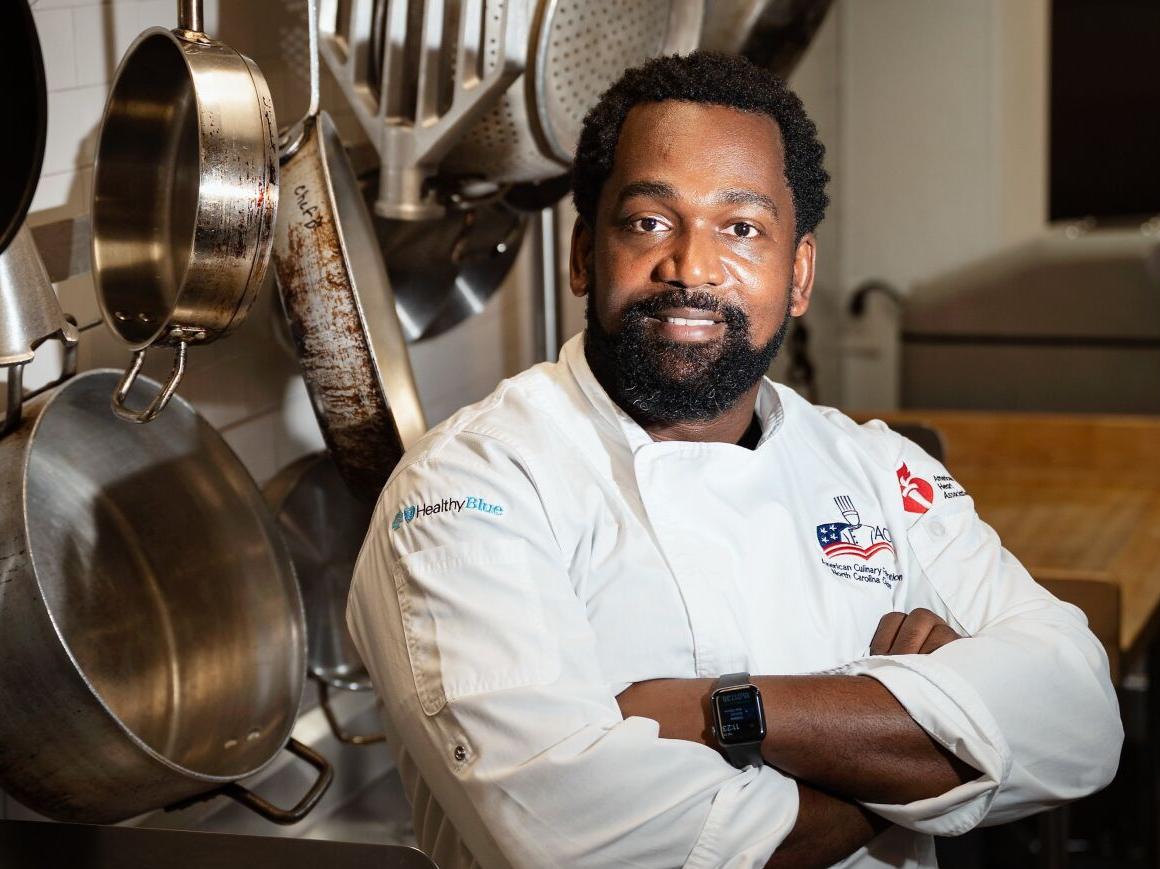 You could describe N'Gai Dickerson as a disciple of healthy food.
This trained chef, whose first name is pronounced nah-jai, has cooked in fine dining restaurants, country clubs and hotels around the Triad.
When he wasn't on the clock, Dickerson offered healthy food demonstrations and samplings at local libraries and recreation centers. He volunteered his time and paid for the food himself because he loves showing people how to eat better by introducing them to new foods or familiar dishes prepared in healthier ways.
He's driven to serve in this way because both of his parents died of health-related complications in their early 40s. Ever since, his mission has been to help others make healthier food choices.
About three years ago, his purposeful side gig became a full-time job with the American Heart Association.
A philanthropic family in Greensboro wanted to make a positive impact where they lived. Through their funding efforts, Dickerson became the American Heart Association's Triad Mobile Kitchen Chef.
Before the pandemic, Dickerson went to community centers, churches, farmer's markets and neighbor-hoods in food desserts throughout Guilford County to educate families on how to cook and eat healthier on a shoestring budget.
With additional funding from Blue Cross NC, Dickerson was able to add services in more locations.
Dickerson, who began working in restaurants as a teen, says he still gets the chance to cook for others through special events. But he doesn't miss what he used to do.
"This to me, is more gratifying," he says. "Before, it was just about feeding people, but this is showing people how to eat, how to feed themselves. And that really makes me feel good."
Learning to Cook
It was his great-grandmother from South Carolina who taught him how to use a knife and clean greens when he was just a boy.
Dickerson's family moved to Winston-Salem when he was in high school. Both parents worked, so he and his brother would start cooking dinner so that the family could eat together when they got home.
"When I was a child, it was more about fun. It was more about chemistry and trying new ingredients out. What does this do? What if I put these things together? When I became a teenager, I had to find something that I wanted to do. I started taking it a little more seriously," Dickerson recalls.
When it came time to think about a career, Dickerson says it seemed natural to pursue cooking. He started working at chain restaurants and enrolled in the culinary program at Guilford Technical Community College.
He credits the owners of Sweet Potatoes Restaurant for giving him the opportunity to hold his first real chef position.
As his culinary skills began to evolve, Dickerson began to see food in a different light. It became more than something he provided for enjoyment.
"I started really respecting food because I saw people that were really hungry a lot of the times. There was a good amount of poverty back then in Winston-Salem — a lot of hungry people," he recalls.
At first, he wanted to help feed them. Then it grew into something more.
"There were certain places I would go and take food. It kind of started out that way," he says. "Now, it's about me teaching the next generation about food and how to grow their own food, just how to be more resourceful, and not depend on other people for their health and well-being."
Chef Becomes a Disciple
Dickerson became known as the Urban Culinarian.
He offered to hold demonstrations and tastings at libraries and recreation centers in High Point.
While he was teaching people how to cook on a budget, the overarching message was the importance of making healthy choices. It's a message he tries to deliver respectfully.
"As far as dealing with the community, I never really told them to change their diets. I never said, 'Hey you need to stop eating like this.' I just showed them. This is what 56 grams of sugar looks like.
"They see it and they can make their own decisions. By giving them information, let them make their own decision when they're ready. You're just sharing the information with them," he says.
He has a passion for working with children and senior citizens. For example, some people may have difficulty chewing food, so he helps them incorporate ways to try new items or different ways of cooking things that are easier to chew.
He likes to teach children how to prepare food. Even if they think they might dislike a dish because it's healthy, Dickerson says, children are more likely to try something if they helped make it.
The father of five says he always tried to empower his own children to make their own decisions about food. He also tries to lead by example.
One way to be healthier is to cook at home. Although he's not a vegetarian, Dickerson chooses more plant-based options over animal products.
He describes his own cooking style as "nouvelle urban cuisine," a fresh approach to Southern, low-country cooking. He encourages people to eat regional foods like greens and sweet potatoes, which can be made healthier with spices and seasonings, rather than animal fat. For example, he likes to stuff sweet potatoes with pecans, black beans or shredded coconut.
People who have taken his classes have reported weight loss, improved sleep, less joint pain and more energy.
Dickerson most enjoys interactions with people.
"It was about fellowship. It was people coming in," he says. "I just felt like I needed to share information with people, and they kept coming. So, I got to eat, sit down with them and meet their families, and before you know it, the news was coming, and people started noticing what was going on, and this opportunity (with the American Heart Association) came about."
While Dickerson's in-person cooking classes were canceled during the pandemic, he worked with area organizations throughout the Triad to help feed families in need. He collaborated with others to repurpose, cook and distribute food throughout the community.
Additional funding made it possible for Dickerson to acquire a home kitchen to work from, near the campus of Winston-Salem State, in the same neighborhood where he lived as a teenager.
He was also able to hire a sous chef. These additions will allow him to serve more people.
"I'm a chef to build people, to elevate people," he says.
Photos: The American Heart Association's Triad Mobile Kitchen chef
WSM N'Gai Dickerson American Heart Association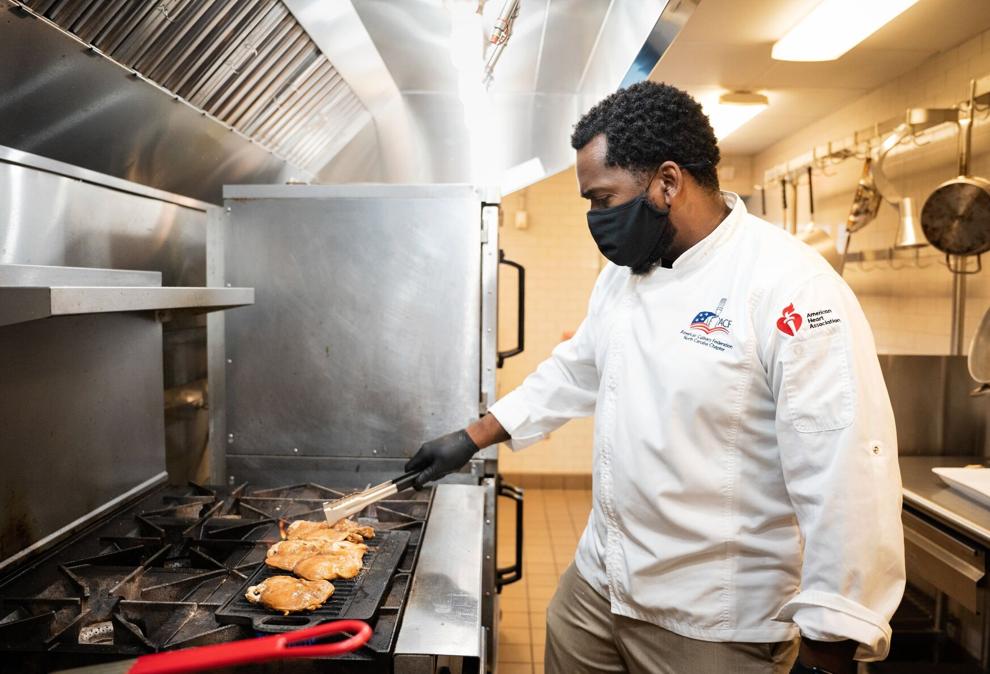 WSM N'Gai Dickerson American Heart Association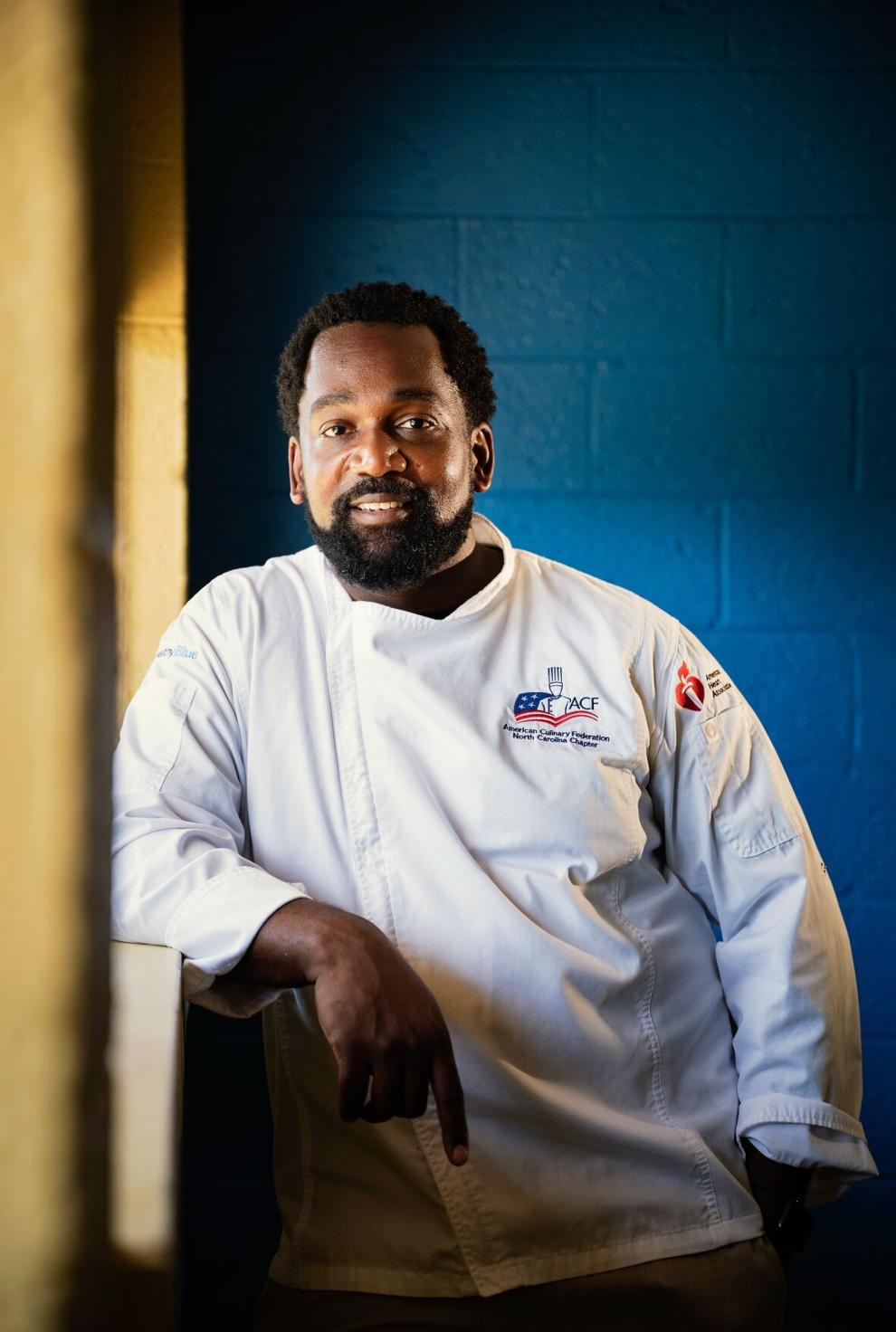 WSM N'Gai Dickerson American Heart Association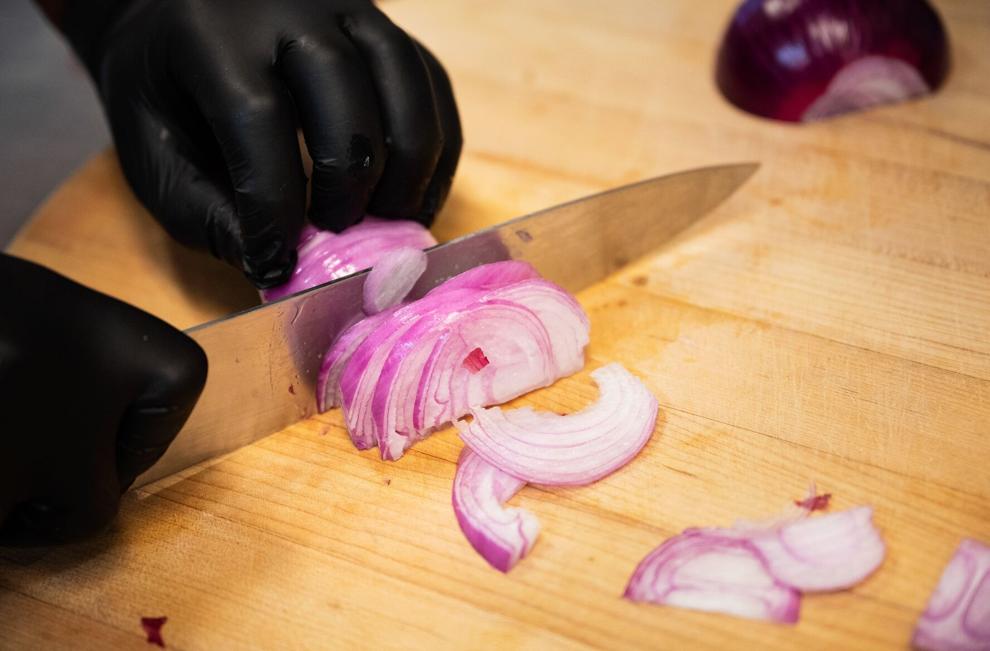 WSM N'Gai Dickerson American Heart Association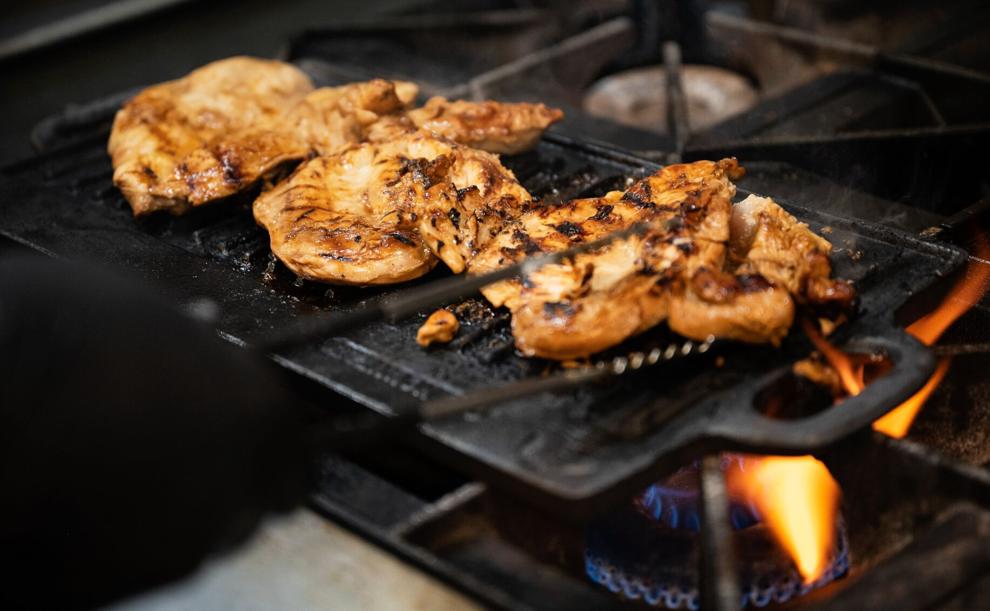 WSM N'Gai Dickerson American Heart Association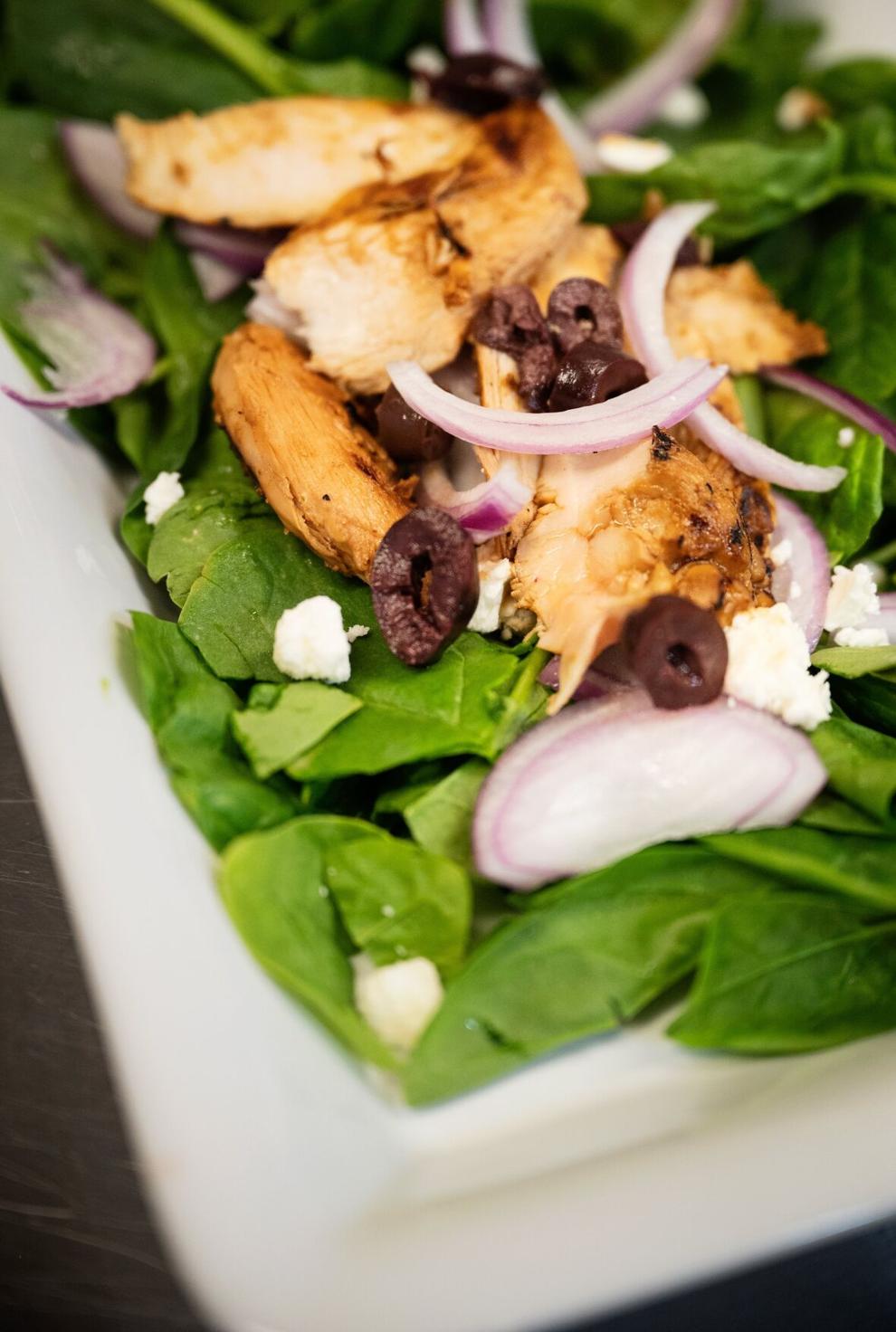 WSM N'Gai Dickerson American Heart Association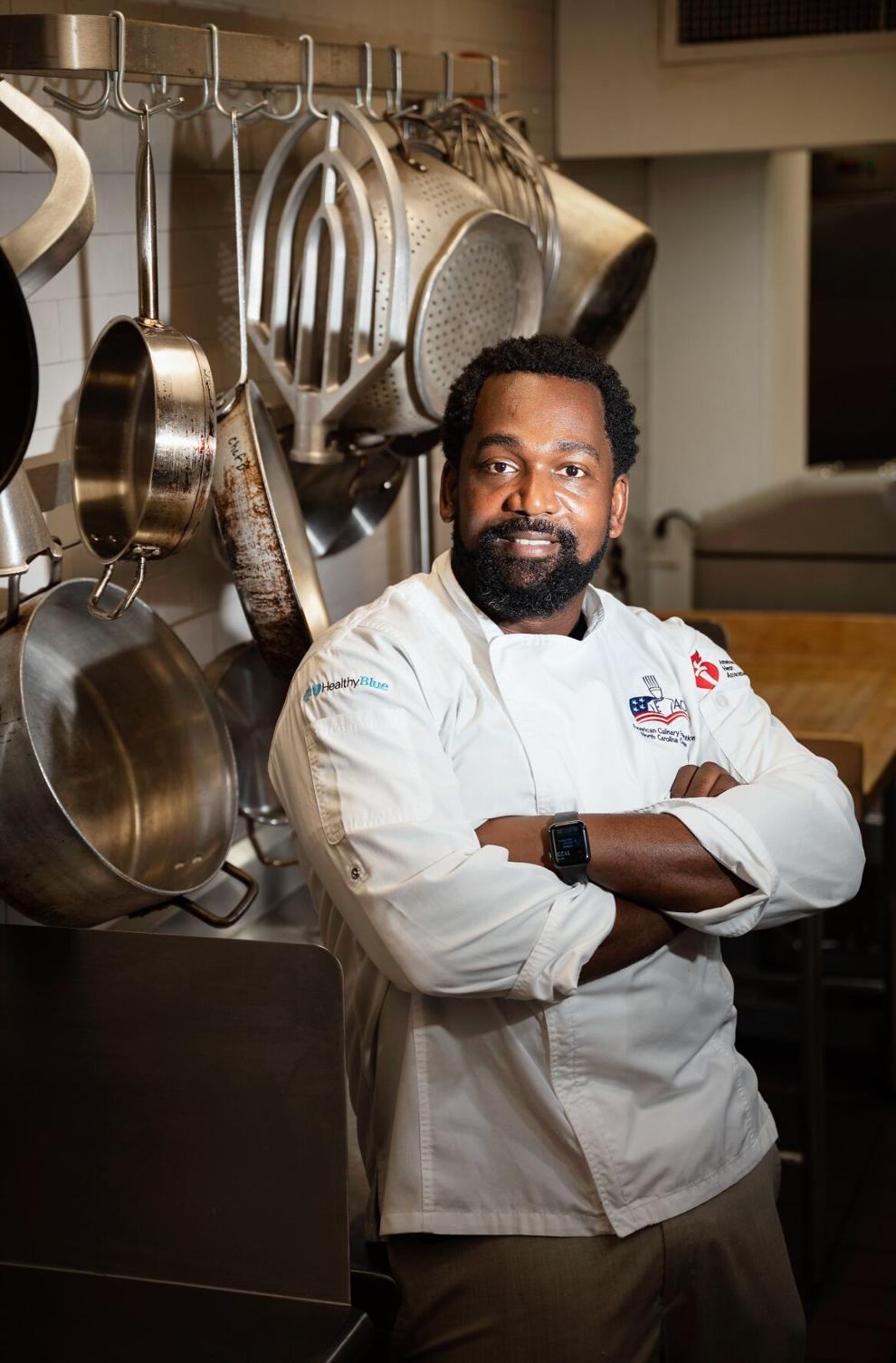 WSM N'Gai Dickerson American Heart Association