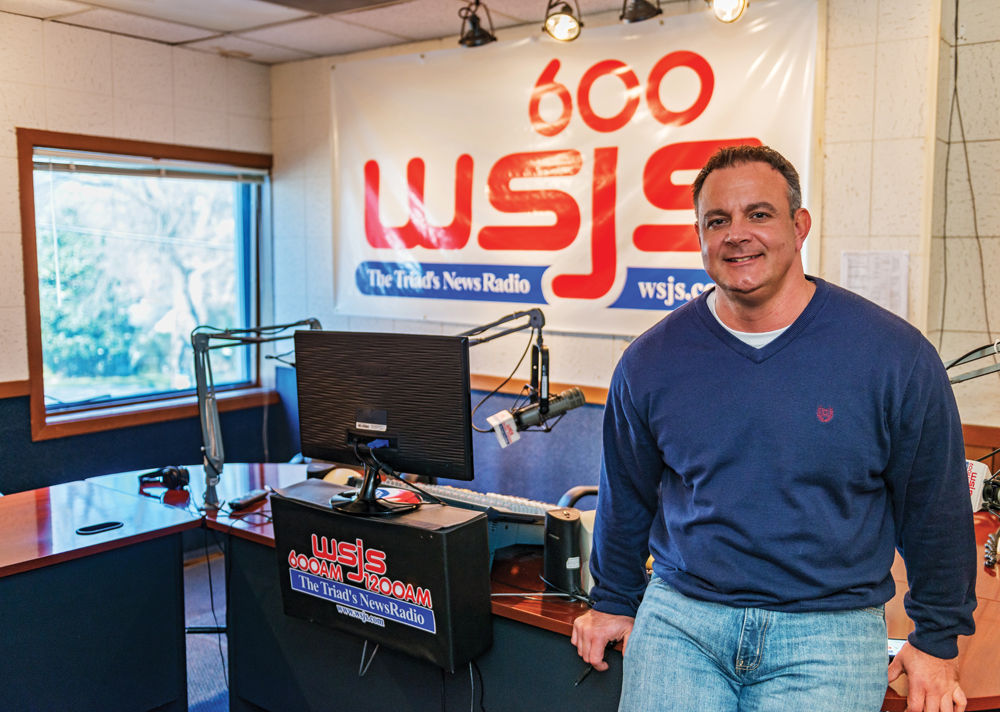 It's around noon on a Friday in late January, and Winston-Salem Journal sports columnist Scott Hamilton is sitting outside his studio at WSJS 600 AM. He's taking a second to reflect on the sports-fueled whirlwind that's engulfed his life the past few months, when he added the title of "radio host" to his already impressive business card.
"I don't even know what to call myself these days," he says. "Sports commentator, I guess? I'm just a guy who loves sports and is lucky enough to write and talk about it for a living. It's really a dream job."
A few weeks earlier, he debuted "The Scott Hamilton Show" on WSJS in the 3–6 p.m. time slot, giving Winston-Salem its first-ever all-sports talk show. Hamilton had been broadcasting the show on a few stations in Guilford County since last fall, but it wasn't until he hit the WSJS airwaves that anyone here seemed to notice. After all, WSJS is an 86-year-old icon in the local media sphere, and Hamilton was headlining a major shift in the station's format.
While WSJS is retaining some of its news shows—including "The Triad's First News with J.R. Snider" on weekday mornings—the station will focus on sports the majority of the day. The Raleigh-based "David Glenn Show" will air live from noon–3 p.m., followed by Hamilton's show, and then CBS Sports Radio from 7–10 p.m.
Considering his salient background in sports, Hamilton seems likes a natural to anchor the station's format shift. He grew up playing sports in the map-dot town of Matewan, W.Va., home of the infamous Hatfield-McCoy saga. After earning honors in football and baseball, he went on to play college football. While he went to college to be a history teacher, his plans changed when he took a side job writing sports for a small newspaper in Kentucky.
"I'd never taken a journalism class in my life, but I knew sports," he says. "I eventually learned you need two skills to be a good journalist—the ability to communicate and the ability to find a unique angle—and those are two things I take pride in."
He'd spend the next decade-plus writing for various publications, including the Columbus Dispatch and Golfweek Magazine, before being named sports columnist at the Winston-Salem Journal in 2013, succeeding the great Lenox Rawlings.
So how does a longtime sportswriter make the shift to radio? We decided to go one-on-one with Hamilton to find out.
What made you want to do radio?
"It's something I'd thought about for a while considering the lack of sports radio in the area. I've been on other radio shows as a guest over the years, and I actually worked in radio advertising for a little while. Last July, I got some WSJS folks together with Justin Gomez (marketing director at the Journal), and we agreed to give it a go. I think it's one of those 'rising tides raise all ships' situations. What I do on radio helps the paper, and vice versa."
Describe your show in a nutshell.
"Above all, I want it to be a sophisticated show. I don't want to badmouth any coach or caller. There are plenty of shows out there that do that already. I also want to always be informative and relevant. The cool thing here is that we can dive deep into both national and local topics. Maybe we'll talk about the Super Bowl for one segment, then we'll talk Bowman Gray racing the next. Our bread and butter is college hoops, college football, the NFL, and NASCAR."
What can listeners expect on a daily basis?
"I think it starts with having great guests and intelligent content. And our guests aren't just stick-and-ball athletes. We've had broadcasters, authors, celebrities. Just yesterday we had Lee Anne Tuohy (Sandra Bullock's character from "The Blindside"), talking about the Panthers and Michael Oher. She was fantastic."
Which broadcasters do you look up to?
"Paul Finebaum is probably the one I try to emulate. He's smart and insightful, and he always keeps dignity on the air. But my idol is definitely Bob Costas. He used to do a late-night talk show that I watched every night. In fact, I was quoted in a high-school yearbook or whatever saying I wanted to be Bob Costas when I grew up. Maybe one day (laughs)."
What's something people might not know about you?
"I watch 'Frasier' every night before I go to bed. It makes me feel smarter (laughs).
Seriously though, some people might think I'm a Neanderthal because I played sports, write about sports, and talk about sports for a living. But I don't drag my knuckles when I walk, regardless what some folks might get from first impressions."
Any March Madness predictions?
"It's hard to say this year, maybe more than any other year I can remember. There are tons of good teams but no dominant teams, which should make for a great tournament. I think UNC should win the ACC; they might be the best team in the country—they're deep and talented and experienced—but they haven't quite clicked yet this year. My dark horse for the NCAAs is West Virginia, just because of the fast pace they play with. But who knows? That's why we love sports—there's a different hero every night."
Hamilton's column appears in the Winston-Salem Journal several times a week, and his show airs weekdays on WSJS 600 AM from 3–6 p.m. You can also stream the show online at www.triadsports.com.
Be the first to know
Get local news delivered to your inbox!