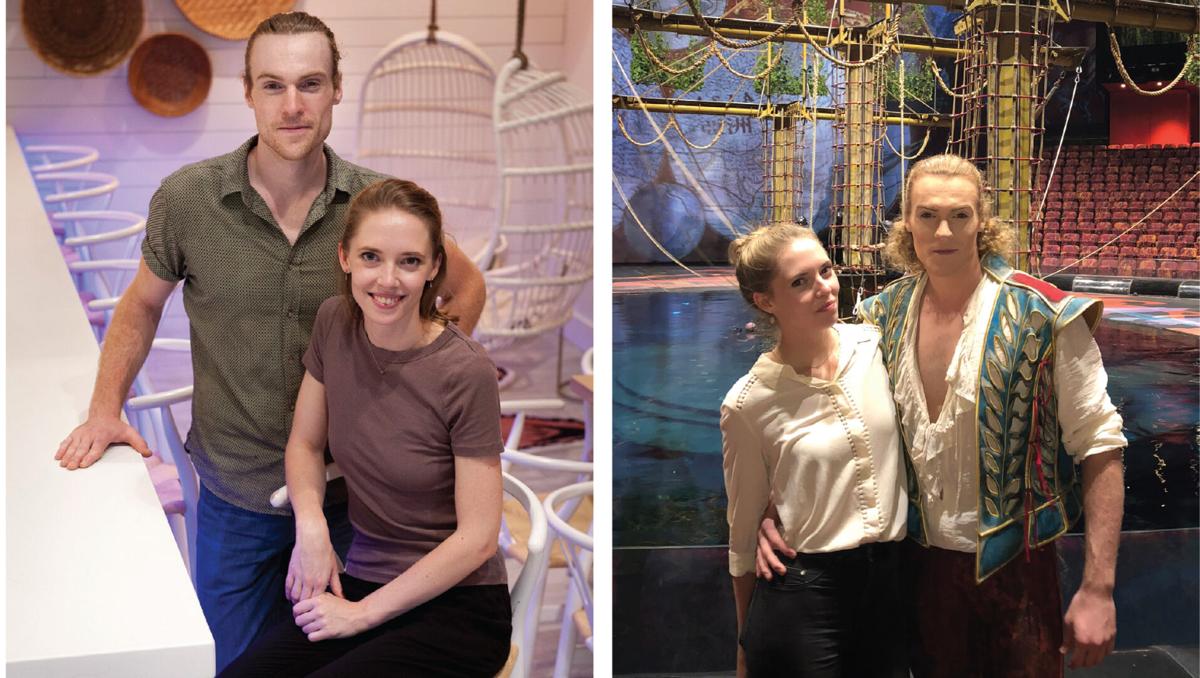 Six years after their experiences took them halfway around the world, two UNC School of the Arts alumni have come back to Winston-Salem and opened a cocktail bar.
Madeline Fox and David Bowen run The Ginger Fox, which recently opened at 400 West Fourth St. in downtown, at the corner of Fourth and Marshall Street. It shares a space with Village Juice, which had temporarily closed during the COVID-19 pandemic.
Fox is a Winston-Salem native and alumna of Parkland High School, while Bowen is from Clayton, Georgia.
They met and fell for each other during their classes in the School of Drama at UNCSA, where they were frequently cast together as starcrossed lovers.
In 2015, when they graduated, they maintained a long-distance relationship, with Fox heading to New York to pursue an acting career and Bowen going halfway around the world.
"Serious actors, classically trained," Fox says in a mock ponderous tone.
"And then I ran away and joined the circus, kind of unintentionally," Bowen says.
He was invited to audition for a lavish production called The House of Dancing Water in Macau, China, and ended up getting the part, which involved everything from acting to fighting, dancing and high diving.
Fox, meanwhile, went into the New York acting scene, where she auditioned, did commercial work and also worked in restaurants. When she got a two-week break, she decided to travel to Macau to spend some time with Bowen.
"I had just gotten my first couple of paychecks and felt fancy," she says. "I just kind of flew out on a whim."
She enjoyed the ex-pat community Bowen introduced her to, and visited a few times over the next few months, eventually finding work there herself. They also discovered the joys and spectacle of the Macau bar scene.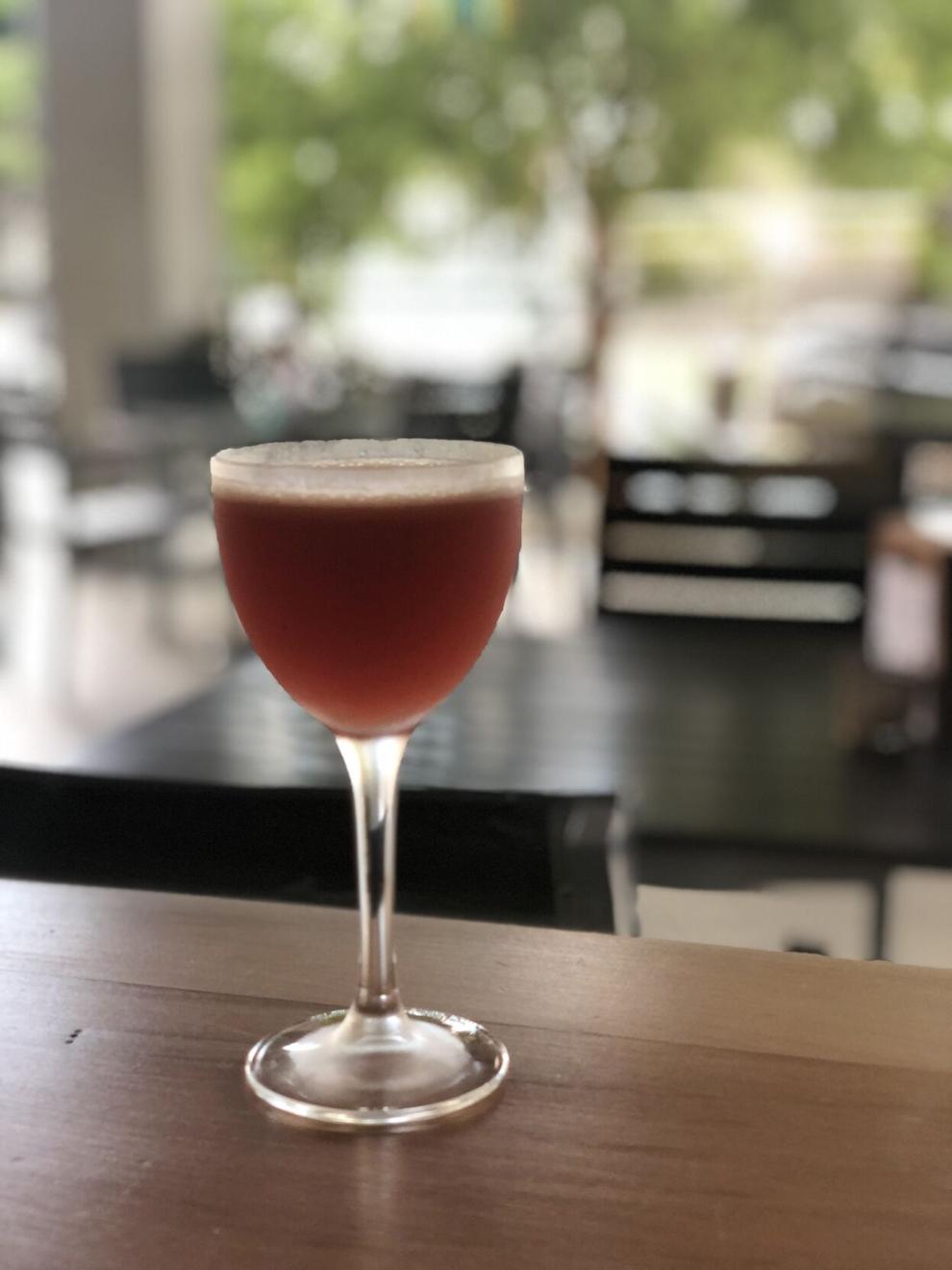 "How we first got drawn into it was as guests, first and foremost," Bowen says, "as people who were there just for the experience of it... There's just a crazy cocktail scene in Southeast Asia. We luckily had two-, three-day, weekends every once in a while where we could hop around. We managed to go to these fancy cocktail bars in Hong Kong, Singapore, Kuala Lumpur... all of them had this crazy attention to detail, and the concepts are fully fleshed out, and you feel like you're walking into a different world.
"I think the thing that really checked the box of 'I could see myself doing that' is realizing it's really similar to theater. You're inviting someone in and giving them a really different experience than they were having when they were walking down the street."
Fox was working in restaurants and event venues, learning how to run a floor and manage a restaurant and felt that Bowen's sense of flair and ability to pick up new skills quickly would lend itself to bartending.
"What's all behind it is Maddie wanted better drinks at home," Bowen jokes.
During the pandemic, when the hospitality industry faltered, they came back to Winston-Salem, where they taught acting and worked at UNCSA, also working in catering and turning their love of cocktails into a successful business.
"We enjoyed doing it," Fox says. "That turned into a bigger thing than we imagined." The folks at Village Juice heard about their cocktails after a SECCA event and reached out with the idea of a collaboration.
Joining forces with Village Juice has been what Fox described as a "really fortuitious relationship in ways I don't think either of us expected."
Combining a juice bar and a cocktail bar also allows them to decrease waste -- "You juice an apple, you throw that apple pulp away, right?" Bowen said. "But now if they juice the apple, we get the pulp and we turn it into an infusion or a syrup or a cordial or something... You still get to experience these great flavors."
"I think theater people are inherently scrappy and resourceful," Fox says. "If a problem can't get solved with money, it can often be solved with creativity or commitment and time, and kind of bringing that energy to the table."
The bar, which opened in October, takes its name from Fox's last name and Bowen's ginger red hair. They are still tweaking details about their schedule. They also look forward to holding special events, catering, and acting as a venue for parties, with attention to detail and atmosphere. The latest details can be found at gingerfoxbeverage.com
"We're trying to be that first-drink-of-the-night bar more than a late night spot with pounding music where you'd have to elbow your way to get to the bar," Bowen says.
"Really, it's almost like a vacation bar," Fox said.
Looking ahead, Fox says she is eager to create concoctions that will play for the holiday crowds, including folks who come across the street to performances of "The Nutcracker" at the Stevens Center.
"Sugar plums, candy canes, that's easy material," she says. "I think we'll for sure have a menu tailored toward the Nutcracker, as before and after drinks.
"Also something we're trying to do is have 'mocktails' on the menu, so that its really acceptable and encouraged for a family to come together and have children drinking mocktails; parents can have cocktails. We've got small plates so you can make a whole meal out of the experience. We see this as a space that a family could hang out."
"We're excited," Bowen says "We feel like we're here, we're doing the thing, we're making it happen, and now we're excited to take that the next level of how do we throw events?"
They also have in mind helping people make festivities at home all the more festive.
"We've talked about doing kits this winter too," Fox says. "Like for Thanksgiving or Christmas, when everything's closed, being able to pick up a cocktail kit that you take home with you, so that everyone can mix up cocktails through the holidays."