At quarter 'til noon on a Tuesday, Les Broussard straps on his ski boots. It's the second day of ski season at Sugar Mountain Resort. He wishes he could've made opening day, but something came up. His sons, ages 18 and 12, will join him this afternoon.
His restaurant, the Banner Elk Cafe & Lodge, will hit the lunch rush soon. And technically, it's a school day for his boys. But the slopes are open, and the sun is out, and chances are they'll remember this Tuesday skiing as a family much longer than they'll remember missing an afternoon of work or school. "God gave us everything we need here; we just have to get out and enjoy it," Broussard says. "I think having fun should be at the top of our lists."
Broussard came to Banner Elk as a student on a scholarship to play soccer at Lees-McRae College in 1986. It took the Floridian awhile to adjust to playing soccer in the Blue Ridge Mountain climate, but the area grew on him. Broussard hits the ski slopes about 80 days a year —alternating between Beech Mountain and Sugar Mountain—and he's also an avid mountain biker.
Banner Elk and the surrounding area appeal to those who enjoy the outdoors. The town of 1,200 people is about two hours due west of Winston-Salem, sitting at 3,740 feet in elevation. Beech Mountain Resort is five miles to the north, and Sugar Mountain Resort is four miles south. Trails for biking and hiking; rivers for rafting and fly-fishing; and slopes for skiing, snowboarding, and tubing are all within minutes of Banner Elk's Main Street.
Broussard's Banner Elk Cafe & Lodge is a downtown anchor. He describes it as a "come as you are" kind of place. Diners in ski bibs order up burgers and plates of fried trout in the cafe, while couples linger over pastries and espresso in the lodge.
Banner Elk has a thriving culinary scene for a town its size. Located on the grounds of Diamond Creek Golf Club, Artisanal Restaurant serves contemporary American cuisine in a rustically elegant setting. It is open seasonally (May through October) and was recently named one of the top 100 restaurants in America by Open Table. Down the street at Sorrento's Italian Bistro, third-generation chefs serve Italian specialties made from family recipes. Diners can even find authentic Cajun cuisine in the Blue Ridge Mountains at Louisiana Purchase Food & Spirits and also at Bayou Smokehouse and Grill. They deliver the classics, such as gumbo and jambalaya, as well as blackened mountain trout, a local fish with a Cajun spice.
Flat Top Brewing Company, stationed on Banner Elk's Main Street, serves a dozen craft beers on tap. And Banner Elk Winery made history in 2006 when it became the first winery in the High Country. With a decade of experience and mature vines, it now leads the way in the local viticulture scene.
"People who live here love the outdoors. They love their family and friends; they love good music and a cold beer—we have all of that," says Talia Freeman.
A native of Boone, Freeman attended college at Lees-McRae and now lives and works at Beech Mountain Resort. That unique combination makes her a High Country expert.
"I enjoy living in a small town," Freeman says. "I enjoy knowing the name of my server at a restaurant, seeing the girls I coach [in softball] in the grocery store, or bumping into friends at the gas station. I think that is why our visitors love this area so much. Whether you're here for a summer or just for a weekend adventure, you get that sense of family and support."
The close-knit community drew Jo-Ann McMurray to Banner Elk nine years ago. She and her husband were living in Greensboro and decided to purchase a second home in Banner Elk.
"I was so in love with the place, I told my husband I wasn't going home," says McMurray, who is now involved with the Banner Elk Chamber of Commerce. "Banner Elk has that quaint, small-town, village feel, and I just love it."
The town also has something McMurray missed from her native New Jersey: snow. Banner Elk receives an average of nearly 40 inches of snow each winter. For those who enjoy winter sports or just like hunkering down by a fire with a cup of hot chocolate, the snowfalls make for a fun few months.
"I love it when it's snowing," McMurray says. "My husband and I have a little log cabin in the woods. It's cozy. It's warm. There's just nothing like it."
---
---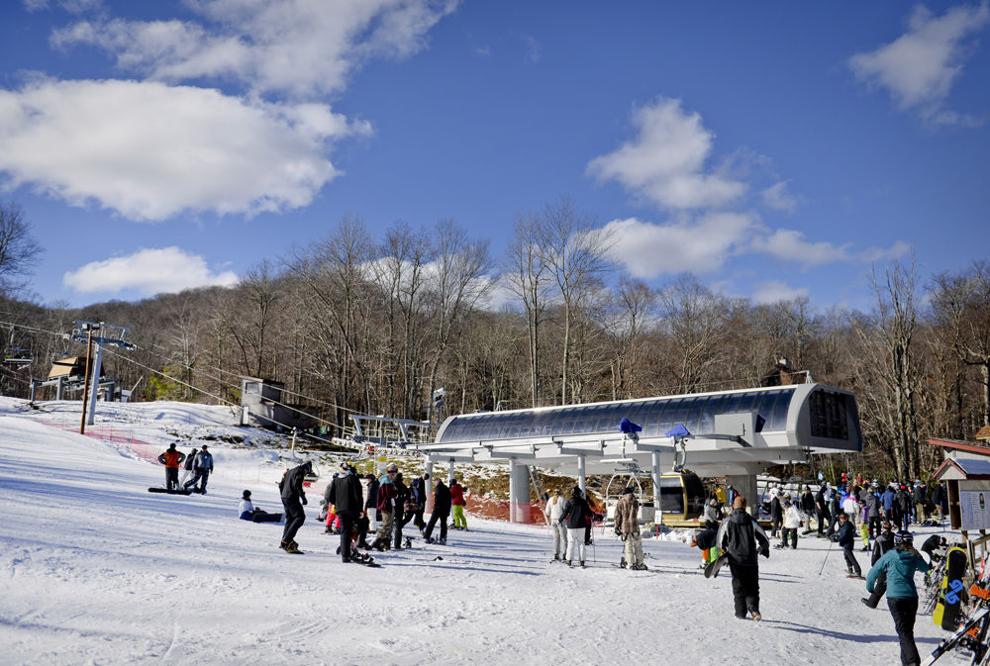 WINTERTIME ATTRACTIONS
Sugar Mountain Resort. As the largest ski area in North Carolina, Sugar Mountain also contains the largest vertical drop in the state (1,200 feet). The drop is just one of the 20 trails that span the 115-acre park. Other highlights include an ice-skating rink, four tubing runs, seven lifts, a snowboard park, and snowshoeing area. skisugar.com.
Ski Beech. Known as Eastern America's highest skiing resort in terms of elevation, Ski Beech has become a haven for skiers and snowboarders. Amenities include 16 trails, an ice-skating rink, tubing area, and a lounge/shopping village. You'll also find stunning 360-degree panoramas with views of four states from its highest peak. skibeech.com.
Hawksnest Tubing Park. As the largest snow-tubing park on the East Coast, this former ski resort now features four tubing areas with slopes ranging from 400 to 1,000 feet. The park's on-site zipline course, believed to be the largest in the country, is also open throughout the year and features runs for beginners and experts alike. hawksnest-resort.com.
Downtown Banner Elk. While it's open year-round, Banner Elk's downtown has an undeniable charm in the winter. Shop for unique gifts at WingN'It, Erick's Cheese & Wine Shop, or the Emporium Shoppes. Grab a bite to eat at the Banner Elk Café or the Bayou Smokehouse. Sample some hometown beers at Flat Rock Brewing. And make sure to stroll through the beautiful stone-lined campus of Lees-McRae College, home to 700 undergrads.
SUMMERTIME ATTRACTIONS
River adventures. One of the best ways to enjoy the High Country scenery is by paddle. Edge of the World Outfitters in downtown Banner Elk offers family-friendly rafting trips along the Watauga River (edgeoworld.com/summer). High Mountain Expeditions, which has an outpost in Banner Elk, offers rafting trips down several nearby rivers along with tubing and caving expeditions. highmountainexpeditions.com.
Apple Hill Farm. This working farm is open to the public year-round with daily tours from May to October. Visitors can interact with the farm's myriad animals—including alpacas, llamas, goats, ponies, pigs, and more—and also stop by the on-site farm store. applehillfarmnc.com.
Grandfather Trout Farm. Opened since 1983, this Banner Elk mainstay lets you fish for rainbow trout without the hassle of a river or stream. The farm supplies the gear, bait, and ice for free; you only pay for what you catch. There's also a gem mine (all equipment provided) and a nine-hole mini golf course. grandfathertroutfarm.com.
Wildcat Lake. This fully stocked, 13-acre lake includes a white sand beach, picnic shelters, swimming pier, and fishing dock. While swimming is seasonal, the lake is open year-round for fishing and boating. Canoe and paddleboard rentals are available at various times of the year.
WHERE TO EAT
Banner Elk Cafe & Lodge: 324 Shawneehaw Ave., 828-898-4040
Banner Elk is located about two hours west of Winston-Salem. For more on area attractions, events, and lodging, go to bannerelk.com.