Professional hockey is here to stay in Winston-Salem — again. The latest edition of the Carolina Thunderbirds, a name used by three previous local teams, is the 11th minor league hockey franchise to try to make a go of it in the Camel City since the early 1970s. This time, however, there is reason to believe the team will play longer than a handful of seasons at the Winston-Salem Fairgrounds Annex.
For one thing, the appetite for hockey in the area seems stronger. In August 2016, after news broke that pro hockey was returning to Winston-Salem via the Thunderbirds, Brad Damratoski and his wife were among hundreds of locals who signed up for season tickets.
"I was just excited to have a hockey team in Winston-Salem again," says Damratoski. "Hockey is by far the best sport to watch live. There's nothing like it."
The Winston-Salem native knows this because while he was attending N.C. State University in Raleigh he saw a handful of NHL games. His college stint coincided with the Carolina Hurricanes' 2005-06 Stanley Cup season, a title run that made Damratoski and many other North Carolinians hockey fans for life.
But Cat Pighini, vice president of ticket operations and customer relations for the Thunderbirds, says Winston-Salem also has a lot more relocated Northerners since the last time the city had pro hockey. That was 2009, when the Southern Professional Hockey League's Twin City Cyclones folded up.
"The first thing people tell me is they're from such-and-such town up north and grew up with hockey," says Pighini. "They're thrilled to have it back. People would rather put their allegiance toward the local team, as long as the level of play is good. We're hearing that people are impressed with the level of play."
Enhancing the Experience
The Thunderbirds are part of the Federal Hockey League (FHL), a six-team association that launched in 2010. Teams are spread across the East Coast and Midwest, including a team based in Ontario, Canada. Local fans got a taste of the league in 2014, when the FHL held a neutral site playoff game between the Danville (IL) Dashers and Watertown (NY) Wolves at the Annex. That game, Pighini says, helped set the tone for the Thunderbirds. It also demonstrated that the league—and now the team—are taking care to make sure they get everything just right.
The first step was getting a name locals could rally behind. The Thunderbirds was an obvious choice, Pighini says, since it has a positive track record in town. The original Thunderbird squad began playing in the old Memorial Coliseum back in 1981. Fan support for the team was surprisingly strong, which partially led local officials to open the 3,150-seat Annex Arena in 1989. The team averaged more than 2,200 fans a game during its first few seasons at the new Annex—marking by far the most successful era of hockey in Winston-Salem history.
Pighini and others are hoping to revive some of the excitement surrounding those 1990s-era Thunderbird teams. To do so, they're putting a heavy emphasis on fan engagement, its "Hockey 101" presentations at local bars, and the steady stream of promotions and mascot antics during games. Fans know to keep an eye out for "Winston," the team's mascot, walking the concourse with a hand-drawn thought balloon reading, "I farted." He holds the sign over the heads of unsuspecting fans, drawing big laughs every time.
Pighini says the fact that the team's front office is simply accessible to fans also makes a big difference. She and general manager Scott Brand are always implementing fan feedback, which has led to a number of amenities Damratoski appreciates as a season ticket holder.
"We have a special VIP lounge where we can get beer and food without the long lines," he says. "We also have VIP parking. It's absolutely freezing in the [annex], even for a hockey arena, but it's pretty good hockey from what I've seen so far."
Fighting for Survival
Veteran forward Josh Pietrantonio is one of the stars of the Thunderbirds, although his path to Winston-Salem illustrates just how tenuous careers are at this level. The Ontario native played for the FHL's Berlin (NH) River Drivers last season. But when that team folded, Pietrantonio and his teammates fell into limbo.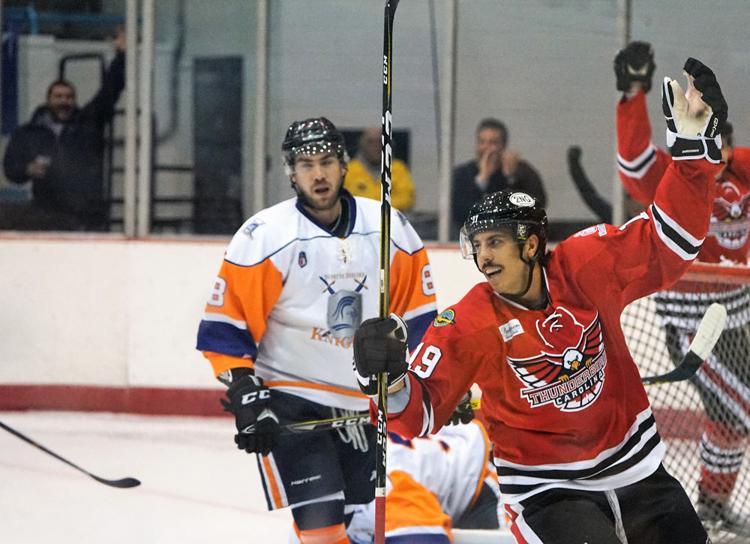 Lucky for him, Thunderbirds head coach Andre Niec was Berlin's coach last year and knew what Pietrantonio was capable of. Niec made sure to bring the Canadian south with him, but Pietrantonio still knows how lucky he is.
"Guys are fighting every day for their livelihood in this league," he says. "Everyone wants to keep their jobs. I think that's partly why the hockey is so hard-nosed and gritty. At the same time, there's a lot of skill. There's a little bit of everything."
Many FHL players, including Pietrantonio, are a year or two out of college and still hoping for a chance to reach the next level, the East Coast Hockey League, where teams are linked directly to the NHL. But players don't typically want to talk about the future, not when it's so up in the air.
Thunderbirds goalie Kelly Curl figured he had a pretty clear career path in pro hockey once. He grew up and still lives in Guilford County, where he managed to find enough ice time as a kid to get noticed and wooed by northeastern prep-school coaches. He went on to play at Lebanon Valley College from 2006 to 2009, and latched on with the AHL's Hershey Bears as a practice goalie to stay sharp and ready for an opportunity.
But barely a year into his time with the Bears, Curl injured his shoulder and was relegated to the sidelines. He eventually came home to coach hockey at the college and youth levels. He's still an assistant for Wake Forest's club team and serves as head coach of the under-16 team in the Triad Youth Hockey Alliance.
"I talked to Scott Brand six weeks before the combine and said if he needed an emergency goalie to let me know," says Curl. "I got to the combine and wasn't even going to skate because he had enough goalies, but one guy didn't show. [Brand] called me right after I left and asked if could come back tomorrow. I fought my way through camp, and coach decided to keep me on."
Curl is not just a practice goalie, either. Injuries and roster moves made him the team's primary backup early in the season. Through the end of November, Curl had made two starts, both Thunderbird wins.
More than playing time, Curl simply values the chance to be back on the ice playing competitive hockey.
"This just isn't something that happens," he says. "You have to work incredibly hard to make it in this game. It's something I tell the kids I coach all the time."
Curl isn't alone in his dedication to the sport. He says Pietrantonio and the rest of his teammates work just as hard if not harder than he does to keep the dream of playing pro hockey alive.
"We have a good group of guys who just want to win hockey games and push their careers to wherever it may take them," says Curl. "It's not often that you a find locker room where everyone is on the same page like we are. We just want to keep going."
Apparently, so do a lot of fans in Winston-Salem. Maybe, just maybe, pro hockey is finally here for the long haul.
---
---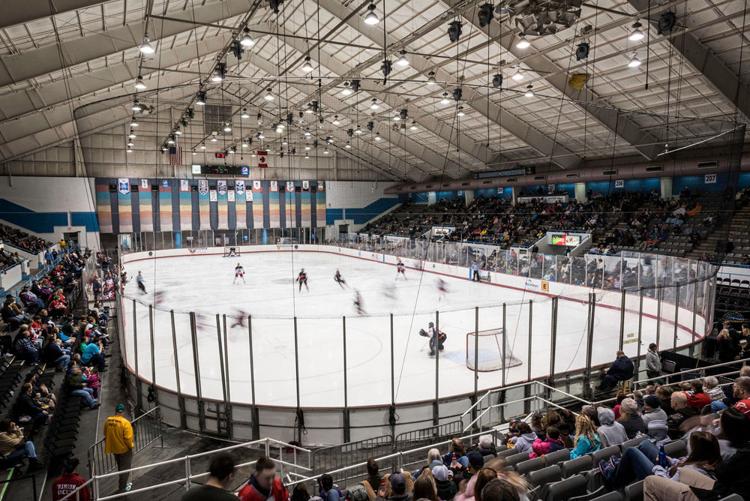 IF YOU GO
• The Thunderbirds have five home games this month, starting with a Jan. 12 matchup against Port Huron. The season runs through early April.
• Tickets ($8–$18) are sold at the Annex box office before and during games, and are also available on the team website. Mini ticket plans and birthday packages are available.
• All Saturday games will include a Post-Game Skate for the public; skates are available to rent for $3.
Be the first to know
Get local news delivered to your inbox!