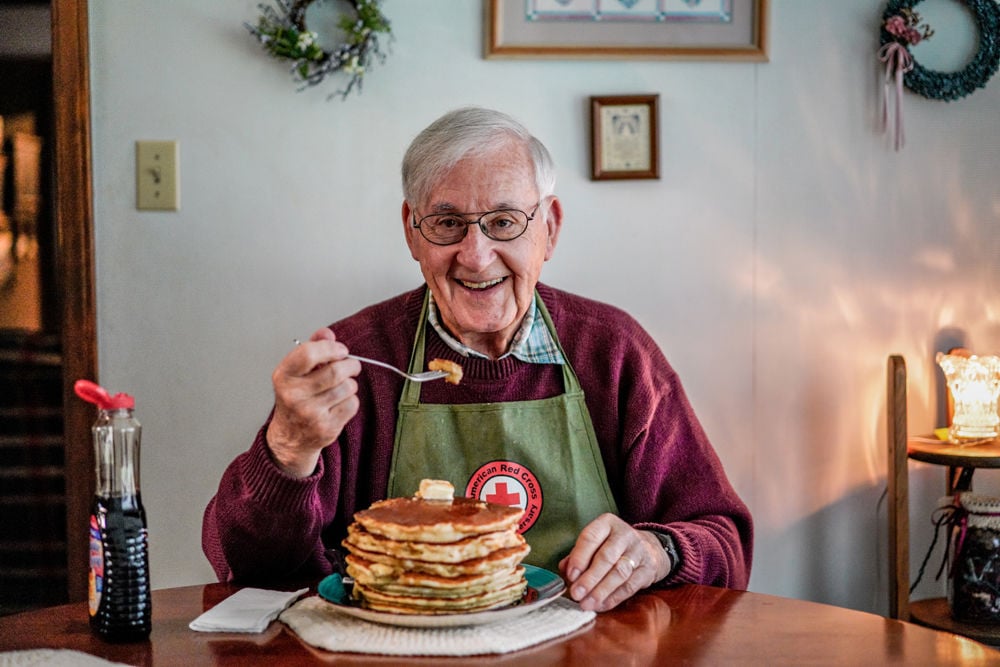 When the Rev. Cecil Cave worked his first Pancake Jamboree in 1973, he was assigned the job of preparing the batter in the kitchen. Cave couldn't quite get the hang of the mixing and had to throw a lot of it out.
Club members soon realized that Cave, a gregarious minister with a twinkle in his eye, was much better suited for a job at the center of the action. Ever since, he's roamed the event helping with clean-up and greeting people. Cave figures he's worked every Pancake Jamboree over the past 45 years. He retired as senior pastor of Mineral Springs Baptist Church in 1999.
"I'm in public relations," Cave says. "When you talk to people and get to know them, you'll build a relationship, and they'll hopefully come back next year."
The Twin City Kiwanis Club's Pancake Jamboree has been a community institution since the first one was held in February 1958 at Augsburg Lutheran Church, says Tyler Cox, the chair of the organization's marketing committee. Now held at Benton Convention Center, the event is one of, if not the oldest, communitywide events, attracting around 3,000 guests annually. Last year's Jamboree raised more than $33,000 for youth organizations in the area, plus one such group in Vietnam.
Among the groups the organization works with is the Builders Club at Mineral Springs Middle School, which Cave helped start in the mid-1990s. The club works with middle school students on service projects. Cave says he enjoys seeing students—many of whom have so little—enthusiastically embrace such service projects as teacher appreciation events, anti-bullying campaigns, and clean-up projects.
In addition to his work with Kiwanis, Cave was also a member of The Group, an ecumenical singing ensemble composed of clergy and lay people who sang at local church clubs. Cave was often the front man for The Group, which performed from the late 1990s to 2016.
One of the biggest reasons that the Pancake Jamboree has lasted for so long, he believes, is that club members genuinely enjoy it.
"The secret is that we have good leadership, and the members like to be together and work together," he says. "We've established a relationship with the community. And you won't find better pancakes."
The 2018 Pancake Jamboree will be held Feb. 23 from 6:30 a.m. to 8 p.m. at Benton Convention Center. The cost is $6 adults, $3 kids under 12, and includes all-you-can-eat pancakes and sausage plus beverages. For more details, go to twin-city.kiwanisone.org.