In North Carolina, basketball—and in particular, college basketball—is an obsession. Games go into overtime, and the next morning we pay. Alarm clock snooze buttons are hit
with the same frequency as the flurry of fouls at the end of a tight game. Break room conversations quickly turn to bracket busters and office pools.
And every year, I'm irritated that women's basketball doesn't generate the same excitement as the men's teams. It didn't use to be that way—especially in Winston-Salem. Women found sporting opportunities in the Amateur Athletic Union (AAU) some 40 years before the NCAA began sponsoring women's basketball. They played on semi-pro teams with business sponsors.
Hanes Hosiery was one of those early corporate sponsors. The company had basketball and softball teams for women who were also employed throughout the mill. And the teams they fielded were good—historically good.
In 1997, I saw The Road to Respect, a PBS documentary on UNC-TV about the early pioneers of women's basketball. Several of the Hanes players were featured in that documentary, including standouts Eckie Jordan and Eunies Futch, who helped lead Hanes Hosiery to three straight AAU national championships in the early 1950s. Along the way, they also racked up a then-record 102-game winning streak. Yup, that wasn't a typo—102 straight victories.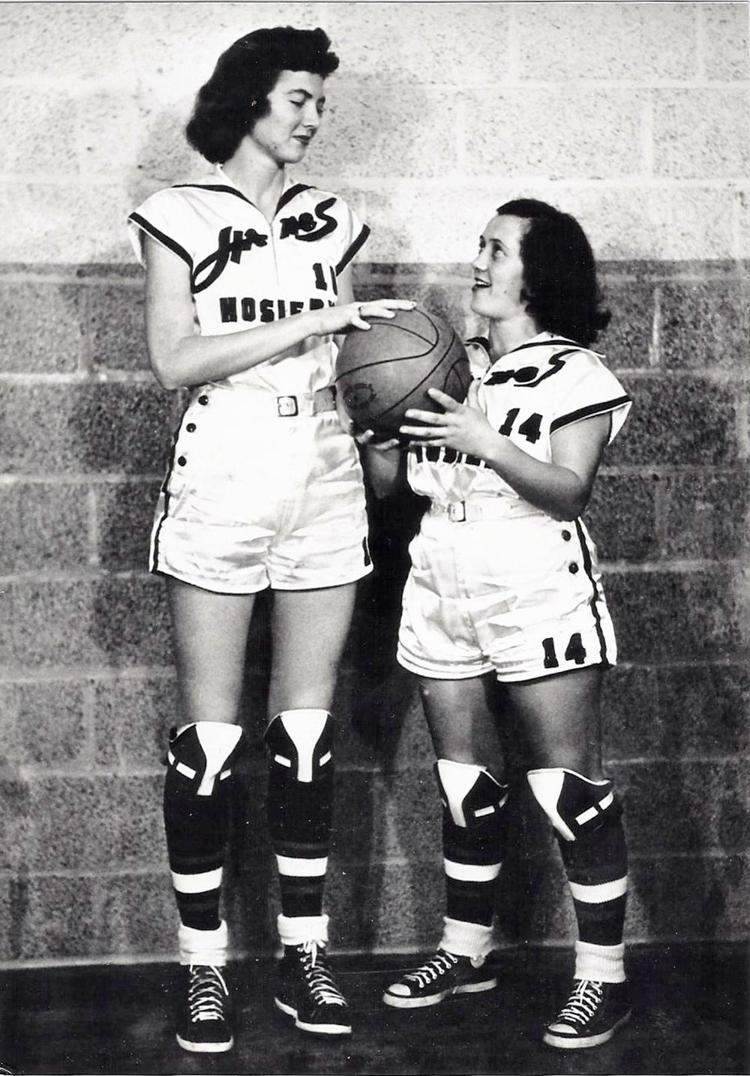 Led by Coach Virgil Yow, Hanes Hosiery played against Southern textile and industrial teams in tournaments and small colleges that had women's teams. They made the Winston-Salem Journal and Sentinel headlines seemingly every day, with Jordan and Futch right in the thick of it.
The pair became nationally known after helping lead the Pan American women's team to a gold medal in 1955, the first year women were allowed to compete. They also gained notoriety in softball, leading Hanes to two national titles. Their excellence in athletics earned them countless awards and inductions into the N.C. Sports Hall of Fame.
I interviewed both the women shortly after seeing The Road to Respect, meeting with them several times in a home they shared in Winston-Salem. They had retired from Hanes at the time and were hospital volunteers and extremely active in their church. Although it had been years since either of them had dribbled a basketball, their love for the sport never waned. They regularly watched college and professional games on TV—both men's and women's.
I initially interviewed them to write a story for a local women's magazine about the record-setting winning streak. But the more I learned about them and what they accomplished, the more I wanted to write about them as people. Their lifelong friendship was what really intrigued me, especially since they were such an unlikely pair on the surface.
Futch, who hailed from Jacksonville, Florida, stood 6-feet-2-inches tall.
Jordan, a native of Pelzer, South Carolina, was a full foot shorter at 5-foot-2.
Futch was quiet and more reserved. Jordan was boisterous and lively.
Their bond was sealed on the basketball court when both came to Winston-Salem and Hanes Hosiery in the 1940s. The teammates got along so well that they became roommates. They were known as "Little E" and "Big E."
Futch (Big E) played center, leading the team in rebounding and blocks thanks to her towering frame. Jordan handled point guard duties, dazzling spectators with her playmaking skills and lethal outside shot. Upon seeing her play, a sportswriter in Missouri called Jordan a "mighty mite who could give the Harlem Globetrotters a lesson in ball handling and heady play."
All the players worked day jobs at Hanes Hosiery—Futch and Jordan included. They practiced after work each afternoon and on Saturday mornings.
"Our team was melded over time," Jordan said during an earlier interview. "Just playing together that long made us confident that we could win against anyone."
The team began its string of national titles in 1951 on the way to compiling a 102-game winning streak that ended in the 1953-54 season. Futch and Jordan were the only ones to play in all 102 games.
"When we did get beat, we all cried, because we were proud of that long streak," Jordan said. "Big girls cry, too."
Hanes Hosiery disbanded its women's team after the 1954 season. AAU was fading out at the time, and more and more colleges were fielding women's basketball teams. But the greatness of those championship squads lives on, both in the record books and in the eyes of their admirers.
This year marks the 65th anniversary of their last national title. Most of the surviving women are in their mid-80s. Futch passed away in 2005, while Jordan died just last year in South Carolina, where she returned after Futch's passing. Neither woman ever married, and neither had any regrets.
"I was meant to play basketball, and no man was ever going to tell me I couldn't," Futch told me.
The women took a lot of pride in the legacy they left on the court. They were proud that, in their own way, they had helped blaze a trail for female athletes to have all sorts of opportunities today.
But more than anything, they were proud of one another—and proud to call each other best friend.
"We were just very compatible," Jordan said. "Eunie was a very special person. We hit it off right off the bat, and I couldn't have had a better friend."
EDITOR'S NOTE: A few excerpts from Steve Mann's 2011 story on the Hanes Hosiery women's team in the W-S Journal were used in this article.
Be the first to know
Get local news delivered to your inbox!