Kathy Kovak knows how hunger looks. She sees it in the faces of the individuals and families who visit the Clemmons Food Pantry each week.
"There are some wonderful people who come to us for help," she says. "And were any of us in that situation, I hope we'd find help like that we give."
The Clemmons Food Pantry was established more than 15 years ago — first as a Sunday School project at Clemmons United Methodist Church — to provide supplemental provisions to Forsyth County residents facing food insecurity.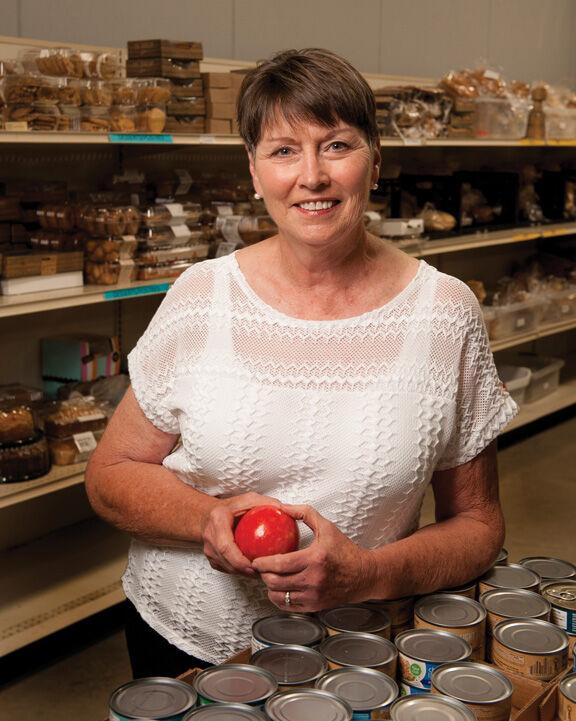 Kovak first got involved as part of that Sunday School project. She began volunteering at the pantry in 2006, in addition to her full-time career. Then in 2013, she felt a calling to do more.
"I took a Bible study class, and they were talking about following your passion — if you feel called to do something, do that," she says. "And I knew that the pantry had come out from under the church, and they needed some business help. I resisted that for a while, and then it just became: 'Let's do this.'"
Kovak retired early and took on the role of executive director of the food pantry. Along with a team of volunteers, Kovak helped overhaul the pantry's branding and business model, expanding resources and changing the way they distribute food.
Using a "client choice" approach, the pantry allows its food recipients to shop for their own groceries, rather than just handing out bags of food. While that has been altered a bit during the pandemic, Kovak says they will continue that practice in the future and explore adding an online shopping option.
"That's going to be great for moms with small kids — it's so hard for them to drag those kids to the pantry if they don't have someone to watch them, or for people who are disabled and can't move well," she says.
The past year presented plenty of challenges to the pantry, from shifting the operation to a parking lot pickup system to preparing and moving to a new, larger facility in January. And the pandemic and social unrest made Kovak and her team take a hard look at their work and how they did it, inspiring them to make the pantry as equitable and inclusive as possible.
"Not only did we have a pandemic; we also had a real social awakening," she says. "We're going back to look at everything we do to make sure it's respectful, dignified and inclusive. We're looking at everything — we want to be part of that new society that we're going into."
Kovak admits keeping the pantry in operation is hard work, but it's work she loves, not only because of the people they help, but also because of the volunteers who make it possible.
"It's been the most rewarding work I've ever done," she says. "I'm retired Army, I worked in health care after that — I've always been in service- type business. And I'm just very proud of what the staff does there — I'm amazed by their commitment to this as a volunteer."