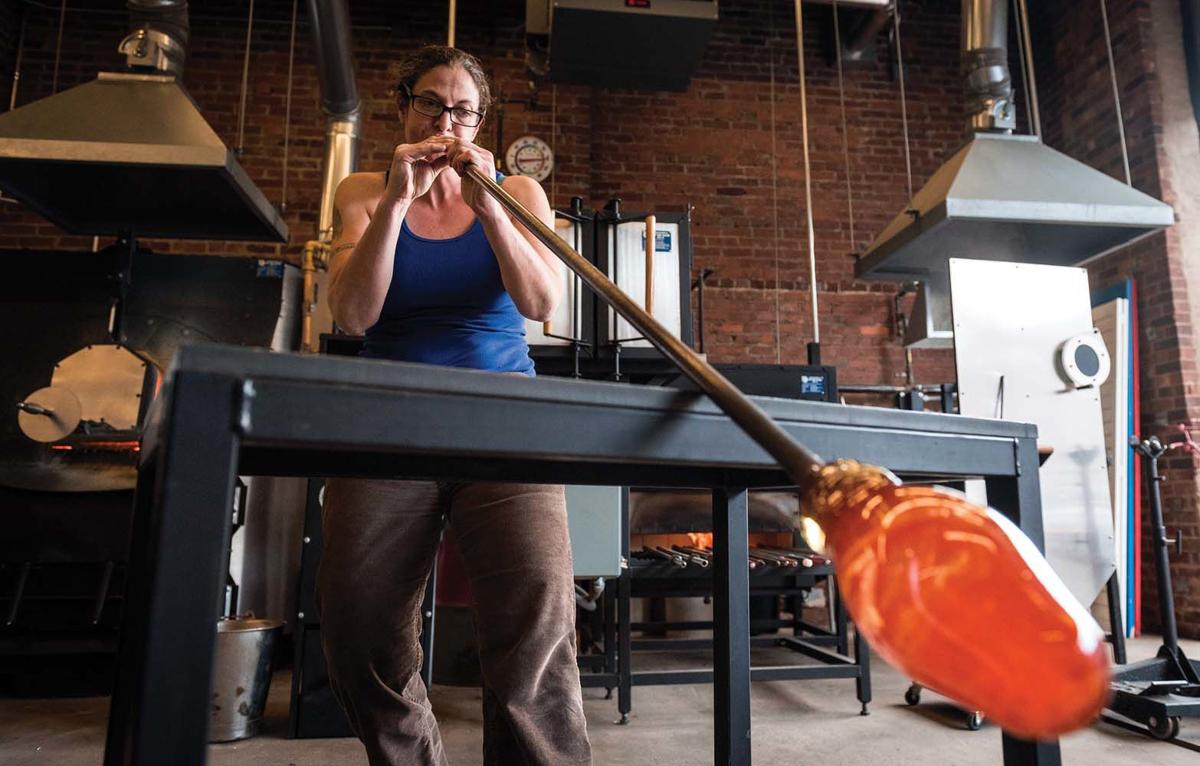 Rebeccah Byer has spent more than two decades honing her craft as a glass blower, to the point where she can gracefully shape and design Christmas ornaments to her exact specifications.
"Glass blowing is about taking an infinite number of nuanced steps," she says.
At Byer's glass ornament workshops at The Olio, a nonprofit glass blowing studio and entrepreneurial school she opened downtown in 2014, the rest of us can do it in just a few minutes.
To be fair, Byer and her team of instructors do the most difficult work — shaping the ornament into a perfect orb. But the experience of plucking a glob of molten glass from a 2,000-degree oven and blowing it into its initial shape is like no other.
"We make it safe, fun, and give you a successful ornament, which is one that's intact and not deflated and shaped like a jelly bean," Byer says.
Byer is executive director and founder of The Olio, which hosts a number of workshops throughout the year. Right now, however, it's all about Christmas ornaments. While most other venues host workshops for those with at least some glass blowing experience, The Olio is one of the few that accepts novices.
"You can have 10 adults and all 10 can have a very different reaction to that environment," she says. "The key is our staff is calm and good at keeping everyone relaxed around the oven, which can be really dangerous if you don't know what you're doing."
The payoff for students is a keepsake that is uniquely their own.
"Your breath is forever captured within your ornament, which is pretty cool," says Byer.
Workshops can be scheduled by appointment on The Olio's website. Byer says group sizes range from an individual up to 25 people, but every workshop begins the same way: a safety demonstration that clearly shows everyone the do's and don'ts in the studio. After liability waivers are signed, away they go.
Instructors begin by gathering a layer of honey-like molten glass on the end of a steel blow pipe.
"We'll add color and melt it all together. Then, you add a little air by blowing into the pipe," Byer says. "That combination of heat, air, and pressure expands the glass into a bubble."
Instructors take it from there, maintaining a perfectly round shape as the glass begins to cool.
"We may have to reheat the ornament to keep shaping it, but the process goes pretty quickly," says Byer. In about five minutes, the production process is finished. Instructors close off the bubble, add a loop for the hook, and place the ornament in an annealing oven, where it gently cools for two days, enough to prevent any stress in the glass.
Students are never disappointed when they return to pick up their ornaments. And now that word has spread, The Olio's glass ornament workshops are kind of a holiday thing in Winston-Salem.