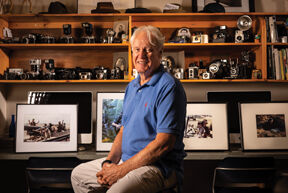 One day, Martin Tucker was teaching students the basics of photography in a classroom. The next day, he was guiding them through their coursework over Zoom. 
"It went from zero to 100 almost overnight," Tucker says of the educational transition that occurred in the spring as the world was reshaped by the coronavirus pandemic.
Tucker is a photography instructor and the staff photographer at Summit School, an independent institution established almost 90 years ago. Throughout the academic year, he also photographs all of the school's events. Last year, he says, he took about 10,000 photographs.
He came to Summit 15 years ago.
"I had a background in photojournalism, newspapers, and magazines, and I had my own photo business," Tucker says. "The head of school said, 'Take the [photography] program and do whatever you want with it.'"
Tucker devised a photography program that gives students real experience in the field, and culminates in ninth grade, which he said was students' "signature year." Students are responsible for capturing 10 different categories of photographs, ranging from fine art to portraiture. Each student leaves with a hard-copy portfolio and a website featuring their work.
When the school made the call to move learning online, he quickly found ways to adapt and evolve his curriculum to be remote-friendly. Students submitted their photos, complete with captions, via Google Docs. Classes were conducted online.
Tucker says he modified his lesson plan to help the students navigate an uncharted world. One of the last assignments he gave to his students was a photo project that asked them to document their lives in quarantine.
"It was kind of a sneaky way for me to encourage them to have these photos for 20 years from now, when they're grown, out of college, working, and have kids," he says. "But some of the stories that they told — they tear at your heart."
He says he was particularly impressed by how poignant some of the students' photographs were.
"I wanted them to take a closer look around them," he says. "I don't have children. I have lived all of these years vicariously through other people's children and families, and I love being a fly on the wall anyway, so all of this, in some bizarre way, is fascinating to have a peek into what is going on in people's lives."
Tucker decided last fall that he would semi-retire for the upcoming year in order to pursue some projects, including a book and a documentary. He and Summit administrators "came to a nice agreement that I would work part time as a contractor this year, so I'm still in the loop," he says. "I'll come in as a contractor and shoot all of their sports, and I will probably shoot the majority of the yearbook. It's candy for me. I'll back off on my teaching responsibilities, but I will get to shoot a lot."
Though the situation remains fluid, Tucker says he anticipates the school will mix remote learning with in-class instruction in the fall. Administrators have a plan to keep everyone safe, and "I think things will morph as we go along," he says.
He isn't sure how social distancing will impact his role as the school's photographer, either.
"I've had the freedom to tiptoe into any classroom on campus and shoot for three minutes," he says. "We have yet to have that discussion about how much freedom I'm gonna have."
The students were a big factor in his desire to return to Summit this year, he says. "They're a really good group."
They're also quite talented with their iPhones.
"It's amazing what they can do," he says. "Eighty percent of my ninth-graders who worked on portfolios [last year] shot them with iPhones. I'm constantly trying to keep up with these kids technology-wise. It's really fun to watch."
The best part, he says, is the enthusiasm students show in his classes, and the confidence they gain in their skills.
"I can teach the life out of photography, and it's nice to be able to share that with kids," he says. "When one gets it, falls in love with it, or is really passionate about it, that's just icing on the cake."
He adds, "I have kids come back who have graduated from college, and they will show me a photo, usually on their phone, that they shot that they're really proud of, and it's like, 'Maybe I did make a difference.' That makes it all worthwhile."
Be the first to know
Get local news delivered to your inbox!