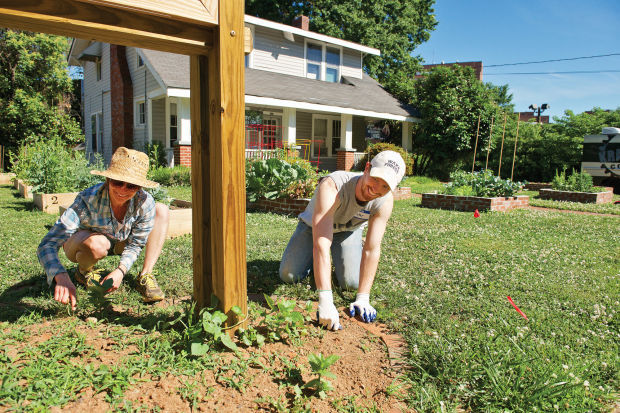 Across the country, a new wave of community gardening initiatives is helping to foster the lost art of community building at the neighborhood level. New gardens of all types have found a home in public parks, overgrown vacant lots, schoolyards, and neglected corners. Community gardens have been shown to encourage repeated positive social interactions in fragmented neighborhoods. Together, neighbors can learn and share new skills, lower their food bills, eat healthier meals filled with homegrown vegetables, build more meaningful relationships, and become more engaged in the environment.
Loy McGill, president of the local Garden Club Council says, "Gardening helps hone organizational skills, planning, and implementation, and it rewards dedication. Along the way, team members have an opportunity to troubleshoot and regroup when things aren't working as they should, so it's a microcosm of life. Friendships are built, and patience is rewarded."
The Forsyth County Cooperative Extension (FCCE) has over 120 community gardens on file with more in the works. Megan Gregory is the community garden coordinator for the FCCE and works to facilitate mentorship trainings as well as free educational workshops (such as its free Sustainable Growing Series), a tool lending program, technical assistance with soil sampling, and gardening potluck events. Both the FCCE and The Garden Club Council offer micro-grants for gardens in limited-resource communities.
Mary Jac Brennan, the FCCE's Extension Agent for Small Farms & Local Foods notes that, "Community gardens have [also] contributed tons of fresh produce to our local food pantries and feeding programs over the last five years."
The Jim and Betty Holmes Community Garden on The Children's Home property is a great example of this. This three-acre garden provides produce to Second Harvest Food Bank, which in turn helps support 18 counties in North Carolina. The West Salem Community Garden at the corner of Bank and Green streets also provides food to people in need, including the homeless.
"We have half of our current cultivated land devoted to free food for people in need," explains Sivri Mayhew, director of the Ardmore Gateway Garden on Hawthorne Road, which sits across from the Ronald McDonald House. The group donates produce to Ardmore United Methodist Church's food pantry, and last year, set up a "free table" to donate excess produce. "[We] donated about 21 pounds on average from April to October to the pantry, and we gave away at least that much at our free table."
Inspired to organize a community garden in your neighborhood? Here are five expert tips to get you started:
1. Organize! Organize! Organize! "A community garden is, first and foremost, a community of people who are enthusiastic about growing healthy food, greening our neighborhoods, and bringing people together," shares Megan Gregory of FCCE. "I encourage garden organizers to focus first on engaging members, understanding their interests and gifts, promoting shared decision-making and leadership responsibilities, and building ongoing educational opportunities into the gardens' activities. All of this will make it much easier to keep the garden well-tended and productive."
2. Determine a purpose: "When considering a community garden, the group must first determine the purpose of the garden," says McGill. "Is the focus to supplement the community's diet and help stretch food dollars? Some community gardens are established as teaching gardens. Other popular concepts include producing food for sale to supplement income for lower-income families or to supply produce to local food pantries."
3. Choose a site. Develop a plan: You'll want to have the soil tested for pollutants and make sure you have access to a water source. Brennan says the space you select needs to get at least six hours of sunlight for vegetables. You'll need to determine how many plots will be available and how they will be assigned. Don't forget to allow space for tool storage, walkways between plots, and a compost area.
4. Consider a children's area: You can get kids engaged in food production by establishing their own special area. Giving them their own space allows them to explore at their own speed while you work on larger projects.
5. Keep it social: Compile an email list and plan regular socials/potlucks where garden members can eat from the harvest, discuss business, share tips, and get to know one another better. Above all else, remember to keep it fun!
Be the first to know
Get local news delivered to your inbox!