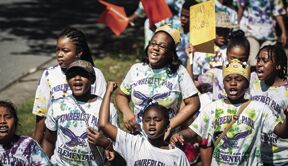 In the summer of 1961, a revolution was rolling through Mississippi. 
Throughout the state, civil rights activists from all over the nation — dubbed Freedom Riders — hopped on buses and embarked on a campaign to increase voter registration among black citizens who were often intimidated by the threat of violence when they tried to exercise their right to vote. Alongside this pro-voting movement, a focus on the education of Black children was born in the form of Freedom Schools.
Designed by the Council of Federated Organizations — an umbrella group made up of the Congress of Racial Equality (CORE), the Student Non-Violent Coordinating Committee (SNCC), the NAACP, and the Southern Christian Leadership Conference (SCLC) — Freedom Schools aimed to empower and motivate Black students who often didn't receive the same educational resources afforded their white counterparts.
The spirit of that project lives on around the country and right here in Winston-Salem in the modern Freedom Schools initiative.
A product of the Children's Defense Fund and rooted in the Mississippi Freedom Summer project of 1964, Freedom Schools operate a six-week summer literacy and cultural enrichment program designed to serve children and youth in grades K–12. The program is active in 28 states at nearly 200 program sites.
In Winston-Salem, Freedom Schools operated in three locations in 2019: Kimberly Park Elementary, Sunnyside Freedom School, and at Wake Forest University. The in-person program is on hiatus this summer due to COVID-19, but some virtual sessions have been held. Prior to the pandemic, the program had plans to expand to additional locations.
The concept first came to Winston-Salem via Dr. Amber M. Baker, who at the time returned to the city to serve as principal at Kimberly Park. Baker had been involved in implementing the program in the Minneapolis and St. Paul area, where she lived prior to moving to Winston-Salem.
"When I got immersed in the history of it and how it started as the modern day version of Freedom Schools from the Civil Rights Movement, I was like, 'Yes, this is definitely something I want to do,'" she says.
At the time, the program was more about reading. But Baker saw an opportunity to reach children during the "summer slide" — a time when some kids can backslide during the break between school years — by encouraging not only reading but also the achievement of measurable education goals.
"We knew about the learning gap for children of color, and at that time it wasn't as focused on closing the achievement gap; as an educator, I said that wasn't enough," she says. "We needed to think systematically about how we could layer learning techniques to close the achievement gap. Being a part of the team that took it from being about the love of reading to adding measurable goals, we can ensure these children are stronger readers because of this."
One of the folks in Winston-Salem particularly interested in that data is Dr. Dani Park-Moore, who heads up the Freedom School held on the Wake Forest campus. Park-Moore first encountered the program in Durham while at Duke University, and she thought Wake could provide a similarly ideal setting for a Freedom School.
"In Winston-Salem, we have so much data on poverty and reading levels," she says. "For a lot of the population of young people we serve, it's really important that they get to walk around on a college campus so they can envision themselves there."
Preparing children for a successful future is one of the over-arching goals of Freedom Schools. And the program addresses that in multiple ways.
Each morning starts with a harambee (the Swahili word for "pull together") session filled with cheers and chants to start the day on a positive note. From there, students split into smaller classes to read and discuss a culturally relevant book with the theme of making a difference. Other activities include visits from community readers — adults who can serve as role models to the students, as well as science activities, athletic sessions, and weekly field trips to locations like the Greensboro Science Center.
The program isn't just for the kids. Their parents are also engaged through sessions focused on financial literacy, resume-building, and self-care.
"Our research shows parents really appreciate those workshops and change their practices of how to parent and how to take care of themselves to be healthier," says Park-Moore. "Parent engagement is meaningful and supportive to the families we serve."
Over just a few years, Park-Moore says she's seen significant progress in the students who participate in Freedom Schools.
"I did a round of separate research to understand gains and impacts from the parents' perspective," she says. "It ranged from kids becoming more confident readers to being more confident in general in academics. Some young people who did not pass their end-of-grade tests and got permission to come to Freedom School, when they came back to school in the fall, they were able to pass."
Baker sees the work of Freedom Schools as not just a summer learning experience, but an investment in the lives of young people that endures long after the end of each session.
"The benefit is worth the investment, not only from the learning standpoint but the decrease in disciplinary issues," she says. "When you have a more well-informed young person, they will grow into a mature adult with healthier self-esteem. And in the community, they understand they need to pay it forward."
Be the first to know
Get local news delivered to your inbox!