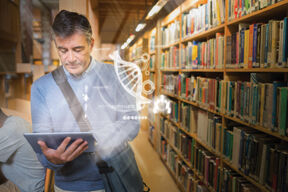 What keeps a person young? Ask your doctor and you'll hear something along the lines of: Eat your vegetables and whole grains, or about the importance of staying physically fit and active.
But if you ask Hollywood icon Betty White, who just hit 98 years young this past January and who notably enjoys a diet consisting of vodka martinis, hot dogs, and French fries, she might tell you it's reading the L.A. Times from cover-to-cover daily, owning thousands of crossword puzzle books, and keeping your career going 35 years past the average retirement age.
That's not to throw out the classic health advice from medical professionals. Rather, it's to add on that mental stimulation and social activity that also play roles in staying young despite the number of years you've been alive.
Wake Forest University Professor and Associate Dean for Continuing Studies Tom Frank directly leans into this mindset.
"I often refer to my own experience. When I was in my '50s, I went back and got an M.A. in Historic Preservation and absolutely loved that degree. I've taught and written in that field since," he says. "A lot of people teased me because I already had a Ph.D. and they're like, 'Why are you going back for an M.A.?' I was like, 'Well, aren't we all learners?'
"It was a transformative mid-life experience for me," he adds. "What I learned from that is people always want to learn."
Also serving as the director for the Master of Arts in Liberal Studies (MALS) Program and the Lifelong Learning Program, Frank gets to shepherd educational programs aimed at keeping Winston-Salem community members mentally stimulated and engaged.
"The people who come in are really eager learners," he says. "Professors often comment on this. They're amazed at the level of intellectual curiosity. I think that's why people are there… to keep the mind alive."
While some Lifelong Learning programs are specifically-aimed at adults 55 and older, the Wake Forest programs have no such rule (the majority of students are older, however). There are no requirements, no grades, no credit.
To quote Frank: "Anybody who wants to study with our professors is welcome."
That's because Wake Forest sees this program as mutually-beneficial: The university wants to be able to connect the community to the Wake Forest faculty as a resource, and by proxy help the faculty learn more about Winston-Salem. The university hopes this commitment will drive higher educational community engagement but also entice faculty members to plant deeper roots in this community. And then maybe they'll stick around when another job offer pops up.
The classes are typically offered over a number of weeks, meeting once or twice a week for a few hours at a time. Frank sees this as a benefit to the students, especially later-life or retired adults.
"This requires a bit more structure and discipline to get yourself to the class. You're keeping your mind alive," he says. "For some people, they might have less social contact that they previously had, so this keeps them in contact with people in their community."
Frank notes numerous successes they've had in the program's relatively-infant tenure. They recently offered an unexpected yet timely course on how 12 plagues changed the course of human history. And this past fall, they did a course on Palestine and Israel where a team of seven professors each taught something about their special field within that locales history.
"There was some controversy, which is good," Frank says, "but people were in the same room and could talk about it, and could hear from people who really studied it."
To Frank, that challenge makes a class like this special.
"We were not going to be intimidated by the possibility that people were going to disagree," he says. "Somebody's got to be talking about this."
And local connections have been equally important to the program.
Wake Forest has been able to get Piedmont Opera's Artistic Director James Albritton to teach about upcoming operas before they grace the stage, a tremendous experience where Albritton has been rumored to actually sing one of the arias for his students. Reynolda House does a course every term, often related to a current exhibit and full of rich Winston-Salem historical tidbits (like, did you know the Reynolds family almost decided to live in Philadelphia instead?) Bookmarks traditionally hosts a panel about upcoming Lifelong Learning classes and lets the professors come and offer a seven-minute taste of what their course is going to be.
But Wake Forest isn't the only local institution engaging nontraditional adult learners. High Point University (HPU) recently launched its "Leadership and Life Skills" series as part of what it's calling an "ongoing commitment to community enrichment."
Each program saw High Point University President Nido Qubein interview heavy-hitters in politics, business, industry, and more. The show was a who's who of "Jeopardy" factoids with names like former Secretary of State Colin Powell, CNN lead political anchor Wolf Blitzer, and even Wake Forest's own director of the Institute for Regenerative Medicine Dr. Tony Atala gracing the stage. Qubien interviewed these thought leaders on a range of topics with a theme of achieving success while embracing moments of failure.
Each episode was filmed in front of a live HPU audience and aired weekly from January through May on Fox 8 WGHP.
Of course continuing studies now means something different here in the time of COVID-19. Just as traditional students have pivoted from lecture halls to e-learning, Wake Forest was forced to immediately cancel its Lifelong Learning classes back in March and hasn't been able to do anything this summer. Which is especially unfortunate because Frank was in the middle of planning some class field trips: a trip to the town of Wake Forest where the University was founded to discuss North Carolina's colonial history, a visit to Morehead City and an overview of the holocaust, and possibly some other satellite sites around the Triad. Frank says he'd love to do something in Clemmons where it might be more accessible for students in the western part of the city.
And Frank adds that faculty have been making plans to take their fall classes online.
"I've been pleasantly surprised that several faculty have stepped up and said they'd want to do this," he says. "This is on top of their regular teaching; I'm real proud of them for stepping up."
Frank isn't worried about the nontraditional student getting lost in the transition to digital, either.
He sounds like all of us when he muses, "As of March 1st, I'd never heard of Zoom. Now I Zoom every day."
He discusses a particular couple in their '80s he's met who have their 10-year-old grandchild assist them in using Zoom as an example that all age groups are now more "willing" to take online classes — even lifelong learning students caught in the middle of an unprecedented pandemic.
But as Frank reminisces about what they've been able to accomplish up to this point?
"It's the kind of thing we can pull off at Wake Forest," he says. "It's the spirit of Wake Forest."
Be the first to know
Get local news delivered to your inbox!