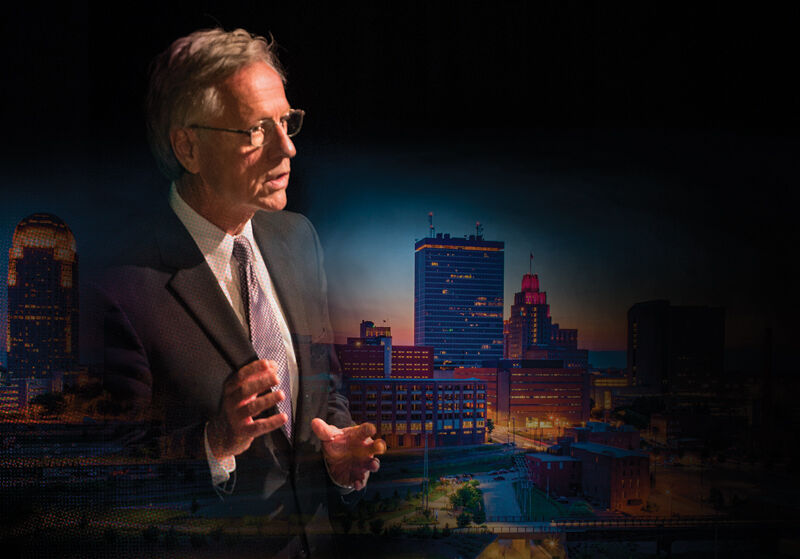 Early in our conversation, Mayor Allen Joines slides in the  phrase "COVID fatigue." It feels like a strong bass drum beat, a deep thud, a clash of cymbals — a term that, much like the outbreak it's named after, quickly grabs your attention but lingers still over a hushed audience.
That "fatigue" is something many Winston-Salem citizens are currently feeling: the barrage of COVID-19-related news, death tolls, and (mis)information, further wearing down their already-fragile emotional state. The pandemic has turned into incessant background noise that plays over every aspect of people's lives.
But for Joines, a city conductor who recently won a sixth term in office, the phrase is more about his excitement to discuss anything other than the COVID-19 pandemic. This new mayoral stint is about the next four years, not just the next four months.
"I'm as excited today as the first time I ran back in 2001," he says.
Still, Joines recognizes COVID-19 is something he'll have to help Winston-Salem sight-read deep into 2021.
"[With] two large medical centers here, both of them being involved in various aspects of the vaccine testing and research, we should do well with receiving the vaccine and distributing them to the general population," he says.
And what about low-income, minority families who have been hit especially hard by the pandemic? Joines says that "vulnerable populations" are a "key part" of the vaccine distribution protocols that the State Department of Health and Human Services has come up with.
"The decisions are being made by [Health and Human Services], but we can certainly make our feelings known about that," he says.
Joines has a southern drawl that charms, a collegial nature that connects, and endless optimism that inspires. But he's never more in-tune with his audience than when he's waving the baton for one of his biggest hits: the economy.
"Before the pandemic, we were enjoying the highest net job growth of any metro area in the Southeast at 3.9 percent," he says. "I want to get back in that high job creation mode … I'm feeling good about our entrepreneurial community and our ability to get that done."
Joines believes that effort is going to be led in 2021 by nonprofits like Agile City, a program that transitioned out of Venture Cafe, and startups like Venture Winston Grants, which is recruiting technology startup companies from all around the country. He's also keyed up on the Atrium Health and Wake Forest Baptist Health partnership, which sees the former promising to invest 3.4 billion dollars in the Winston-Salem community over the next 10 years.
He likens it to the explosive growth Wake Forest's Institute for Regenerative Medicine has undergone in the previous 10 years — starting with only 20 scientists then, and now housing over 460.
Still, innovation is only part of Winston-Salem's moniker.
"We are a huge supporter of the Arts Council," Joines says. He discusses how the city is making significant grants to them, and that he also believes the Center for Creative Economy is going to be a key player in getting Winston-Salem's arts scene playing in harmony after the pandemic.
That doesn't necessarily stem the short-term bleeding; artists need audiences, a near-impossibility in the era of social-distancing and limited-capacity buildings. So Joines encourages everyone to "support their local artists … buy local art."
And that's not the only challenging stanza the Twin City needs to play through in 2021.
The city was hit hard by the death of John Neville, a North Carolina inmate who died while in custody at the Forsyth County Detention Center. Subsequent charges brought against guards and a nurse sparked protests across the city — protests that never turned violent because, according to Joines, Police Chief Catrina Thompson and the entire city government had previously worked hard to establish positive relationships with those neighborhoods and African-American communities.
However, the city was under watch for a while as the Winston-Salem Journal (and several other news organizations including the New York Times) petitioned to have the video footage released, prompting more public outrage that the city handled with tremendous grace and understanding.
Joines believes, "there was a level of trust we were able to rely on to be able to address those issues."
But the work doesn't stop just because you hit the right notes in rehearsal. In 2021, Joines wants to make sure our police force continues to get the training they need around understanding racial bias and implicit bias. And he believes part of the continued push for diversity and inclusiveness should focus on the private sector.
"We will certainly continue to push for opportunities for minority-owned business in the city," says Joines.
Part of that work is re-energizing a previously-created minority business incubator housed in the city's Innovation Quarter.
Joines also sees the city's 21 percent poverty rate as pressing. He calls that one of his team's "key priorities" for the next four years: a poverty reduction initiative.
"It's a broad area … we've got to take a holistic approach to poverty reduction," he says. "The key is to address the overall systemic issues of poverty."
He thinks both major medical centers here in Winston are committed to addressing poverty and are in-tune with providing services for the community. Plus, Joines cites the neighborhood centers that have opened up as another key fix for this crescendo of a health-care crisis.
Of course, the other poverty-related crisis is Winston-Salem's affordable housing struggles.
A study completed in 2018 estimated a need for over 14,000 new housing units by 2027. This same study suggested the greatest shortage of rental units already exists for those at the lowest income levels.
Joines says to help solve this; an affordable housing coalition made of experts in the area was created. Voters also approved $10 million in the last bond referendum, and the city has policies in place where if they get involved with a developer on a housing project, that developer has to set aside between 10 and 20 of those units as affordable, but Joines thinks "we've still gotta figure out how to leverage private sector investment to go along with it."
And that's really the encore Joines is looking for in this sixth term — getting what he calls "tangible programs" in place to address the ongoing challenges we've been facing for years, while also helping Winston-Salem survive and, eventually, thrive beyond this crippling pandemic.
Mayor Allen Joines presents himself as the conductor. He might not play every instrument, he might not know every note — but he's setting the tempo for Winston-Salem's citizens, nonprofits, business, and more, so they can once again perform a stirring "Camel City" symphony.