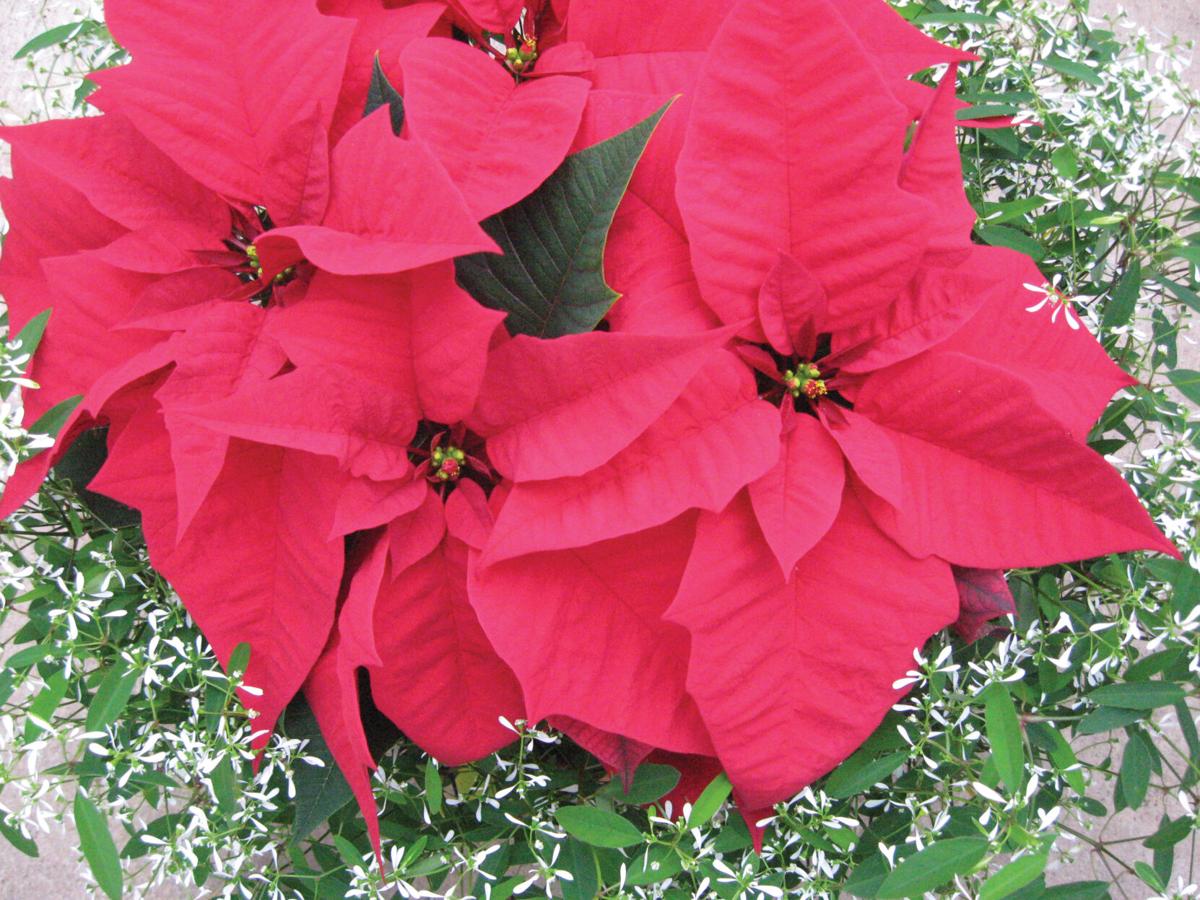 Holiday season décor would look quite different was it not for poinsettias adding a flare-like burst of red to mantles, bookcases, and foyers.
As a symbol of good cheer and success, it's no wonder the poinsettia has become the Christmas flower, which ushers in merriment in a season that is, well, merry.
Luckily, it's easy to bring these beautiful and fresh poinsettias, a true symbol of a Christmas miracle, home with a quick visit to nearby Mitchell's Nursery & Greenhouse. This family-owned and operated business continues to spread holiday cheer to families in the Triad — just like they have for several decades — with their vast assortment of poinsettias.
Judy Mitchell, co-owner and founder, shares that 2020 is their biggest year yet for poinsettias.
"We potted around 11,000 cuttings," she says. "That is the most we have ever had at Mitchell's."
These aren't just your basic red flowers, either.
According to Judy, they're selling 103 varieties this year. The differences are usually in color or bract (leaf) choices. She shares that reds tend to be the more popular choice, but white is growing in popularity. Another top pick is their red glitter, which is red with white splotches.
"My favorites change with the days. Different varieties change as they mature," Judy says. "The wait makes for amazing views."
Poinsettias are certainly a flower that's worth the wait. For those in the poinsettia-growing business, it can almost be a year of waiting. Mitchell's was no exception.
"I ordered poinsettia cuttings in January. We started filling pots for poinsettias on July 30. Next, poinsettia cuttings arrived on August 4 and we started potting. Cuttings were finished potting on August 8," Judy says. "We pinched the top of each poinsettia on August 24 and 25 to make it branch. Lastly, we put plastic cages around each plant to prevent breakage and make sturdier plants. After all that work, the poinsettias are finally up for sale in mid-November."
They sell the cherished holiday flower up until the week of Christmas. However, the best selection and variety is regularly available during the end of November and the first week in December.
Growing the cherished holiday plant brings plenty of joy to the Mitchell family.
"I love watching them grow and change colors. It's fun to see new varieties and the new colors that are being developed," Judy says. "Best of all, it's exciting to see customers walk into the greenhouse and see their expressions and excitement in discovering the different ones."
What started as a hobby growing azaleas has bloomed into a bustling business that sells the most extensive plant selection in the Triad. Judy and her husband, Jim, first rooted and grew azaleas on an extra lot they purchased beside their home.
"We started growing the plants as a hobby as we were both working full-time then. But now it has evolved into a family affair and true labor of love," she says. "We grow our own plants. We have control of the quality of plants and quantity that we grow. There are three family members present daily to handle problems that arise and three sets of eyes watching for problems and scouting plants, along with other amazing employees, who are like family to us."
Currently, Mitchell's is operated by Judy and Jim, as well as their son, Jay, who has become the second-generation Mitchell to work in the business. He and his wife, Melissa, have four children who are now the third generation in the Mitchell's legacy. From gaining all the necessary experience and education to running day-to-day operations, it's clear the family loves what they do in providing the local community with plants and a literal breath of fresh air.
Not only do poinsettias provide holiday cheer but have unlimited decorating potential for the holidays.
"I use a different color in each room to go with the décor. They brighten any spot and are especially pretty in bathrooms. We wrap them with foil and a hand-tied bow or put them in baskets," Judy says. "Some customers place a hanging basket without the wire on their dining room table or in front of a fireplace that's not in use. A 4-inch poinsettia in a basket is nice for a nursing home patient because it doesn't take up much space."
What: Mitchell's Nursery & Greenhouse
Where: 1088 W. Dalton Road, King
When: Mon-Fri, 8 a.m.–5 p.m., Sat, 8 a.m.–4 p.m., Sun, Dec. 6, noon–4 p.m.
Misc.: Masks are required in the greenhouse.