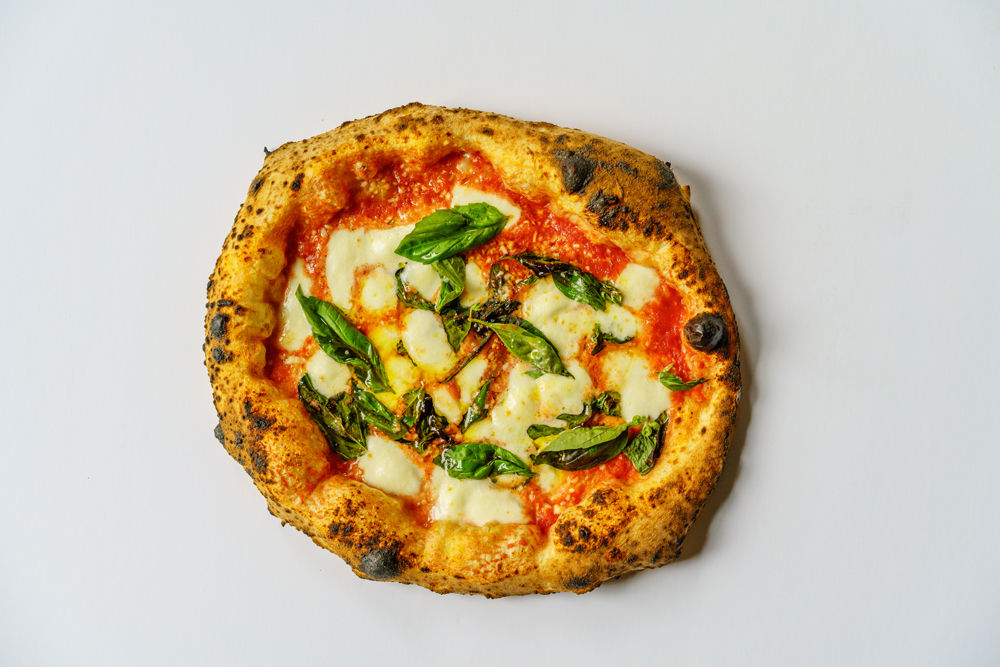 March Madness is here, and what food pairs fabulously with sports? Pizza, of course. Whether hosting a big party or just enjoying the game with family, a pie is the perfect snack for watching a basketball game.
We rounded up all the top pizzerias in Winston-Salem to give you a quick glance at the many places you have to choose from. Most of them offer dine-in, carry-out, or delivery. For our gluten-free fans, there are many choices for you, too.
Need beer to go with your pizza? We got the inside scoop from Travis White, general manager at Brixx, on some popular pizza and beer pairings—and took a brief look at the science behind it.
Let the games and pizza parties commence … Bon appétit!
1295 Creekshire Way // (336) 837-0664
Brixx is known for its specialty pizzas, like Bourbon Chicken and Korean Pepper Steak.
Its newest offering is a cauliflower crust, providing a low-carb, healthier option. Note that it's not gluten-free; however, they do have a gluten-free crust option as well.
1140 Burke Street // (336) 721-0011
3352 Robinhood Road // (336) 760-4888
Burke Street Pizza has two convenient locations serving authentic thin crust, New York-style pizza, as well as wings and hero sandwiches.
In honor of those who serve and protect us, Burke Street offers a Police and Fireman Special of two slices (any type) and a drink for $6.
420 Jonestown Road // (336) 774-8758
Carmine is home to a large variety of Sicilian pizzas, like the Caprese Pizza and Mediterranean Pizza, as well as an extensive pasta menu.
For those who love sweets, Carmine serves many Italian desserts, from homemade tiramisu to gelato.
Coppola's Pizzeria & Italian Restaurant
3512 Yadkinville Road // (336) 922-1190
New York-style pizza lovers adore Coppola's Neapolitan round and thin pizza, and Sicilian square and thick pizza.
Don't miss Coppola's pizza turnovers and every type of parmigiana combination—even on sandwiches.
486 N. Patterson Avenue // (646) 421-9493
There is also a location in Greensboro.
Winston-Salem's newest pizzeria specializes in Neapolitan pizza, such as their Porziano and Pomodoro.
Ordering is made easy as all pizzas are 16 inches.
Elizabeth's Italian Restaurant & Pizzeria
Among their many choices, some fan-favorites include their Stuffed Pizza and Margherita Pizza, not to mention their New York and Sicilian pizzas.
Not only is Elizabeth's known for their pizza, but also their huge selection of pasta. They even have gluten-free fusilli.
700 S. Stratford Road // (336) 245-8737
Firestorm Pizza focuses on fresh ingredients like the ones in their California Dreamin' and Tropical Caribbean Chicken pizzas.
In addition to normal and thick crusts, Firestorm's also has a gluten-free crust.
1066 Hanes Mall Boulevard
There are also six other locations throughout the Triad, including one in Clemmons.
Not only does Mario's Pizza have authentic New York-style pizza, but they offer ones all the way up to 24 inches in size. Those large pizzas are great for feeding a big group.
Mario's has a gluten-free crust and a cauliflower crust, which is also gluten-free, as well as vegan cheese.
Mellow Mushroom has classic, thin, and gluten-free crusts, and a wide assortment of toppings (even tofu) to build your own pizza.
There are many popular specialty pizzas, for instance the Kosmic Karma, Holy Shiitake Pie, or Pacific Rim.
1430, 707 Trade Street NW
Originally opened in 2014, Mission Pizza Napoletana is North Carolina's first Napoletana pizzeria focusing on serving pizza just as they do in Naples, Italy.
Staying true to the Napoletana tradition, their dough is made from only four ingredients: flour, water, salt, and yeast.
Restaurant & Pizzeria New York
Restaurant & Pizzeria's New York-style pizza can be served with cheese and toppings of your choice. Or, give their specialty pizzas a shot; the Chicken Bacon Ranch Pizza is a Southern fan-favorite.
Unlike many pizzerias, Restaurant & Pizzeria's New York also serves a breakfast that includes dishes like Huevos Rancheros or Honduran Breakfast.
While The Loop has traditional pizzas, their pesto-based pizzas are among their most popular menu items. Spicy Chicken Cilantro and Artichoke & Bacon are a must-try.
Need a sweet fix? Their hand-dipped milkshakes are the perfect choice.
The New Yorker Pizza, Pasta & Wings
In addition to their New Yorker Specialty Pizzas, another delicious pizza to try is their Meat Lover's Stuffed Pizza.
For those that love The New Yorker's pizza turnovers, they have 10 calzones and 10 Stromboli's listed on their menu.
1155 Silas Creek Parkway // (336) 722-0021
There is also a location in Lexington.
With such a New York name, it's no surprise Times Square Pizzeria serves authentic New York-style pizza.
For big parties, try the 25 inch (aka the Big Apple). There are also many gourmet pizza options on the menu.
Be the first to know
Get local news delivered to your inbox!