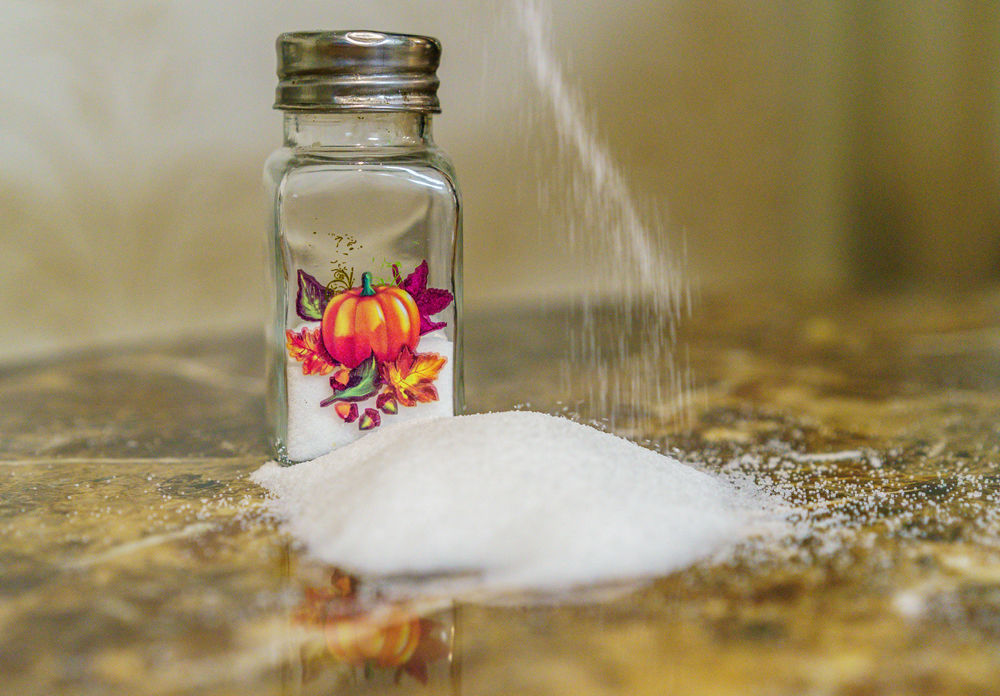 Growing up, I heard folks say, "You know, he ain't worth his salt." I got their drift but had no idea what it meant.
I know now that in the days of Roman legions, soldiers purportedly received part of their wages in salt—a precious commodity back then—and the word "salary" may come from the root word "sal" for salt. Over time salt lost its place as coin of the realm, but it continues to play an important role in our lives. Our bodies require it, and human blood is about 1 percent salt.
In the culinary world, salt allows us to enhance taste and cure and preserve foods—particularly meat. No salt, no country ham, for instance. The seasoning quickens our taste buds, and everything from bland white rice to ripe, deep-flavored watermelon takes on new life with a bit of salt.
But with food, how much salt is the right amount? We forget how subjective the answer is. It seems each of us has our own notion of what is too bland, too salty, or just right.
So, if you are in the restaurant business, how do you deal with the matter of salt, especially when diners have little knowledge about how restaurant kitchens work? Many patrons believe THE chef is back in the kitchen 24/7, and his or her hand is the only one reaching for the salt, despite the cooperation of a kitchen team, the duties of specifically-tasked line cooks, and the fact that "the" chef needs time off, too.
That said, good chefs know the value of consistency and understand that every plate that leaves the kitchen has their name on it.
Winston-Salem Chef John Bobby at Rooster's: A Noble Grille starts with recipes. Then he trains one-on-one with his sous chefs and line cooks and watches how they handle the salt. His kitchen has tasting spoons at hand, and he insists cooks use them. As a final measure, he or a sous chef serves as an expediter, checking every order before it is set before a diner.
"If you over-salt, it is hard to correct," he says. "If it can't be corrected, we start over."
Although the culinary world has many "salt snobs" and countless variations today, the chefs I talked with use only three or four salts in their establishments. This includes sea salt and kosher salt, but never iodized table salt, as it distorts flavors, they say.
Veteran Chef Matthias Gomez has some interesting insights. He is known in the local culinary community as "Frenchie," and he is doggone good. When I asked what the greatest challenge is in getting salt "just right," he replied without hesitating, "Cooks who smoke!" Cooks' taste buds are their stock in trade, he explained, and smoking is hell on them. "Cooks who smoke are more likely to over-salt because it's harder for them to gauge the seasoning."
Chef and restaurateur Will Kingery gave me the same initial answer. "A chef-in-training who smokes is going to have a harder time of it than his buddies," he said. "I know because I was a heavy smoker then." (He went on to become one of the most celebrated chefs in the Triad, so maybe it's not that much of a detriment.)
Chef Stephanie Tyson at Sweet Potatoes has published two cookbooks, and she relies heavily on her recipes to keep seasoning consistent. She explained that she cannot be in the kitchen all the time, and has to be confident that diners have uniform experiences and she doesn't get complaints. Luckily she has the watchful eyes of longtime Chef Willie Smith to help keep things tasting consistent.
Just up the street at Mary's Gourmet Diner, the domain of Mary Haglund, you will find one of the city's largest collections of salt and pepper shakers. She uses salt in moderation in her kitchen, which pleases health-conscious regulars, so Haglund makes it easy for patrons to tinker with their seasoning. If over-salting is a serious consideration, diners should look for restaurants like Mary's that buy locally and rely heavily on fresh ingredients. By starting from scratch, restaurants have control over the amount of salt that goes into preparation and generally are more apt to exercise it.
Speaking of salt shakers, you likely won't find salt on the tables at most higher-dollar, chef-driven restaurants. Chefs there have their notion of "just right" and how to achieve it. If you ask, however, a server will bring salt. (I have asked for salt only once in the last several years—for a pasta dish that was woefully under-seasoned.) But you will still find salt shakers on the tables of most popular, moderately priced, "family-friendly" eateries, and some diners will reach for them before even tasting.
Regardless of what the kitchen sends out, "just right" for some folks simply means "more."
Be the first to know
Get local news delivered to your inbox!