Summertime and peaches just go hand-in-hand in the South, especially when it comes to desserts. If you're looking for a sweet treat that's sure to satisfy, look no further than the following four recipes, all of which were winners in the annual peach-recipe contest at the Piedmont Triad Farmers Market; part of the market's Peach Day festivities each July. From cakes to pies to cobblers, each dish offers a delicious way to savor our favorite fruit of summer.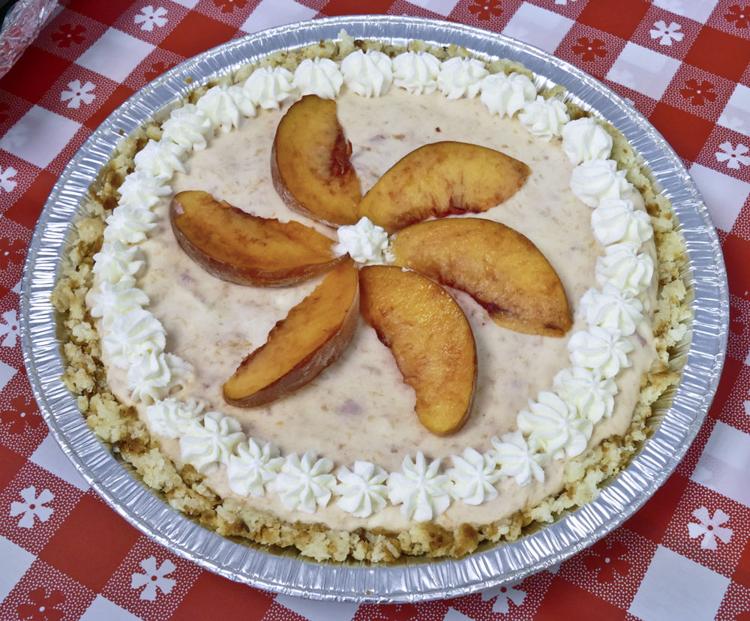 Frozen Peaches & Cream Pie
Recipe submitted by Donna Mayfield of Trinity. Makes 1 pie fresh Peach Cobbler. 
12 coconut macaroon cookies (for crust)
1 cup heavy whipping cream
2 ounces cream cheese, softened
2 tablespoons plus 2/3 cup sugar, divided use
1 teaspoon vanilla extract
2 cups fresh peaches, pitted and mashed
Crush macaroon cookies and press into sides and bottom of pie pan to form crust.
Cool whipping cream in freezer for 15 minutes.
Using electric mixer, mix cream cheese and 2 tablespoons of the sugar until smooth. Add whipping cream and vanilla. Whip until soft peaks form.
Toss the remaining 2/3 cup sugar with the peaches. Fold whipping-cream mixture into peaches. Pour into crust and freeze.
Garnish with whipping cream and sliced peaches if desired. 
---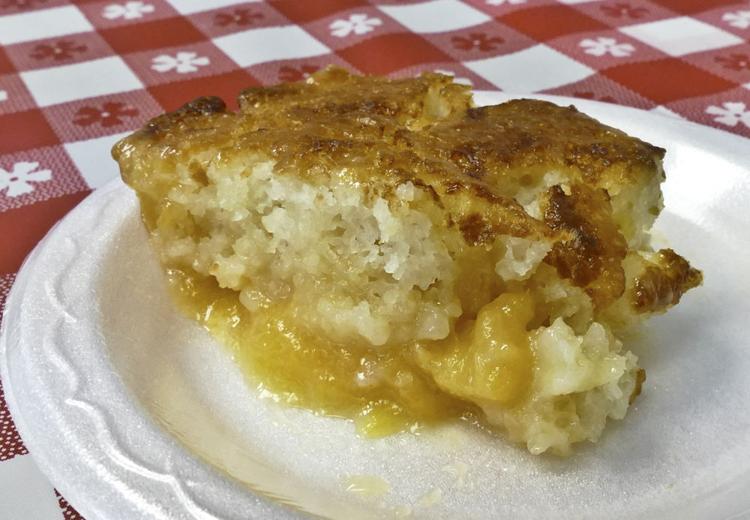 Fresh Peach Cobbler
Recipe submitted by John Phillips of Greensboro. Makes one 2-quart cobbler. 
8 to 9 large peaches, pitted and chopped (4 cups)
¼ cup sugar
¼ cup honey
½ teaspoon salt
Juice of ½ fresh lime
1 tablespoon chopped fresh mint, optional
1 stick butter
1 cup self-rising flour
1 cup buttermilk
1 cup sugar
For the filling, combine peaches, sugar, honey, salt, lime juice and mint, if using, in a saucepan. Simmer on medium heat, stirring occasionally, about 10 minutes.
Heat oven to 400 degrees. Melt butter in a 2-quart casserole dish. Mix flour, buttermilk and sugar in a bowl and set aside.
Pour fruit mixture over melted butter. Evenly cover the fruit with the flour mixture. Bake 30 to 40 minutes.
If desired, serve with ice cream and garnish with fresh mint.
---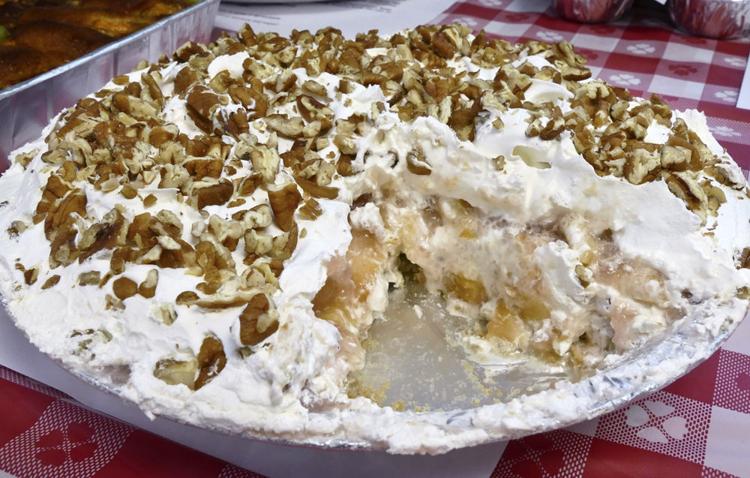 White Peach Delight
Recipe submitted by Shelia Walters of Siler City. Makes 2 pies.
1½ cups chopped pecans, divided use
1 stick melted butter
1 cup self-rising flour
2 tablespoons light brown sugar
8 ounces cream cheese, softened
16 ounces frozen whipped topping, thawed, divided use
1 cup confectioners sugar
4 cups white peaches, pitted and thinly sliced (or diced)
2 cups water
1½ cups granulated sugar
3 tablespoons cornstarch
1 3-ounce package peach gelatin
Place 1 cup of the pecans on a baking pan and bake until toasted and fragrant. Set aside for garnish.
For the crust, combine remaining ½ cup pecans, melted butter, flour and brown sugar. Mix by hand until well-blended. Spray two 9-inch pie pans with cooking spray. Divide crust mixture equally among two pans and press into sides and bottoms. Bake at 300 degrees for 15 minutes. Let cool a bit.
Combine the cream cheese, half of the whipped topping and the confectioners sugar. Divide equally among the two crusts, spreading in even layers.
Spread half of peaches over each cream cheese layer.
Boil the water, then stir in the granulated sugar, cornstarch and gelatin. Mix well, remove from heat and let cool completely. Once cooled, divide equally among the two pies. Top with remaining whipped topping. Sprinkle with the toasted pecans. Refrigerate 3 to 4 hours or until thoroughly chilled. Keep refrigerated.
---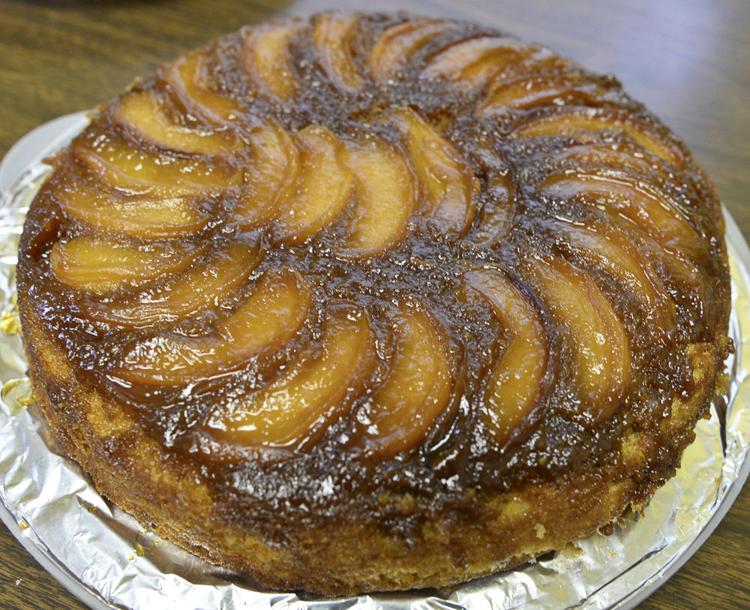 Bourbon Peach Upside-Down Cake
Submitted by Jessica Moore of Lexington. Makes one cake.
1¾ cups sugar, divided use
2 to 4 peaches, to taste cut into ½-inch wedges (about 2 to 4 cups)
1 to 3 tablespoons bourbon (depending on the amount of peaches)
1 vanilla bean (optional)
1 cup buttermilk
1½ cups all-purpose flour
¼ cup finely ground pecans
1 teaspoon baking powder
½ teaspoon baking soda
½ teaspoon salt
1 stick unsalted butter, room temp.
2 large eggs
1 teaspoon vanilla extract
Heat the oven to 375 degrees. Combine ¾ cup sugar and 1½ tablespoons water in a 10-inch ovenproof skillet and stir until the mixture looks like wet sand. Cook over medium-high heat, gently swirling the pan occasionally but not stirring, until light amber, about 5 minutes. Remove from the heat and arrange the peaches in concentric circles over the caramel. Drizzle with the bourbon; set the skillet aside.
If you are using the vanilla beans, scrape the seeds into the buttermilk and set aside.
Whisk the flour, ground pecans, baking powder, baking soda, and salt in a bowl. Beat the butter and the remaining 1 cup sugar in a large bowl with a mixer on medium-high speed until light and fluffy, about 3 minutes. Add the eggs one at a time, beating after each addition, then beat in the vanilla. Reduce the mixer speed to low; add the flour mixture in 3 batches, alternating with the buttermilk, beginning and ending with the flour, and mix until just incorporated. Pour the batter over the peaches and spread evenly.
Transfer the skillet to the oven and bake until cake is golden, about 50 minutes. Let sit 15 minutes, then invert onto a platter and let cool completely.
Be the first to know
Get local news delivered to your inbox!