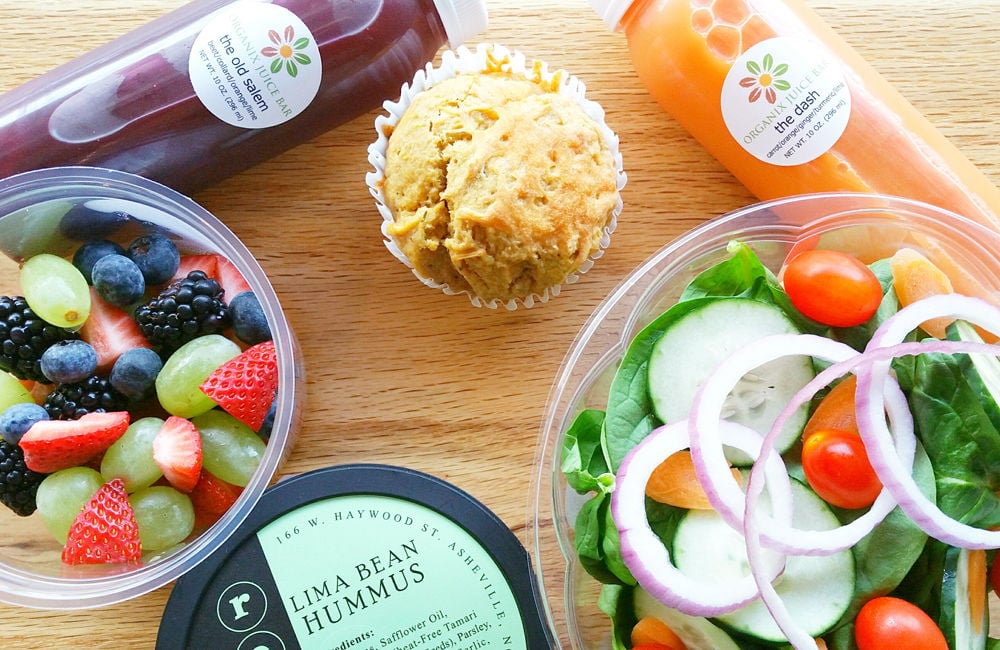 Living gluten-free has been a bumpy road for me since 2008, when I first learned I had celiac disease, an autoimmune disorder where a gluten-free diet is the only option to stay healthy. But with a growing number of local restaurants catering to gluten-free diets, those of us with celiac aren't reduced to living a bland, flavorless life. The following are nine of our favorite options for gluten-free dining.
Village Tavern: This homegrown restaurant not only has an extensive gluten-free menu but is also one of the few that has a Gluten-Free Food Service Certification (GFFS). From pizzas and pastas to full-course entrees, there is something for every taste on their menus. Among my personal favorites are the Chicken Bacon Cheddar Grill (without a bun) and Grilled Salmon. Tavern also offers a gluten-free brunch menu at both of its Winston-Salem locations. villagetavern.com.
Organix Juice Bar: Pretty much everything sold at Organix Juice Bar is gluten-free, from their selection of cold-pressed beverages to salads, snack bars, and various offerings such as muffins from Katy's Cakery. As its name implies, everything on the menu is also organic, making it a great option for a quick, healthy lunch. 1318 S Hawthorne Road, organixjuicebar.org.
Quanto Basta: Italian restaurants are often out for gluten-free eaters, but Quanto Basta has several gluten-free menu options including pasta. Don't miss the Antipasti and Insalata sections of the menu, which feature plenty of gluten-free options as well. Chef Tim Grandinetti says that the restaurant offers "many hearty and comforting dishes with big flavors." 680 W. Fourth St. facebook.com/quantobastaNC.
Midtown Café: Another food that's missed on a gluten-free diet is bread. Thankfully Midtown Café & Dessertery has great gluten-free bread available for French toast and sandwiches. You'll also find salads, soups, and entrees on its gluten-free menu. Just like its regular menu, the gluten-free section offers seasonal specials. For those with a sweet tooth, don't miss the delicious gluten-free chocolate torte. 151 S. Stratford Road. midtowncafews.com.
Muddy Creek Café: In addition to being known for showcasing local musicians, Muddy Creek Café also offers some of the best pimento cheese in the Triad. Any of their sandwiches or paninis (including the famed pimento cheese) can be made on gluten-free bread. As owner Shana Whitehead shares, "We are big fans of simple comfort food, and nothing tastes better to us on a cold winter night than a buttery, hot, grilled cheese sandwich." 5455 Bethania Road. muddycreekcafe.com.
Brixx Wood Fired Pizza: For a long time, one of the things I missed most on a gluten-free diet was the classic combo of pizza and beer. Imagine my delight when I learned that Brixx offers gluten-free varieties of both. According to General Manager Jennifer Gibson, 18 of Brixx's pizzas can be ordered as gluten-free, and a few others can be modified to be gluten-free. (For instance, the Bronx Bomber has gorgonzola but can be made without it to be gluten-free.) The BBQ Chicken Pizza is my personal favorite. 1295 Creekshire Way. brixxpizza.com.
Gigi's Cupcakes: Desserts are traditionally one of the harder-to-find gluten-free items, especially cakes and cupcakes, due to the flour. That's why I was so thrilled to learn that Gigi's Cupcakes offers several gluten-free cupcakes each day. Many of the cupcakes are dependent on the season. For instance, during the fall they usually offer some type of gluten-free pumpkin cupcake. The triple chocolate torte—a rich, dark chocolate cake with a brownie texture, topped with a chocolate ganache rose and powdered sugar, is available every day. 205 S. Stratford Road. gigiscupcakesusa.com.
Jeffrey Adams: While this restaurant doesn't have a set gluten-free menu, I've always found the chef and staff very willing and able to accommodate my dietary needs. Best of all, their produce is grown fresh at their own farm (Andrews Farm) in Stokes County. The restaurant's Downtown Burger (without the roll and onion straws) is a go-to item of mine, as are the salads, salmon, and duck dishes. 321 W. Fourth St. jeffreyadamsws.com.
Thai Harmony: Those looking to go Thai can get their gluten-free fix at Thai Harmony, which sits on the ground floor of the Liberty Plaza Building. The dinner menu is particularly inviting, with several gluten-free appetizers, salads, soups, and curries available. All gluten-free items—including standards such as Pho and Pad Thai—are denoted with a GF mark, making the menu easy to navigate. A handful of "GF" options are also available during lunch. 102 W. Third St. thaiharmonyws.com.
NOTE: When dining out, it's important to tell your server that you need to eat gluten-free so the kitchen staff avoids cross-contamination.
Be the first to know
Get local news delivered to your inbox!