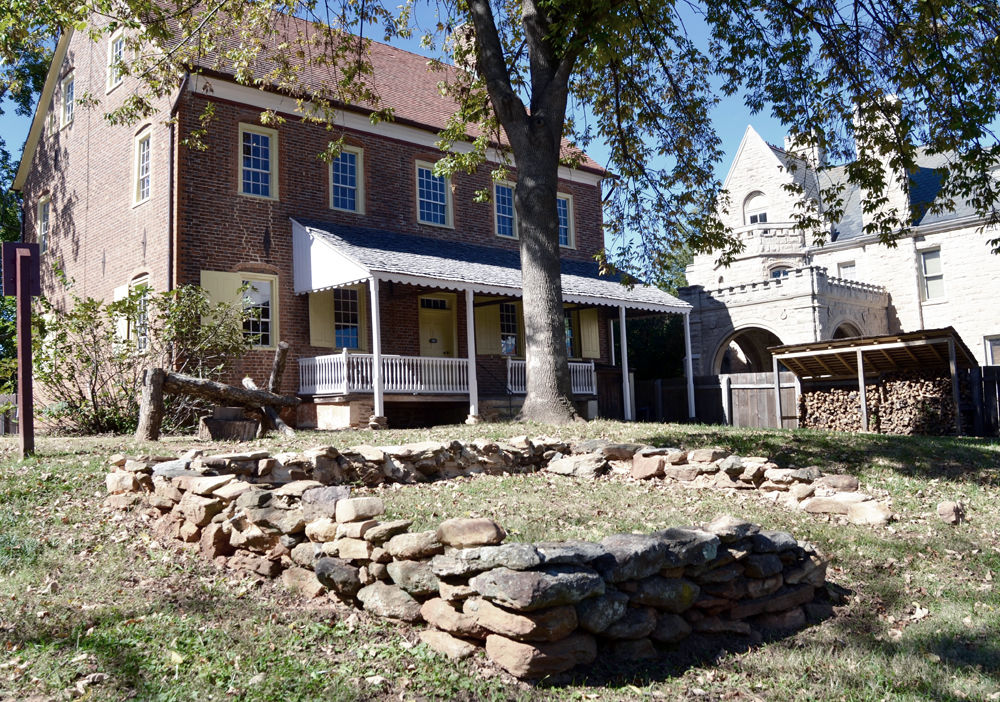 Rain runs down roof tiles in Old Salem Museums & Gardens, through channels formed in the clay by enslaved Africans' fingertips.
Above the Salem Tavern, in a room where slaves once lived, muffled conversations waft from below along with smells of coffee roasting. I sit on a pew on which enslaved Africans heard the pronouncement that slavery had ended in the 1860s. Before me are two headstones belonging to John Samuel and Fanny, both of whom were slaves in the historic town.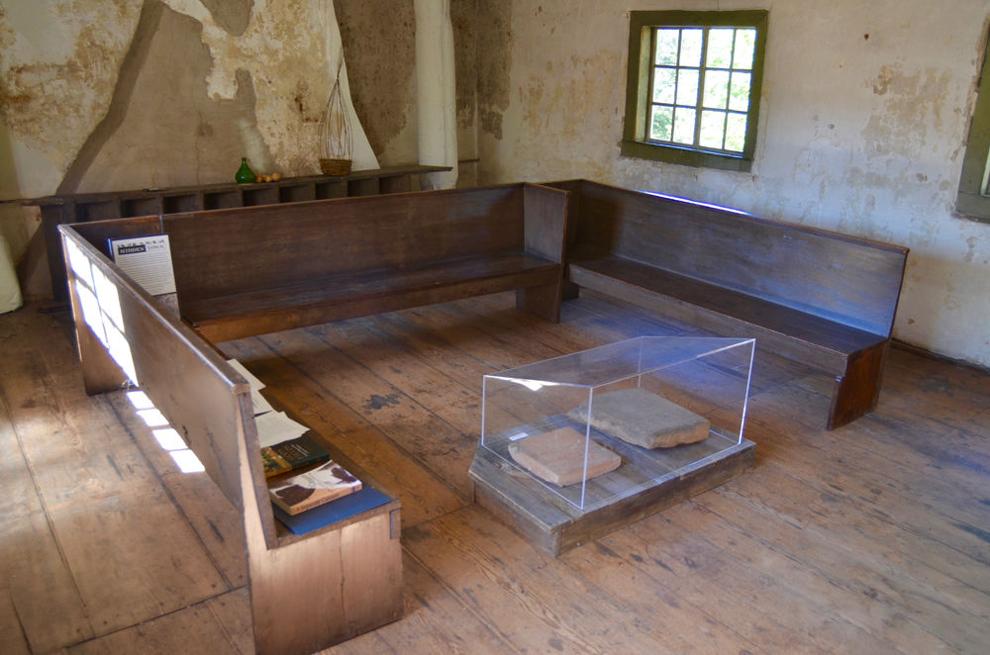 Peeling plaster on the walls of the room reveals wooden slats. A sleeping pallet is wedged in a corner, covered neatly with worn woolen blankets. Wavy images of dying winter leaves show through thick-paned windows.
This is the Tavern Meditation Room of the Hidden Town Project, a tangible commitment of Old Salem to share the story of slavery in Salem in an honest, accurate way. The floor creaks, and I wait for a whisper of the voices of the enslaved family who lived here.
Discovering the Hidden Town
The Hidden Town Project incorporates into the Old Salem experience the narrative of both enslaved and free Africans and African-Americans who once lived here. Their contributions to the community and landscape are shared through interpretation and documentation.
The project is co-chaired by Franklin Vagnone, Old Salem's president and CEO; Cheryl Harry, human resources manager; and Martha Hartley, director of research and outreach in Old Salem's Restoration Division. They lead a diverse committee dedicated to sharing this long-overlooked history.
"No other heritage site in the country is investigating this type of narrative at this scale," Vagnone says. "It's something we consider vitally important."
Since coming to Old Salem in December, Vagnone has worked alongside the committee to bring the Hidden Town Project to life. Officials have reviewed more than 5,000 photos and researched more than 1 million documents ranging from maps to diaries to memoirs. Their goal is to uncover the details of everyday life for African-Americans in Salem: Where did they live? Where did they work? Who were they as humans? How did they contribute to the town's growth?
According to the 1860 Forsyth County Federal Census, approximately 160 slaves and 40 slave houses were recorded in Salem. Hidden Town is an effort "to humanize these names from history," Hartley says. "We want to begin to tell these stories in a more full and extended way—and to tell the truth."
Many people still don't realize there was an African-American presence in Salem, Harry says. She's hoping the project helps change that disconnect.
"We wanted to really explore who they were as people and to walk in their footsteps," she says. "I'm hoping [the project] creates a sense of belonging and connection. I want white people to embrace this as well because it's our shared history."
It's not an easy story to hear.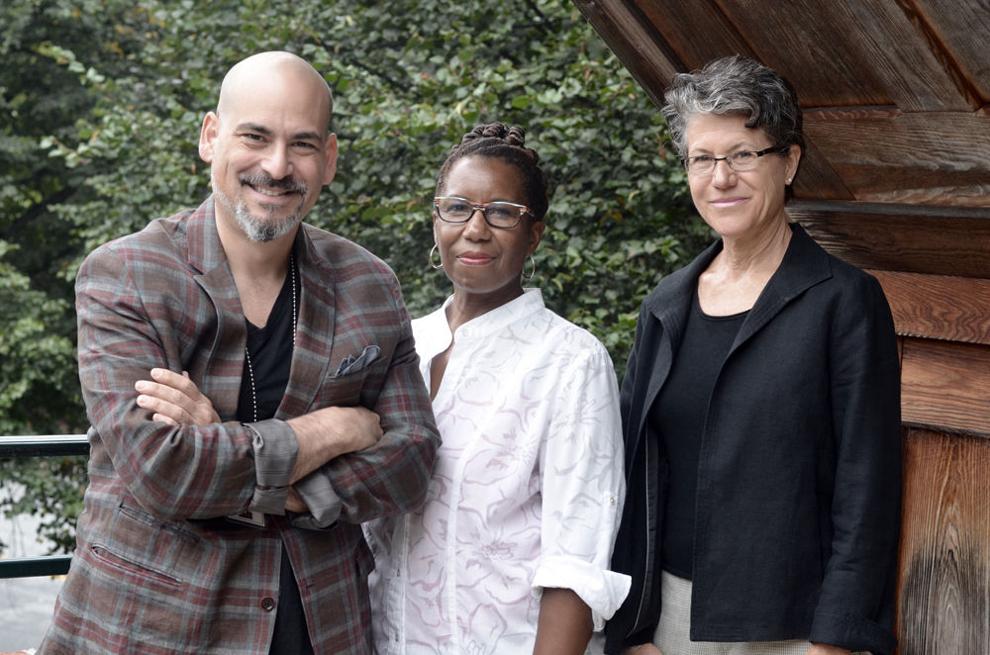 Moravians struggled with the complexity of their relationship with enslaved people and the spiritual connotation of being a part of the Moravian church, Vagnone says. Moravians fully integrated slaves in the church early on.
"Even though we have a hard time (understanding how) you can have someone in human bondage and still consider them a spiritual equal, there was this push for inclusion of the slaves into the religious community."
He adds that the Moravian community had deep concern and conversation about whether they should engage in slavery. Yet just before the Civil War about 20 percent of Salem's population was enslaved, much like the rest of North Carolina.
From the 1760s to 1860s, through multiple generations, Moravians gradually began embracing the Southern concept of enslavement. "It's also important for us to remember that Salem was not a homogeneous community, and there were white people here who did not think slavery was the right thing," Hartley says. "That needs to be acknowledged, too."
Peter Oliver's life is just one example of how Africans were integrated into Salem. Oliver, who is the six-times-removed grandfather of NBA star Chris Paul, was a slave, and he joined the Moravian church and lived in the Single Brothers' House. He learned pottery as his trade and eventually became a skilled potter. He later purchased his freedom and leased land near what is now Willow's Bistro—information that was discovered in February 2016 through Hidden Town research. This new info about Oliver's location is timely and ties into the planned Creative Corridors strollway over I-40. Oliver's landscape will now be interpreted in the strollway, which travels directly through his former farmland.
Hartley says that the 1860 Federal Census listed owners and their slaves by gender, age, and whether the owner had a slave house or not. Maps of Salem from the late 19th century show buildings in backyards of some houses that may have been former slave dwellings.
"[The dwellings] would have been behind the houses, or they may have been up the stairs," Vagnone says. "It's a form of urban slavery, which is different than plantation slavery, and it's throughout the entire town. That makes what we have a unique element in the historic record. We want people to come here and know the whole story."
Hartley shares stories about Christian David (aka "Davy"), whose headstone is at St. Philips Heritage Center Log Church. He was a Moravian, enslaved and married to another slave, Rose, who did not live with him. He was said to be a talented gardener, an early leader in the church, and a spokesman and spiritual advisor for the black population.
Another slave, Penny, lived in the attic of the Vierling Home (aka The Doctor's House) after being given to Dr. Samuel Benjamin Vierling as payment.
The Salem Tavern had slaves from the beginning, and the room above the kitchen housed, among others, the enslaved family of Peter and Louisa and their three children.
"There were slaves here, always," Hartley says. "These are real-life people."
An Ongoing Story
Hidden Town is a continuation of Old Salem's efforts to document the African-American presence in Salem. In the late 1980s, Frank Horton included this information when he typed the history of Salem on index cards. In 2003, Old Salem began interpreting St. Philips African Moravian Church (established in 1822), the only historic black Moravian con-gregation in America.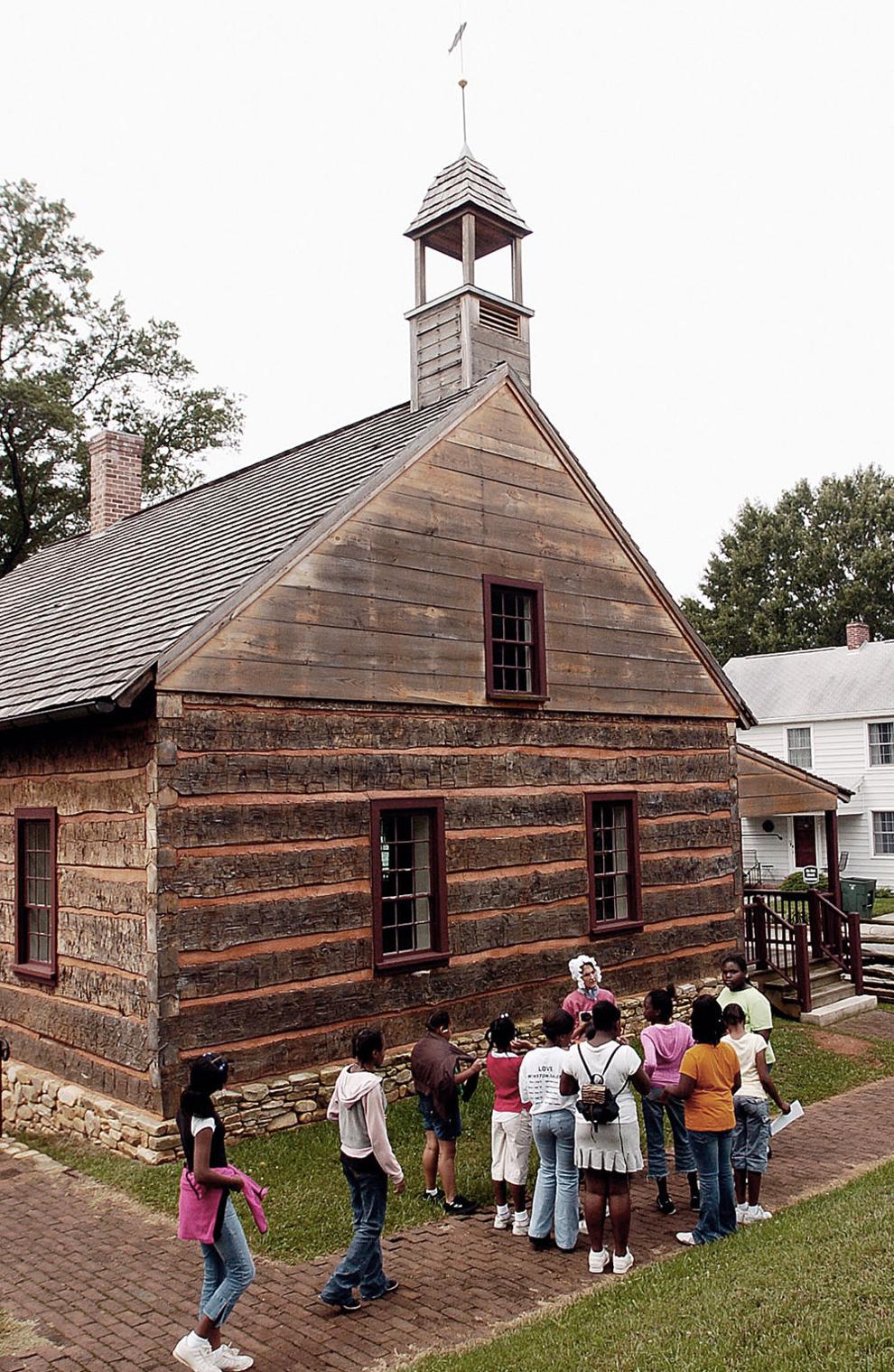 Harry says that when people visit St. Philips, they feel like they can talk about the subject of slavery in a safe space, and "It does open dialog or healing in that way."
But the African-American narrative in Salem goes well beyond the walls of St. Philips, and Harry says that Hidden Town will allow interpreters to tell a deeper, richer story.
"The St. Philips site has been great for interpretation, but it only gave us one perspective—one point in time," she says. "There was always much more to the story."
To that end, Vagnone says the project will take the experience of visiting Old Salem to the next level.
"It's about spearheading a deeper, more comprehensive view of Old Salem," Vagnone says. "It's truly a collaborative effort."
He says the project couldn't have been made possible without the extensive research of author Jon Sensbach, archeologists Leland Ferguson and Mo Hartley, decades of translations from the Wachovia Historical Society, and the collective work from the Hidden Town committee.
While the project is still in its infancy, it's already having an impact on the visitor experience. Tour-goers will now find Hidden Town displays in most of the exhibit buildings, including the aforementioned Meditation Room in the Salem Tavern Museum. The Single Brothers' House also has a bed dedicated to the narrative of Peter Oliver. Old Salem's interpreters and front-line staff have undergone training on how to discuss slavery and the Hidden Town project with visitors.
Looking ahead, officials plan to augment the archeological findings with art exhibits, salon discussions, community events, and more. The long-term hope is that the project not only improves the visitor experience in Old Salem, but also our society as a whole.
"I think [the project] illustrates the usefulness of history and how it can impact decisions we make today," says Hartley.
"We need to pay attention to what's gone on before us and not make those same mistakes over and over again. There's a lot we can all still learn."
Hartley says there are six domestic sites in the historic district with high probability of archeological material related to the enslaved in Salem. The hope is to start exploring those soon. "There's truth in the ground," she says.
Harry is also interested in uncovering further archeological documentation of the enslaved population "to be able to discover artifacts that were used or touched by these people's hands, and to be able to learn more about them from the ground."
Hidden Town is about "time and place and this social change," Vagnone adds. "We have a responsibility to tell the story in the most thoughtful, sensitive way we can."
Visiting the Meditation Room in the Salem Tavern Museum is free. For more information related to the Hidden Town Project, go to oldsalem.org.