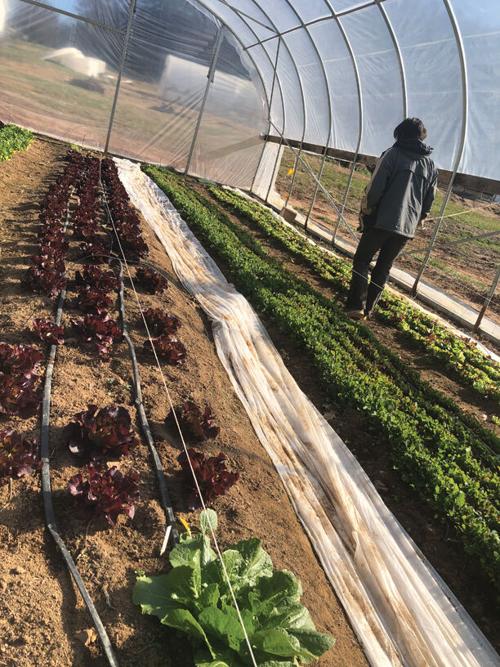 Sungold is a type of tomato, a sweetly delicious yellow or golden-orange cherry — and starting in late spring and through the summer, Natalie Sevin, owner of Sungold Farms, will have them in tow when she visits the summer farmers markets at Old Salem and the Fairgrounds.
She also packs them into some of the boxes she prepares for customers that participate in the farm's community-supported agriculture (CSA) program, where clients receive a weekly box of fresh produce and herbs.
But what does a farm named after a summer fruit do in the off-season?
"We plan in the winter," says Sevin, who founded the farm in 2014. "And we work on projects."
Of the farm's 17 acres at its primary location off Neva Lane, five or so are currently under cultivation. Sevin, her supportive parents, her four part-time workers, and her partner, Anh Nghiem, have several projects currently underway.
The farm's two high tunnels — or "hoop houses" — are growing an assortment of hardy winter vegetables, including buttercrunch lettuce, various kinds of kale, beets, radishes, garlic, and Chinese celery for occasional winter appearances at the Fairgrounds Farmers Market. Before long, a third high tunnel will join the first two, making more off-season cultivation a possibility.
"The high tunnels are for season extension," Sevin says. "I don't love the cold, but we do go to the farmers market some during the winter as well as summer. We operate our CSA program from May until mid-September, but the whole operation is very flexible in winter."
A building on the property is slated to become partitioned into walk-in coolers set at various degrees. Covered tables outside for washing and packing produce will be part of that project. And Sevin's dad, Philippe, has his eye on several irrigation projects for the outdoor fields in advance of their first planting in March. Those fields are the grounds for summer farm annuals such as cucumbers, squash, and tomatoes, including the namesake Sungold.
If this all sounds, well, bucolic in this time of COVID-19, Sevin says that's because it is.
"COVID hasn't affected us too much," she says. "Seasons change, things still grow."
By the time last March's "shelter in place" orders were issued, summer crops were in the ground. Farmers market traffic was down.
"We always had our wonderful regulars. Then, we started seeing new faces as business picked back up," Sevin says. "We never needed to advertise our CSA program; it had steady interest. That told me that more people were cooking at home, or maybe they were more interested in healthy eating to build healthy immune systems."
COVID's effects were felt more keenly by the farm staff. Three of Sevin's four part-time workers are women from Burma who came to the U.S. through programs sponsored by Our Lady of Mercy Catholic Church and Calvary Baptist Church. Their husbands work for Tyson Foods in Wilkesboro, where a COVID outbreak in the spring and summer affected more than a quarter of the plant's 2,244 employees.
By August, the "COVID cluster" had been cleared, according to the Wilkes County Health Department.
"At times like that, it's nice to be a smaller operation working in the open air, but during those weeks, I paid them to stay at home," Sevin says. "Overall, their help has made a huge difference in the farm's output, especially with produce that they're familiar with, like squash."
Sevin, a Wake Forest University alumna, was exposed to farming through a stint in the Peace Corps from 2005-2007. But she really learned to farm during two subsequent farming internships and three years spent managing Sugar Creek Farm in Davie County before founding Sungold.
It's a career move she's glad she made. Come what may, Sevin is ready to face the future with dirt under her fingernails.
"Throughout the ups and downs of last year, farming provided some sort of normalcy — the tomatoes were still coming in," she says. "Every year we grow a little more, and I get a little better at managing it."