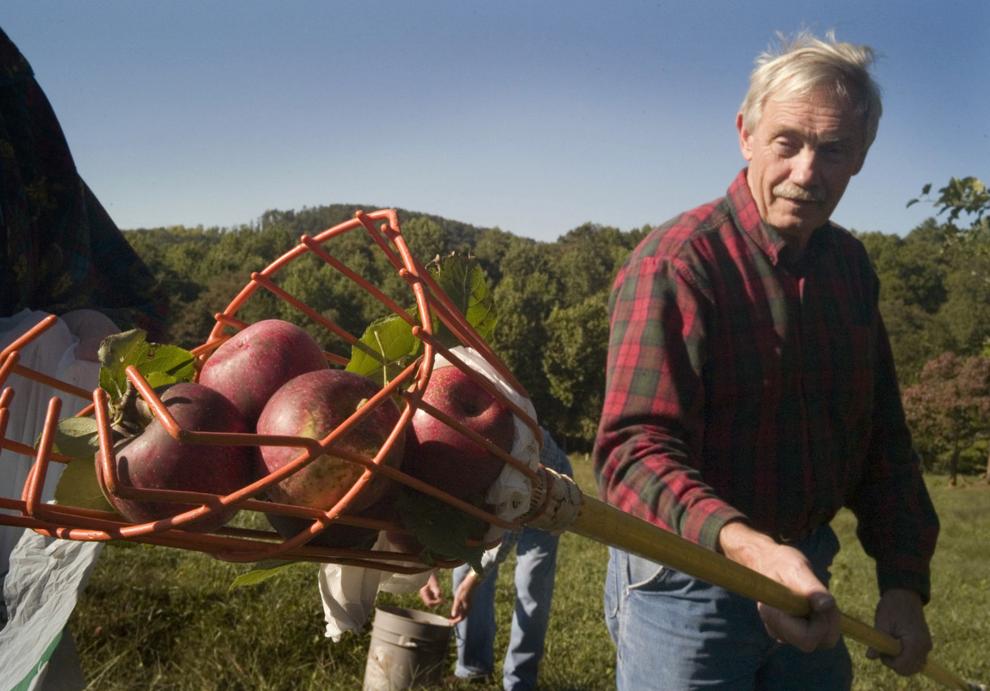 Tom Brown spends his time as detective, historian, and farmer as he searches for—and saves—heritage apples lost to everyday use. He drives two Subarus, and each has more than 300,000 miles. "Most of that was from looking for apples," he says.
Brown, 75, is a retiree of R.J. Reynolds Tobacco Co., where he was an engineer in research and design process and development. He became interested in apples when he met a man from Pinnacle in the 1990s who sold heritage apples at a farmers market.
"I was fascinated by the different colors and names and textures and shapes," he says.
The meeting inspired Brown to start looking for a particular apple—the Harper's Seedling, which he eventually found—and his passion for heritage apples has continued ever since.
"I just think it's important to preserve our history," he says. "There are so many apple trees that have been lost."

Oftentimes he follows a trail of memories. For instance, he talked to more than 70 people to find the Downs apple a few years ago. Elderly folks he met spoke of their fathers and grandfathers, who recalled that every other house had someone who could graft apple trees. "They took pride in having apples that were different than their neighbors," Brown says.
Cross-pollination resulted in new varieties that people named in ways that captured their history and reflected everyday life—such as the Snuff apple and the Kitchen apple.
While Brown has discovered more than 1,000 apple varieties to date, he admits he has a few favorites. The most unusual name he recalls is the Bug Horn Apple, which he found near Hampton, Tennessee. The most historically significant is the Junaluska, which was the preferred apple of the famous Cherokee chief. For taste, his favorite is the Pumpkin Sweet from Wilkes County.
On the Apple Trail
With another harvest season approaching, Brown remains relentless when it comes to apple preservation. Last year he grafted 800 apple trees, maintained his Clemmons orchard, and continued to search for lost apples throughout the Southeast. He sells a variety of trees at his farm, at festivals, and on his website (AppleSearch.org). He's also donated 100 apple varieties to Horne Creek Living Historical Farm.
When asked what keeps him going, Brown says it's a simple desire to preserve the trees for future generations.
"Old-timey apples are part of our agricultural heritage, but they are rapidly being lost forever," he states. "The trees are being cut down, and the older people who remember the apple names are passing away. The window to find and save these apples is rapidly closing."
To that end, Brown welcomes others' input when it comes to finding lost apples. "I would be delighted to hear about any old apples in your community," he says.
Sometimes a person will tell Brown the name of an apple, and he cross-references it with literature he has on lost heritage apples to confirm identification. Other times, the individual doesn't know the apple's name and needs Brown's help to identify it. "You really have to see it to know what it is," he says.
He recalls finding Manson Beauty—a beautiful red apple with red streaks—atop a snow-covered mountain in Macon County. He's traveled dirt and gravel roads and has gotten stuck in creek beds during searches. Some of his recent discoveries include Rusty Gabe, Ridge Pippin, and Candy Cheese. He's still searching for the Bee Sting and the Pine Stump apples, he says.
"It's fun to do, and you get to meet so many interesting people," he says. "But it's also like a challenge for me. If there's an apple that I can't find, it's not that it can't be found; it's that I'm not hunting hard enough."
---
GRAFTING 101
To save heritage apple trees, Brown employs a horticulture technique called grafting. The process involves affixing the upper part of a plant (the scion) to the root system of another plant (the rootstock) so that the two can grow as one. It's a vital procedure to know if you're planning to replicate the "lost" varieties.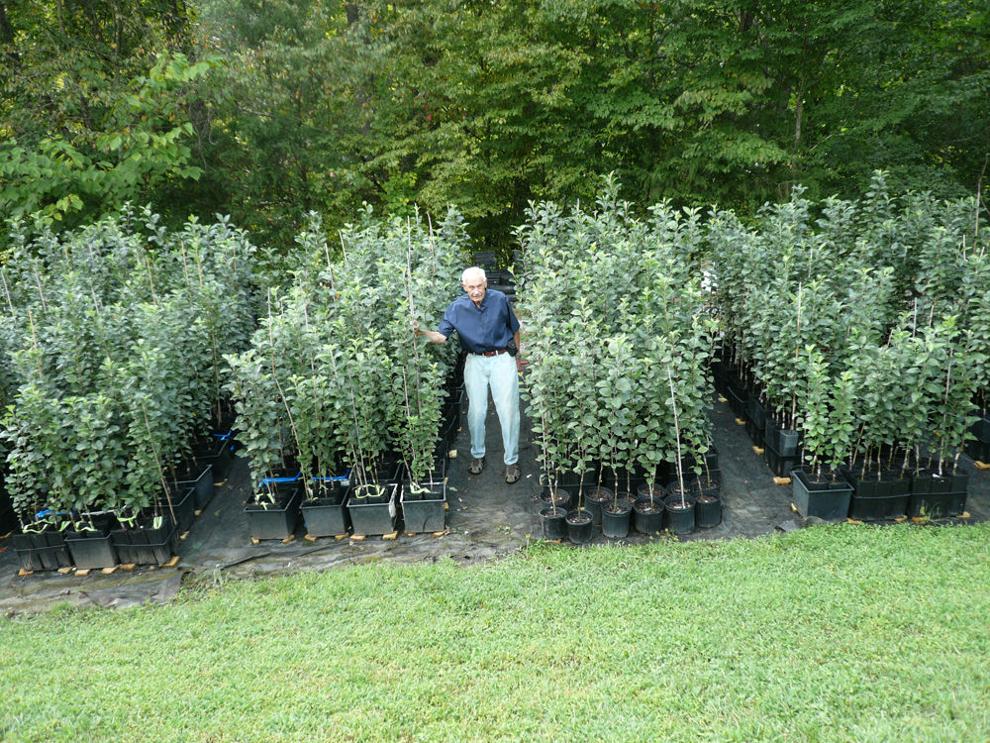 Many people assume you can take seeds from an apple, plant them in the ground, and grow trees that yield the same exact type of fruit. But it's not quite that simple. While it's true you can plant seeds and grow an apple tree, it will almost certainly be different than the parent tree, and there's a good chance the apples it produces won't even be edible. (The reasoning behind this is somewhat complex, but it's basically because apple trees aren't self-fertile and have to cross-pollinate with other nearby apple trees to produce fruit.) Long story short: To replicate a certain type of apple, you must graft it.
Brown's farm is at 7335 Bullard Road in Clemmons. You can find a variety of apple trees for sale on the farm or on Brown's website; the cost is $15 to $20 apiece. For more info, call 336-766-5842 or go to applesearch.org.