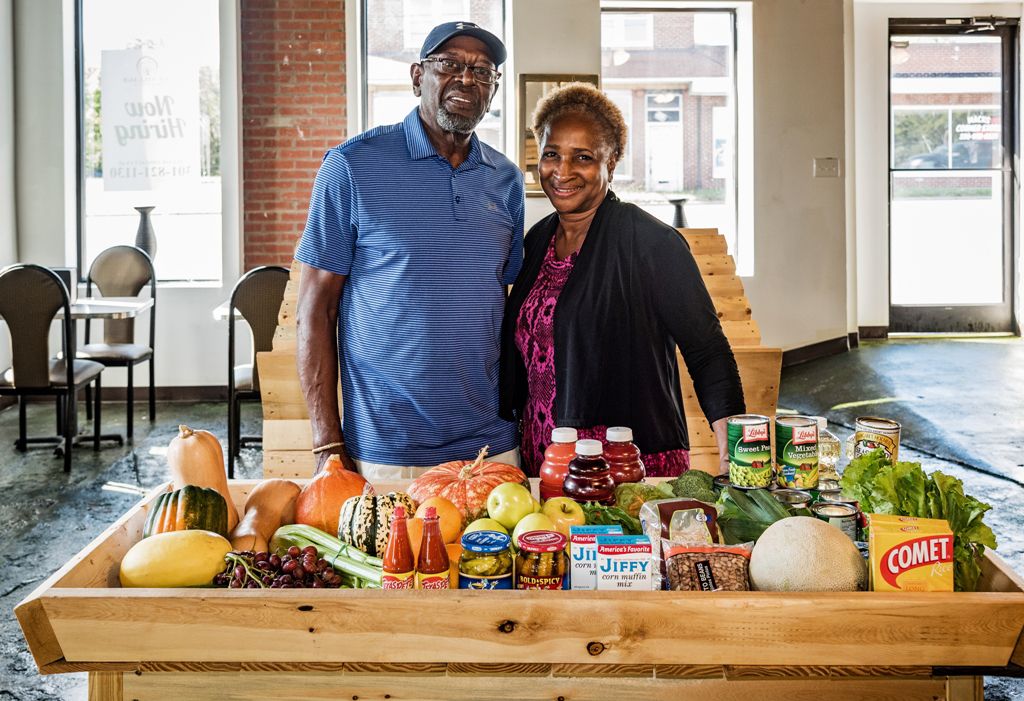 The Village Produce & Country Store on North Liberty Street offers more than an opportunity for a community in a food desert to purchase fresh produce and healthy fare. It's also creates a place for fellowship.
"The name 'The Village' is intentional," says Paula McCoy, who opened the store in October with her husband, Jerry Anderson. "It's about creating a space where the community is going to feel welcome, is going to feel a part of it. We want to create a place that is vibrant, a gathering place."
Both McCoy and Anderson grew up within a mile of the store's location when business was thriving, and they still have family nearby. McCoy is executive director of Neighbors for Better Neighborhoods, and Anderson's company, Ogburn Village Solutions, employs former offenders and teaches entrepreneurship.
"We love this area," Anderson says. "It's not my store; it's not Paula's store. We want to build community around it. Both of us believe this path that we're on is divine. We have been led to this place."
The store offers fresh produce, local honey, jam, sauces, pickles, bread, local wine, and more. In addition to the grocery component, the store rents community space—part of the village concept—for craftsmen and artists to sell their work on weekends to support entrepreneurial efforts. They also plan to offer online ordering and delivery.
"I believe in the whole idea of entrepreneurship and what it can do in poverty-driven neighborhoods," Anderson says. "There's another way to have dreams and other aspirations. What I see is this store being a hub of activity addressing not only the food desert, but also a place that focuses on children. Generational poverty has to do with the generation to come. Poverty is a thing that lacks love, extended family."
McCoy, who was a fellow at Case Western Reserve University's Mandel School of Applied Social Sciences, program director for the Local Initiatives Support Corporation (LISC), and a consultant with the Winston-Salem Community Development Funders Collaborative, said that education played an important role in her career and this venture.
"I learned a lot about community development—the bricks and mortar as well as the human development—and their significance in creating safe, healthy, and sustainable neighborhoods," she says. "To me, it's about self-sufficiency. The way to sustain neighborhoods is not to have someone coming in to help them. We have resources. [Community members] used to depend on one another. We could get anything we wanted from our neighbors."
The couple also wants to raise awareness about the cycle of poverty.
"I always say awareness precedes action, and action precedes change," McCoy says, noting that the area is transforming.
In 2010, Ogburn Village started its first Merchants Association. The couple's daughter, Yasmine Crowell, has opened Essence of Beauty hair studio adjacent to The Village. Malone's Family Restaurant recently opened in the old Bell Brothers site.
"There's a synergy that's happening here," McCoy says.