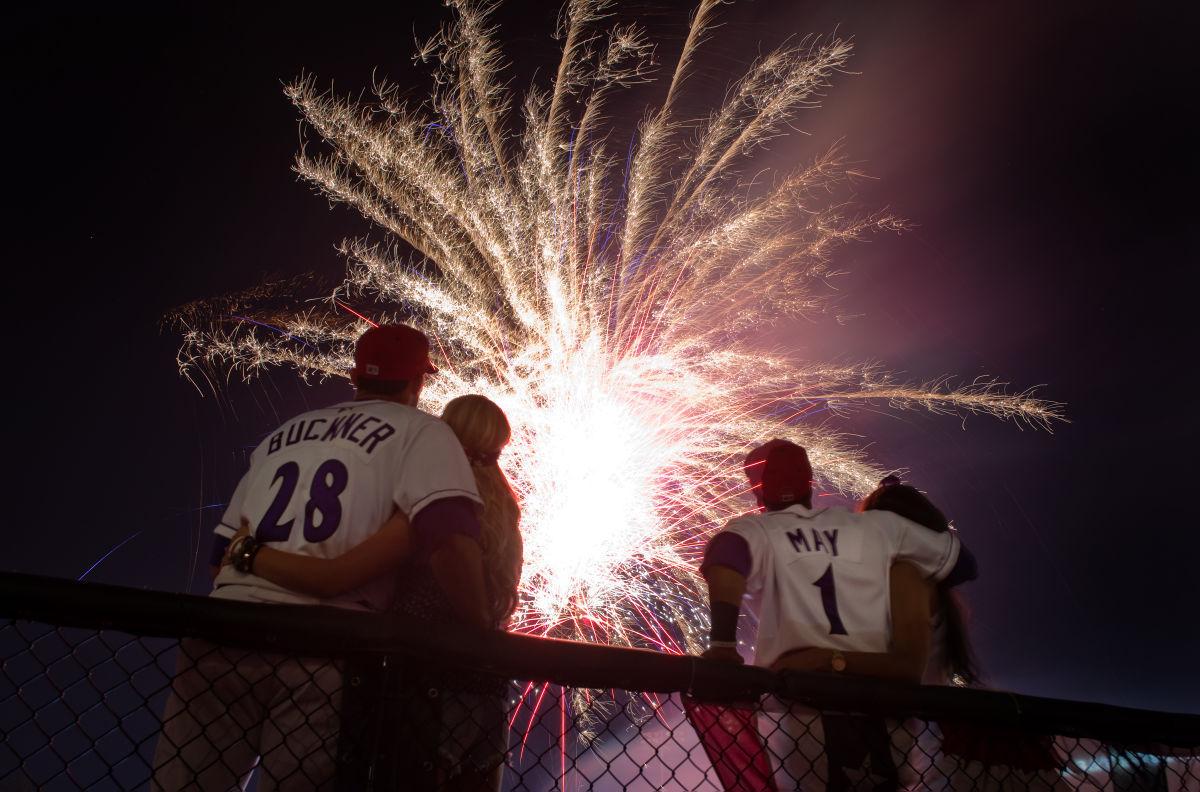 Kernersville Fourth of July 5K & Parade. Kernersville kicks off its July 4th festivities early with a 5k race at 8 a.m. followed by a parade at 9 a.m. The parade begins at Kernersville Elementary (512 W. Mountain St.) and ends at the Bank of NC on Broad Street. The 5k will follow the parade route through downtown, giving runners a chance to run before a large, cheering crowd. kernersvillerotary.org.
Fourth of July at BB&T Ballpark. 6:30 p.m. Celebrate Independence Day at BB&T Ballpark as the hometown Dash take on the Down East Wood Ducks. A fireworks display will follow the game. Tickets ($8–$16) are available at the gate, by calling 336-714-2287, or at wsdash.com.
July 4th Fireworks in Kernersville. The town of Kernersville will celebrate Independence Day with a free concert on the Kernersville Elementary football field at 6:30 p.m. before the fireworks start around 9 p.m. The school is at 512 W. Mountain St. Blankets and lawn chairs are welcome. The rain date will be July 5. toknc.com.
Lewisville July 4th Celebration. This annual celebration kicks off at 6 p.m. at Lewisville's Shallowford Square with live music by The Extraordinaires. Concessions will be available, and visitors are permitted to bring picnics and drinks. Fireworks start around dusk and are viewable from the square and surrounding areas. A rain date of Wednesday, July 5 will apply. 336-945-5558. lewisvillenc.net.
July 4th in Old Salem / Salem Band Concert. Old Salem's annual July 4th celebration will feature hands-on activities, patriotic music, demos, and more from 9:30 a.m. to 4:30 p.m. Afterward, a "Stars & Stripes" concert by the Salem Band will be performed at 7:30 p.m. in Salem Square. The concert is free; other activities require an All-in-One ticket to Old Salem ($27 adults, $13 for students). 336-721-7350. oldsalem.org.
Winston-Salem Dash baseball. Enjoy a full slate of special promo games at BB&T Ballpark this month, including Free Food Tuesdays (July 24, 31), Thirsty Thursdays (July 5, 26), Fireworks Fridays (July 6, 13), and Family Sundays (July 8, 15). Tickets for all games are $8–$16 and available at the gate, by calling 336-714-2287, or at wsdash.com.
First Friday Gallery Hop. 7–10 p.m. The Downtown Arts District comes alive the first Friday of every month with a celebration of arts and culture. Each Gallery Hop features music, demonstrations, new exhibitions, and extended gallery hours. Free. Trade and Liberty streets. dadaws.org.
Red, White, & Colt Ford. 7:30 p.m. Country artist Colt Ford will bring his fusion of rock, country, and rap to the Winston-Salem Fairgrounds Annex during this concert presented by 93.1 The Wolf. Tickets are $20 in advance, $30 at the door. For more details, go to wsfairgrounds.com.
Heavy Rebel Weekender. This 18th annual event brings the rockabilly culture to the Millennium Center with vintage cars, sideshow acts, burlesque shows, mudwrestling, and more than 70 bands and performers. Tickets are $90 for a three-day pass or $35 for one-day pass; free for 16 and under. A free car and bike show will be held allday Saturday on Trade Street. A pre-festival party will be held July 5 at The Ramkat. heavyrebel.net.
Shows at The Ramkat. The Ramkat will welcome a number of local, regional, and national acts this month. Concerts include the Darrell Scott Bluegrass Band (July 6), the Felice Brothers with Twain (July 11), The Plaids (July 20), and a special "Orange Krush Groove" event presented by 9th Wonder & Crewlove (July 21). To see the full list of shows or to purchase tickets, go to theramkat.com.
Hot Nights Hot Cars Cruise-In. 3–9:30 p.m. Held the first Saturday of the month from May to October, these popular events include live beach music, food vendors, local wine, classic cars, and more. The events take place on Main Street in downtown Pilot Mountain. Admission is free; lawn chairs are welcome. hotnightshotcars.com.
West Jefferson's Christmas in July Festival. 9 a.m.–7 p.m. Held in downtown West Jefferson, this event features craft vendors, live music, children's activities, food vendors, street performers, Civil War re-enactments, a farmers market, and more. Admission is free. For details, go to christmasinjulyinfo.ipage.com.
Old Salem Cobblestone Farmers Market. 9 a.m.–noon. This producers-only market is held on Saturdays in Old Salem, offering fruits, vegetables, herbs, meats, eggs, cheeses, breads, and other local products from the surrounding countryside. cobblestonefarmersmarket.com.
Summer on Liberty. 7–10 p.m. Winston-Salem's Saturday night street party features food/drink vendors and some of the best rock, roots, and pop music around. July performers include The Bo Stevens with the Straight 8s (July 7), Westend Mambo (July 14), Che Apalache with the Apple Chill Cloggers (July 21), and the Street Feat Band (July 28). Concerts are held at the corner of Liberty and Sixth streets. Admission is free. downtownws.com/music.
Clemmons Village Farmers Market. 8:30 a.m.–noon. Held Saturday mornings from May through October, this farmers market offers local fruits, veggies, plants, bulbs, relishes, jams, honey, eggs, baked goods, candy, and more from an eight-county region. Held at Clemmons' Village Hall, 3715 Clemmons Road. clemmons.org/farmersmarket.
Concerts at the Blue Ridge Music Center. 7 p.m. Set along the Blue Ridge Parkway at Milepost 213, the Blue Ridge Music Center hosts renowned bluegrass and folk acts each Saturday during the summer. This month's performers include Wayne Henderson & Friends (July 7), Steep Canyon Rangers (July 14), The Revelers (July 21), and Rhiannon Giddens (July 28). Tickets range from $15 to $35. For more details, go to blueridgemusiccenter.org.
Yoga in Bailey Park. Bring your yoga mat to Bailey Park for these free community classes. The Wednesday evening class (Sunset Salutations) will be held 6–7:30 p.m., and a new Saturday class (Sunrise Salutations) will be 9–10:30 a.m. All ages and exper-ience levels are welcome. For details go to facebook.com/InnovationQuarter.
Bethabara Concert Band & Family Evening. 6–8:30 p.m. Enjoy music from all eras, wagon rides, children's activities, hot dogs, ice cream, and more at for these free summertime concerts. This month's concert will feature a variety of patriotic-themed songs. Historic Bethabara Park, 2147 Bethabara Road. 336-924-8191. bethabarapark.org.
Grandfather Mountain Highland Games. Now in its 63rd year, this Scottish-themed celebration is highlighted by a parade, craft vendors, live music, dancers, and a variety of athletic games and demonstrations. It will be held in MacRae Meadows on Grandfather Mountain. For details on the event schedule, ticket prices, shuttle service, and more, call 828-733-1333 or go to gmhg.org.
Innovation & Cinema: Some Like it Hot. Held once a month, this free film series in Bailey Park explores the relationship between innovation and the world in which we live. This month's movie will be the 1959 classic Some Like it Hot, named by many critics as the No. 1 comedy of all time. Activities will begin at 7:30 p.m. with the film starting around 8:30. Food, popcorn, and beverages will be available for purchase (including beer from Hoots). facebook.com/InnovationQuarter.
Strong Sun Pow Wow Festival. Now in its 15th year, this family event is a celebration of Native American culture. Highlights include traditional dances, live music, storytelling, crafts, kids' activities, and more. Tickets are $8 adults, $5 seniors and youth (ages 8-17); free for kids 7 and under. Held at Ivey M. Redmon Sports Complex, 788 Beeson Road, Kernersville. For event times, activity schedules, and more, call 336-926-4607 or go to nearriverdwellers.com.
Firecracker Festival & Craft Show. 10 a.m.–4 p.m. The Cricket's Nest Craft Shop will host this annual summer craft fair featuring free ice cream sundaes, live dulcimer music, food trucks, and a variety of arts and crafts made by local craftsmen. Participating vendors will be set up throughout South Fork Park as well as inside the South Fork Community Center (4403 Country Club Road). Admission is free. 336-659-4315. cricketsnest.com.
Kids for Kids Triathlon. 8 a.m. Now in its 16th year, this annual event aims to introduce kids (ages 7–14) to the sport of triathlon while raising money for various local children's charities. The event will be held in the Brookberry Farms neighborhood, 760 Brookberry Farm Circle. For details or to register for the event, go to facebook.com/kidsforkidstriathlon.
A Celebration of The Dude. 5 p.m. The Yadkin Arts Council is hosting a party themed around cult classic The Big Lebowski. The event begins with a menu of pierogies, bangers and mash, and White Russian cheesecake. Following that will be a zen yoga circle (complete with rugs that really tie the room together), bowling, costume contests, and a screening of The Big Lebowski inside Willingham Theater, 226 E. Main St., Yadkinville. Tickets are $15. For details, call 336-679-2941 or go to yadkinarts.org.
Racing at Bowman Gray. 8 p.m. Experience "Madhouse" racing at Bowman Gray Stadium on Saturday nights this summer. July highlights include a $2 Ladies Night plus 100-lap Modified race (July 14), a "Night of Destruction" featuring monster truck car-crushing (July 21), and a 100-lap Sportsman race plus chain race (July 28). Tickets are $10 adults, $2 kids 6–11, free for children under 6. 336-723-1819. bowmangrayracing.com.
Mocksville Concerts on the Square. 7–10 p.m. Bring your lawn chairs to downtown Mocksville for these free concerts held throughout the summer. July performers will include Motown/beach music group Tess Black & Blues Band (July 14) and Americana act Mel Jones & His Bag O Bones (July 28). For more info, call 336-753-6705 or go to mocksvillenc.org.
The Big Chill. 3–6 p.m. Held on National Ice Cream Day, this 10th annual fundraiser for The Shalom Project moves to downtown's Bailey Park this year. Guests can enjoy live music, kids' activities, food trucks, and more while sampling homemade ice cream from individuals and community groups. Admission is free, though donations are welcome. For more details, go to theshalomprojectnc.org.
Moravian Unity Brass Festival. This third annual event will bring together hundreds of brass musicians of all ages and levels for four days of music and fellowship. Performances and worship will take place at locations all over the city, highlighted by a Unity Concert at WFU's Wait Chapel on Sunday (July 22) at 4 p.m. All performances are free and open to the public. Those looking to participate as a musician are required to register. For more information on the festival, go to moravianmusic.org.
Nitty Gritty Dirt Band concert. 7:30 p.m. Grammy-winning rock/country group The Nitty Gritty Dirt Band will perform at the Winston-Salem Fairgrounds as part of the venue's 2018 Classic Country Concert Series. Tickets ($20–$55) are available by visiting wsfairgrounds.com.
Salem Band Concert. 7:30 p.m. Held monthly in Old Salem's Salem Square, these free summertime concerts feature a variety of new and old songs performed by the Salem band. This month's concert, "Battle of the Salem Bands," will be a joint performance by the Salem Band from Port City, South Africa. Admission is free. Guests can bring a blanket or lawn chair. salemband.org.
Kernersville Movie in the Park: Paddington 2. Bring your family, friends, lawn chairs, and blankets out to Harmon Park in Kernersville to enjoy a presentation of the 2017 family hit Paddington 2, starring Hugh Grant and Hugh Bonneville. Activities start at 6 p.m. and the movie begins at dusk. Admission is free. kvparks.com.
Fiddle & Bow concert: Cliff Eberhardt. 8 p.m. Muddy Creek Music Hall hosts live music presented by Fiddle & Bow, the Triad's folk music society. This month's show will feature award-winning songwriter Cliff Eberhardt along with special guest Louise Mosrie. Tickets are $16–$18. fiddleandbow.org.
Spring Theatre presents Newsies: The Musical. The Spring Theatre Co. will present this Tony Award-winning musical based on a charismatic newsboy who dreams of a better life, far from the hardship of the streets. Tickets are $15. All performances will be held at Hanesbrands Theatre, 209 N. Spruce St. For more information on performance times and tickets call 336-747-1414 or go to rhodesartscenter.org/newsies.
Downtown Jazz. 6–9 p.m. Downtown Jazz brings a great mix of music to Corpening Plaza on select Friday nights during the summer. July performers include Willie Bradley with opening act Urban Standard (July 20) and Jeff Kashiwa with opener Reggie Buie (July 27). Food and drink vendors will also be on hand. Corpening Plaza, corner of First and Liberty streets, downtownws.com/music.
Sunset Concert Series at Shelton Vineyards. 6–9 p.m. Shelton Vineyards welcomes beach music standouts Too Much Sylvia as part of its Sunset Concert Series. Tickets are $20 online and $25 at the gates. Food will be available for sale, or guests can bring their own. No outside coolers or alcohol are permitted. Shelton Vineyards, 286 Cabernet Lane, Dobson. 336-366-3590. sheltonvineyards.com.
Beat the Heat 5k. Held at BB&T Football Field, this annual nighttime race has been named "the best 5k in the Triad" by Endurance Magazine. Events include a 1-mile fun run/walk at 6:30 p.m., a 5k race at 7, and the N.C. USATF 5k Championship at 8. All races will benefit several local nonprofits that support health and fitness. For registration info, go to twincitytc.org.
UNCSA presents Las Cafeteras. 7:30 p.m. UNCSA's American Music Series continues this month with a concert by Las Cafeteras, a California-based band that fuses different beats, languages, and musical styles. Held at the Stevens Center, 405 W. Fourth St. Tickets start at $17 and can be purchased by calling 336-721-1945 or visiting their website at uncsa.edu/performances.
Avenue Q. Friday and Saturday, 7:30 p.m.; Sunday, 3 p.m. The Yadkin Arts Council presents this laugh-out-loud, Tony Award-winning musical about a recent college grad who, after moving to NYC, makes friends with his not-so-ordinary neighbors. Recommended for ages 18 and up. Yadkin Cultural Arts Center, 226 E. Main St., Yadkinville. Tickets are $15. 336-679-2941. yadkinarts.org.
UNCSA presents Anna & Elizabeth. 7:30 p.m. Mesmerizing folk duo Anna & Elizabeth will perform at the Stevens Center as part of UNCSA's 2018 American Music Series. Tickets for this event will start at $17 and can be purchased by calling 336-721-1945 or visiting uncsa.edu/performances.
South Pacific. Saturday and Monday, 7:30 p.m.; Sunday, 3 p.m. The Surry Arts Council presents this beloved musical set in an island paradise during World War II. Shows will be held at the Andy Griffith Playhouse, 218 Rockford St., Mount Airy. Tickets are $15. For more details, call 336-786-7998 or go to facebook.com/AndyGriffithPlayhouse.
NightBEAT presents Tour of Champions. 6 p.m. Eight of the world's top marching band ensembles will perform at this electrifying drum corps concert, where fans can immerse themselves in the drum-corps experience. Tickets are $25–$65. BB&T Field, 499 Deacon Blvd. For details, go to dci.org.