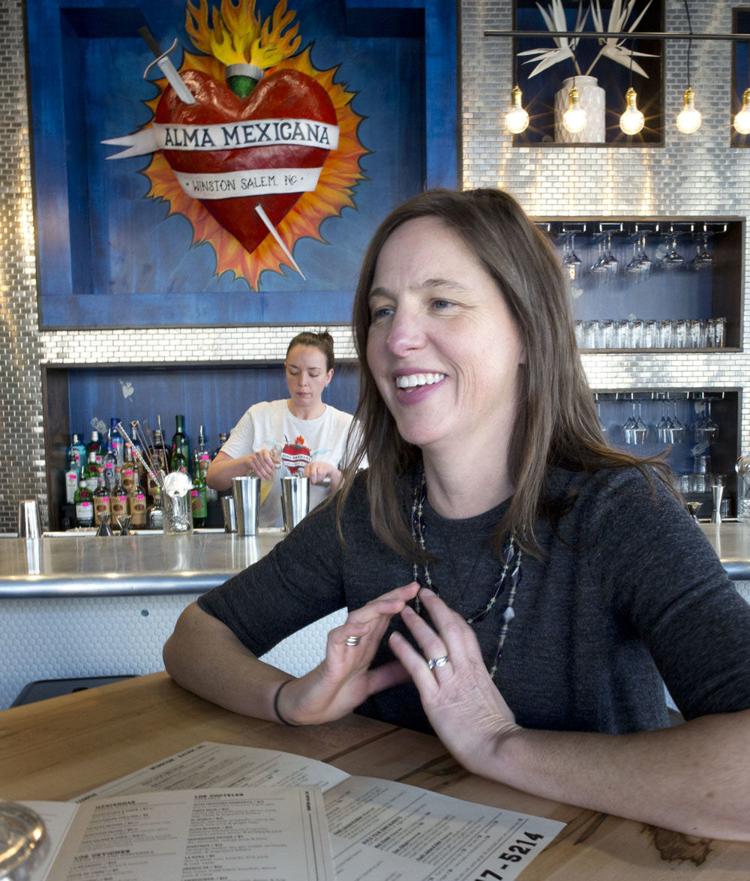 With two restaurants, a business on the way, and three kids, Claire Calvin is used to people wondering how she does it all. But sitting at a corner table in Alma Mexicana between the lunch and dinner rushes, her son scarfing down a taco a table away before she takes him to a swim tryout, Calvin appears unfazed.
She has plenty of help at home and at work, she says, saying that she learned after opening The Porch Kitchen & Cantina a few years ago that finding people with complementary skills was the key to successfully juggling her hectic schedule. She'll need a lot of help in the coming months as she prepares to take on her next big venture—The Canteen, a downtown market concept she's opening with Eric Swaim from Hoots Roller Bar.
Things do fall through the cracks sometimes, she admits, and she tries to convince other people to pursue some of her ideas that she doesn't have time to tackle herself. But Calvin enjoys having a lot on her plate, figuratively speaking, and loves the creative challenge of trying something new.
Her Texas-bred, pioneering spirit comes through in her menus at The Porch—a wildly popular Tex-Mex restaurant in the West End Mill Works complex—and at Alma Mexicana, her newer, Mexican-inspired eatery in the newly redeveloped Bailey Power Plant, adjacent to downtown's Bailey Park. Both restaurants draw on the culinary traditions of her childhood in Texas, celebrating Mexican-inspired ingredients and cuisine while allowing ample room for experimentation.
That creative approach is especially clear on Alma Mexicana's tapas-style dinner menu, which expands the scope of your average local Mexican offerings beyond classic items and also features occasional culinary influences from the Middle East.
Flavors of home
A native of the Houston area, Calvin arrived in the Twin City a decade ago by way of Washington, D.C., New York City, and Portland, Oregon.
She says she didn't dream of working in the food world when she grew up. Quite the opposite—she spent the early part of her career as a lawyer, focusing on international arbitration and working in New York. She'd always known how to cook, thanks to her parents, but it wasn't until she had a kid that she began cooking more often for practical reasons.
When Calvin and her husband moved to Winston-Salem about a decade ago, she admits she was miserable at first. She wanted to move back to Texas and realized how much she missed the food she grew up eating. Cooking became her means of connecting with home while simultaneously connecting with her new surroundings, as she started preparing food for a few of her neighbors in West End. That's where her initial business—Dinners On The Porch, a meal-delivery service—began to blossom.
"I just started making enchiladas for my friends, like for 10 people. Then it just grew," Calvin recalls. "It kind of mushroomed by word of mouth."
Here's how it worked: Calvin created a menu each week alongside a few friends who were helping out with the business. She'd then send the menu out to dozens of customers on her client/email list, targeting working parents who struggled to find time to prepare homemade, organic meals. Customers who opted in for that week's meal could either pick it up or have delivered right to their doorstep. Calvin prepared most of the food herself, complementing the meals with a blog that told stories behind the dishes.
"It was probably just like therapy for me," Calvin says. She started feeling more at home, and Dinners On The Porch eventually grew into a restaurant—The Porch—which still maintains the prepared-foods side of the operation.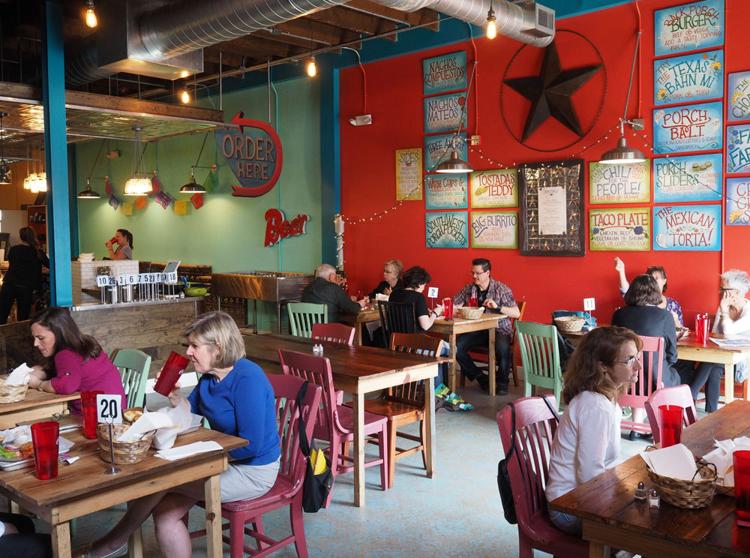 Looking back now, Calvin admits she had no idea what she was doing when she opened The Porch in late 2013, saying her hubris led her to dismiss people's warnings of how difficult it would be. Even when the restaurant was slammed with patrons that first year, The Porch was still losing money. But Calvin, who's admittedly stubborn, was determined not to let it fail. After doubling down and doing some internal restructuring, she managed to turn The Porch around. Its ongoing success encouraged her to launch Alma Mexicana, a slightly more upscale version of The Porch, earlier this year.
Her upcoming project, The Canteen, appears to be her most ambitious yet. It's billed as a specialty combo market that will offer select grocery items, fresh baked goods, premade salads and sandwiches, cheeses, coffee items, and a full bar. It will also house a sit-down restaurant serving lunch and dinner, with seating available in an inside dining area and outside on a Fourth Street-facing patio.
"We're not going to be a regular grocery store," Calvin says. "It's going to be a specialty gourmet market with things you'd get in Dean & Deluca." She's hoping to have it up and running by the early summer.
Finding her place
Calvin admits there are still things she misses about Houston, but she feels more and more at home here. "There's a lot of energy in Winston right now," she says, "and I'm happy to be a part of it."
Through getting to know other small-business owners in the city, including a network of supportive women, Calvin says it feels like she's found her people. In addition to informal networks, she says the Piedmont Culinary Guild and Wake Forest's Center for Private Business have made a difference too, helping her develop a sense of place and find success as an entrepreneur.
She's created a small empire since deciding to put down roots and open a business, but she knows now isn't the time to stand still—she still needs a new office, and details for The Canteen are being finalized. She's also envisioning the start of a development group that's focused on creating more community-driven businesses that might not even be food-related.
It all adds up to a lot of work, no doubt, but it's the type of work Calvin loves—the process of innovating and conceptualizing, creating, and re-creating. After all, she likes keeping a full plate.
---
---
EDIBLE EMPIRE: A look at Calvin's growing list of projects.
Dinners On The Porch (2010). Calvin, a mother of three, had working parents in mind when she launched this catering and meal-delivery service out of her West End home shortly after moving to town. theporchws.com/catering.
The Porch Kitchen & Cantina (2013). Calvin and husband Matt Giegengack opened this lively Tex-Mex diner in the West End Mill Works complex to rave reviews and packed houses. theporchws.com.
Alma Mexicana (2018). As the first business to open inside the Bailey Power Plant, Alma Mexicana (seen left) serves modern Mexican dishes inside a chic, colorful urban setting. facebook.com/almamexicanaws.
Canteen Market & Bistro (coming soon). Stationed at the intersection of Fourth and Spruce streets, this specialty market will offer select grocery items along with a deli, bakery, restaurant, coffee shop, and bar.
Be the first to know
Get local news delivered to your inbox!