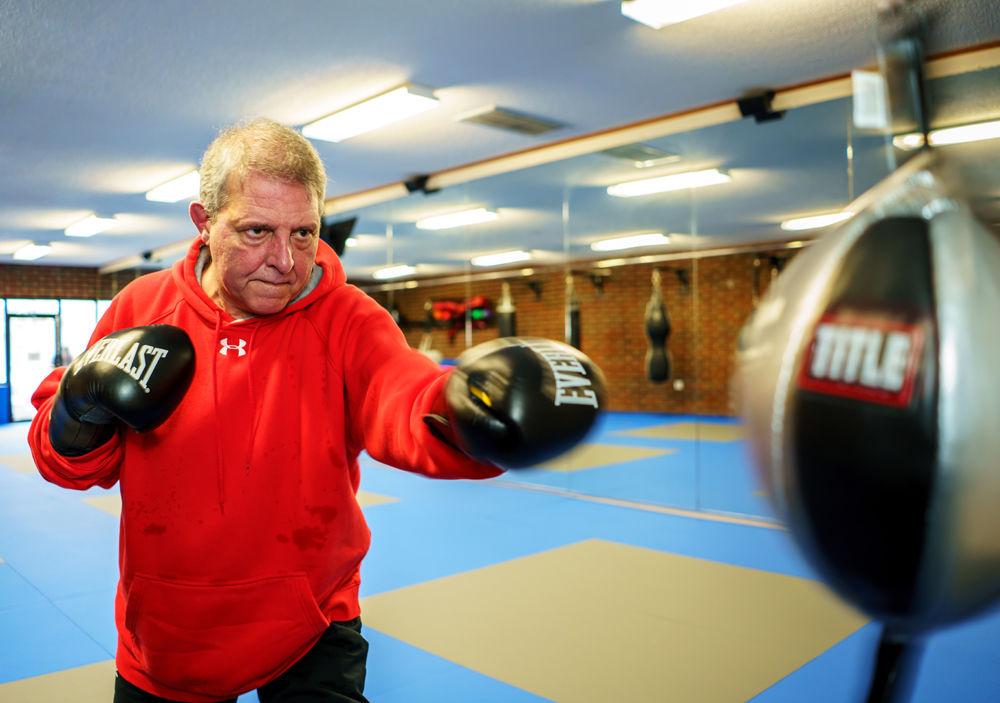 Before he was diagnosed with Parkinson's Disease, Keith Lawson noticed his writing was changing, becoming very small print.
"Then I dropped a pen one day and couldn't pick it up," he says. "That's when I knew something was wrong."
In December 2016, at age 55, he was diagnosed with Young Onset Parkinson's Disease. He began looking for information about his condition and connected with Parkinson's Forward,a local support group for Parkinson's patients and their caregivers. He also recently started a local bowling league for people with Parkinson's.
"Keith is 'Capital P' Passionate about raising awareness for Parkinson's," says Blake Tedder, Community Development Manager for Parkinson's Foundation, a national nonprofit that supports improving care and advancing research toward a cure. "He participates in every Parkinson's exercise class offered in our area, including dance, water classes, biking, and Rock Steady Boxing (shown above). He wants to know everything he can about his disease and share the benefits he learns with others."
Lawson is also one of the biggest ambassadors for Moving Day, a series of events organized by the National Parkinson's Foundation that's being held locally on April 28 at Bailey Park. Attendees can explore sponsor tents and partake in a number of health-related activities, including a short family walk.
"Moving Day is our signature fundraiser that gives people the opportunity to exercise and move in new ways," Tedder notes. "Our research has shown that exercise is an important factor in the fight against Parkinson's Disease. Keith really knows this through firsthand experience."
Lawson, a retired real estate agent, says it's important to engage with others who are fighting the disease.
"There can be a stigma that comes with having Parkinson's," he notes. "My goal is to get more information in the hands of the public so they can be educated about what Parkinson's Disease is and how a Parkinson's patient can benefit.
"There's going to come a point when there are things I can't do [that I do now]," he says. "So I want to be involved as long as I can and be a resource for others. I want them to know that there is hope out there—there are activities, there is exercise. There is community."
WANT TO GO? Moving Day W-S
Moving Day Winston-Salem will be held April 28 at Bailey Park starting at 9 a.m. Admission is free, though walk participants are asked to register and make a donation. For info on volunteering, registering, or attending the event, call 919-241-8888 or go to movingdaywalk.org.
The local Parkinson's Forward support group meets the fourth Monday of each month at 1 p.m. at Senior Services (2895 Shorefair Drive). For more info, go to facebook.com/ParksonsForward.